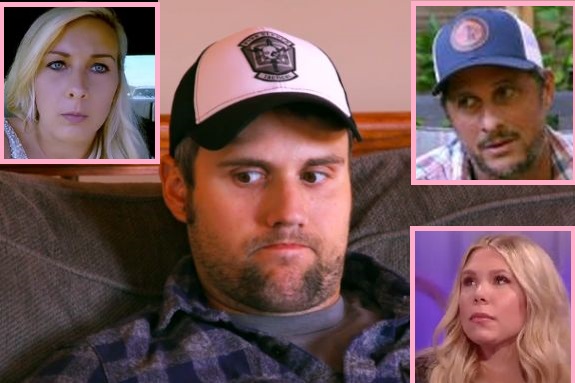 Teen Mom OG dad Ryan Edwards got arrested yesterday after allegedly violating his parole for a charge of Simple Heroin Possession– and the 'Teen Mom' cast and crew had plenty to say about it!
After news of Ryan's bust broke on Wednesday morning, several of the show's cast members spoke out, as did Ryan's pregnant wife, Mackenzie. As per usual, Mackenzie insisted that her husband is still sober and the arrest isn't what it seems.
"Possession of heroin was the original charge from April [2017] before he went to rehab," Mackenzie told Radar Online, adding that Ryan is sober. "Part of his case was he had to be booked. Everything is fine."
However, she refused to comment on what Ryan did to break his probation on Tuesday.
While Mackenzie held back, Kail Lowry sure didn't! The Teen Mom 2 star slammed Mackenzie on Twitter, accusing the new Mrs. Edwards of taking advantage of Ryan's drug problem.
"Kinda wanna share my thoughts on Ryan and Mackenzie," Kail tweeted at the start of her Twitter rant. "People struggle with addiction – and that's unfortunate enough. But IN MY OWN OPINION I see someone who came in & manipulated a situation to her own benefit. To secure a check. Then went a step further & got pregnant so that when they split, she is set with a couple dollars. But that's MY OWN opinion."
Morgan J. Freeman, the franchise's executive producer, was a bit more sympathetic to Ryan and Mackenzie's struggles. After news of Ryan's arrest broke, Morgan encouraged the show's fans not to judge Ryan.
"Please remember addiction is a disease," Morgan wrote on Twitter. "When in its grips, you lose the power to choose and are fueled by an insane urge to use even when you don't want to. So have empathy and compassion for those who suffer. Judgement can kill, so be careful."
On Tuesday, Morgan revealed on Twitter that he, too, struggled with substance abuse issues. After a 'Teen Mom' viewer accused him of aiding the cast members in their addictions (particularly Amber Portwood), Morgan responded.
"I offer help to all who ask for it. Period," Morgan tweeted in regard to the 'Teen Mom' casts. "Have you ever tried forcing help on an addict? Try it, and then come back and talk to me. Or better yet, watch an episode of Intervention."
Former 'Teen Mom OG' cast member Simon Saran took Morgan to task for his comments.
"As long as [Morgan] keeps paying this man, he will continue to use drugs," Simon tweeted, along with Ryan's mugshot photo. "Don't trust words, even question even actions, but never doubt patterns! Morgan you remind me of The Jigsaw. It's time for this s**t show to end. You know everything that goes on in their lives. You continue to enable them and cause them to resort to drugs and bribe them to have children they can't take care of for your own financial gain!"
Other than Mackenzie, those closest to Ryan have remained silent on his arrest. Even his baby mama Maci Bookout and her husband Taylor McKinney have refrained from commenting on the arrest so far.
(Photos: MTV)