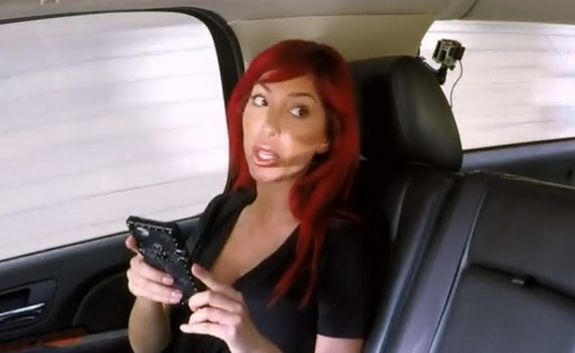 Farrah Abraham has agreed to settle the $5 million lawsuit she filed last month against Viacom and the producers of Teen Mom OG.
Variety reports that Farrah's attorney filed a note with the court stating that the case had been "amicably settled." Terms of the settlement were not made public, but TMZ reports that part of the settlement agreement states that the lawsuit can not be refiled.As The Ashley previously told you, Farrah– who got the boot from the long-running reality show on October 30, 2017 (and has been squawking about it ever since)– filed the lawsuit in a Texas District Court, claiming that she was harassed, wrongfully terminated from her job, forced to endure a hostile work environment and was made to "fear for her life" on the day she was fired.
According to the legal paperwork acquired by The Blast last month, Farrah claimed in her lawsuit that she was wrongly terminated from her 'Teen Mom OG' gig and harassed for "not conforming to gender stereotypes." She also claims her firing came in part because she complained about the harassment. In addition, she claims she was discriminated against and not paid out the full amount that was agreed upon in her Viacom contract.
The lawsuit named Morgan J. Freeman, New Remote Productions, Viacom, Eleventh Street Productions, and Anxious Eleven as defendants.
Farrah has yet to respond to The Ashley's request to comment on this settlement.
UPDATE! Farrah's outspoken father Michael Abraham has released a statement in regard to his daughter's settlement. In his statement, Michael insinuates that Farrah did, indeed, win something in the lawsuit.
"I'm proud of my daughter, she's a role model, fights for what's right, and I'm proud she's winning in life not just in TV," he told The Ashley. "This is her time to go big so other women can start making wise choices in their lives. No matter what people or organizations do or say towards other people to tear them down, to use them for their own gains or objectives – it's wrong and more people should stand up for their rights to be treated with the highest respect, especially women."
Michael declined to state specifically what the settlement terms were.
On Twitter, he told nay-sayers a few more details.
"MTV & Morgan begged Farrah to stay on the show the last 3 seasons. Karma did come full circle-they settled because they were wrong-stay tune for my book that will provide all the details MTV & Morgan was afraid would come out! This settlement was a win win for everyone."
(Photo: MTV)