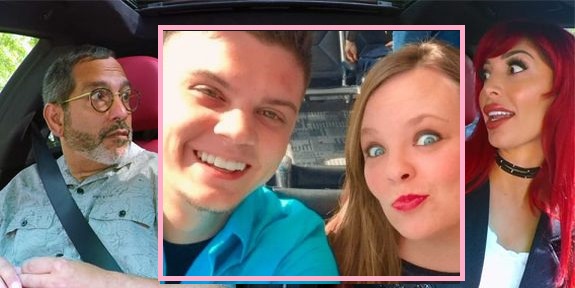 Teen Mom OG stars Catelynn Lowell and Tyler Baltierra got chatty about a variety of topics during an appearance on Kail Lowry's Coffee Convos podcast this week– discussing everything from their daughters Nova and Carly to Cate's recent trip to rehab.
However, the couple was most vocal while talking about their former co-star Farrah Abraham— discussing her firing, who should replace her on 'Teen Mom OG' and the time Farrah's dad Michael (allegedly) tried to beat Tyler up!
(Yes, you read that last part correctly!)
Cate and Ty told Kail and her co-host Lindsie Chrisley that Michael tried to box Tyler while they were filming a 'Teen Mom' Reunion a few seasons ago. The alleged incident occurred after Tyler made a comment on-camera about Farrah and her dad.
"Michael is actually a very interesting character," Tyler said. "I never actually told anybody this but he physically got in my face and wanted to fight me about two reunions ago!
"I went onstage and they asked me something about Farrah and I gave them an honest opinion and then left the stage. I think it was something like, 'Michael must not have any authority over his child if he allows her to call him by his first name' or something like that."
Tyler's comment did not set well with Michael.
"Michael comes up to me and points in my face and goes, 'You want to talk about my daughter?' and he gets in my face, literally nose to nose," Tyler said. "I just started laughing in his face because it was so funny to see this short little angry man yelling at me, wanting to fight me! [He's], what, like 20 years my senior?"
Catelynn and Tyler both stated that the show's security guard had to come break up the potential boxing match.
"The security guy pushed [Michael] into the couch," Catelynn said.
"He was like, 'Alright Michael that's enough of that!' It was crazy," Tyler added. "They're a whole different breed."
Cate and Ty also offered their thoughts on MTV booting Farrah from the show.
"She says she wasn't hard to work with…BULLCRAP!" Catelynn exclaimed.
Kail chimed in, stating that she felt Farrah's firing was "long overdue."
One member of Farrah's family that didn't get bashed was her (currently estranged) mother Debra Danielsen, who Cate said has always treated her well.
"I do get along with Deb," she said. "She's kind of a chameleon too but we just saw her at the reunion and she was actually very sweet. She's never been rude to me or said nasty things about me. I get along with Farrah's mom."
They discussed the rumor (that, mind you, The Ashley, has not confirmed to be true) that Teen Mom 3 star Mackenzie McKee has been chosen to take Farrah's place on the show, and all agreed that it wouldn't make sense.
"They can't [bring in another girl to our show] because we're the OG's, the original girls," Catelynn said. "If you do that, it won't be the original girls anymore."
The idea of bringing in Whitney Purvis or Ebony Jackson (who starred with the OGs on the first season of 16 and Pregnant but we're picked for 'Teen Mom,') was brought up, and both Cate and Tyler felt that would be a good way to fill the slot.
"I feel like that would be [good] beecause they were from the very first cast of '16 and Pregnant,'" Catelynn said.
Tyler stated that it would be interesting to see the contrast in the lives of the girls who were picked for the show and those who weren't.
"That would be crazy to see [where they ended up] since they didn't follow them on TV," he said.
They also suggested another solution to filling Farrah's hole (pun definitely intended).
"They're adding people left and right [to the casts] so why not just merge the ['Teen Mom OG' and 'Teen Mom 2'] casts together?" Catelynn said. "Some of the cast [members] are crazy on each of our shows…not gonna name names but…you may as well merge all the good ones together and get it going!"
To listen to the full episode of Coffee Convos featuring Catelynn and Tyler, click the link below!
(Photos: MTV, Instagram)