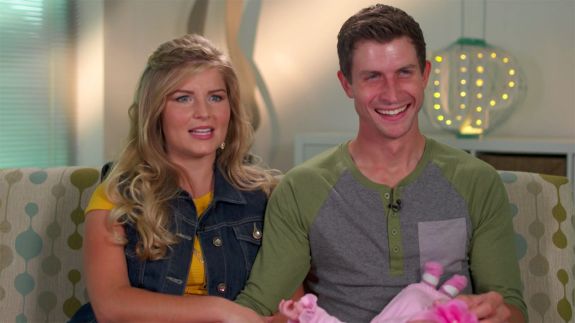 The Bates family is multiplying even faster than their pals the Duggars!
Sisters Erin Bates Paine and Alyssa Bates Webster each gave birth to their third children this week, with the babies coming within 48 hours of each other! (Even Jill and Jessa Duggar have never pulled that off!)
Us Weekly reported that Erin and her husband Chad Paine welcomed daughter Everly Hope at 4:15 a.m. on Friday. She weighed 5 pounds, 4 ounces and was 18 inches long. Erin and Chad are already parents to 2-year-old Carson and 17-month-old Brooklyn Elise.
"This morning, we met our Everly Hope for the first time. The thrill and joy of holding another precious baby never grows old," Chad, 30, and Erin, 26, said in a joint statement to Us Weekly.
Erin's sister, Alyssa, also gave a statement to Us Weekly about the birth of her third child but didn't go into as much detail as her sister did.
Alyssa and her husband John Webster welcomed daughter Zoey Joy on March 28. She was born at 4:22 a.m. and weighed 6 lbs.  Zoey joins Allie Jane, 2, and Lexie Mae, 14 months.
Erin and Alyssa are two of Gil and Kelly Jo Bates' 19 children. We first met the Bates family when they appeared on the Duggars' reality show 19 Kids and Counting. Eventually, the evangelical Christian family got their own show, Bringing Up Bates on the UPtv network.
Thanks to the new additions, the Bates now have eight grandchildren.
(Photo: UPtv)