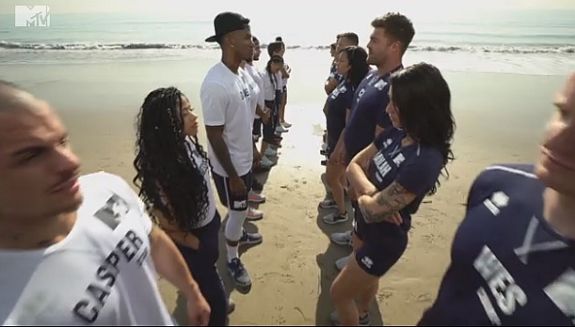 The Challenge: Vendettas is coming to an end, but MTV has another season of Champs vs. Stars on deck—and this time around, they're throwing in a twist!
The network released a sneak peek of the new season this week and, based on those 30 seconds of footage in the trailer, we know that "The Champs" will be mixed with members of "The Stars" team for the first time ever. (We can also expect to see a game involving giant balls and plenty of grown people throwing temper tantrums. Ya know… the usual.)
Mike "The Miz" Mizanin, former 'Real World' and 'Challenge star' and current WWE star, will return as the host.
As for the change in the team format this season, the winning team of each challenge will nominate an MVP who will receive money for their charity and also be safe from that week's elimination. The MVP will then choose an LVP (least valuable player) to go straight into the elimination and the losing team will nominate an LVP to head to the elimination as well.
Fighting to take home a share of $150,000 to donate to their charities this time around will be 10 'Challenge' champs and finalists and 10 stars (who are basically a mix of athletes, celebs and people you've never really heard of).
Playing for the 'Champs' this season will be:
Aneesa Ferriera (finalist, 'The Gauntlet 2' and 'The Duel')
Ashley Mitchell (winner, 'Invasion of the Champions')
Kailah Casillas (finalist, 'Vendettas')
Kam Williams (finalist, 'Vendettas')
Tori Deal (finalist, 'Dirty 30')
Chris "CT" Tamburello (winner, 'Rivals 2′ and 'Invasion of the Champions')
Devin Walker (finalist, 'Rivals 3')
Shane Landrum (who has never made the finals of any 'Challenge' but somehow managed to sneak onto this season anyway)
Tony Raines (finalist, 'Vendettas')
Wes Bergmann (winner, 'The Duel' and 'Rivals 2')
This season's 'Stars' team includes:
Drake Bell (Nickelodeon star)
Lil Mama (hip hop artist and former judge on 'America's Best Dance Crew')
Casper Smart (dancer and actor, best known for dating Jennifer Lopez)
Brooke Hogan (Hulk Hogan's daughter and reality TV star)
Hennessy Carolina (Cardi B's sister)
Daniel "Boobie" Gibson (former NBA star)
Selita Ebanks (model and former Victoria's Secret "Angel")
Arian Foster (retired professional football player)
Louise Hazel (track and field Olympian who previously competed on 'Champs vs. Pros')
Jozea Flores ('Big Brother 18' star)
'The Challenge: Champs vs. Stars' premieres Tuesday, April 17 on MTV.
(Photo: MTV)