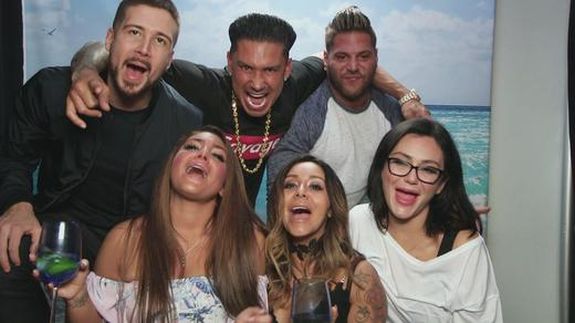 There's some celebratory fist-pumping in order for MTV and the cast of Jersey Shore Family Vacation!
Billboard has announced that Thursday's debut of the 'Jersey Shore' spin-off was the most-watched unscripted cable series launch in six years.
The reunion show, which had already been renewed for a second season in February, averaged 2.5 million viewers during Thursday's two-hour global premiere, according to Nielsen Live+Same Day data.
Nielsen also reported an average score of 2.96 with the 18-34 demographic, exceeding the final 'Jersey Shore' season's average of 2.82 back in 2012.
Despite the stellar numbers out of the gate, 'Family Vacation' has yet to get the ratings that 'Jersey Shore' achieved in its hey-day. During the show's most-watched premiere (Season 4), the show brought in 8.78 million viewers. The premiere of the sixth and final season of 'Jersey Shore' averaged 4.69 million viewers.
While the numbers have yet to reach the viewership ratings of 'Jersey Shore' past, the premiere of 'Family Vacation' surpassed premieres of other hit MTV shows–including Teen Mom 2 and The Challenge–by a wide margin.
For reference, last year's Season 8 premiere of 'Teen Mom 2' brought in 1.49 million viewers, while the premiere of 2017's 'The Challenge: Dirty 30' attracted just 0.84 million viewers.
Following the successful premiere, the 'Jersey Shore' cast and production crew celebrated their high ratings on social media. DJ Pauly D tweeted that the episode was currently No. 1 on iTunes.
'Jersey Shore Family Vacation' airs Thursdays (ahem, we mean Jerzdays) on MTV.
(Photo: MTV)