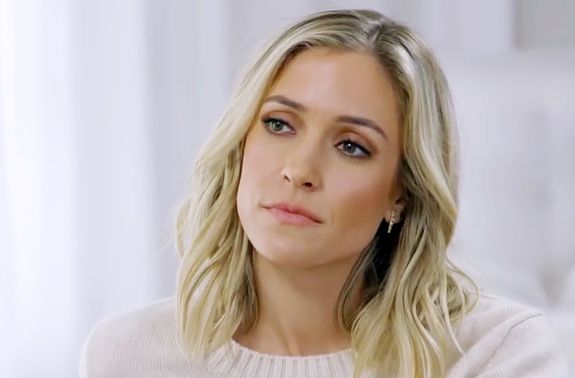 The Hills will not be alive with the sound of Speidi!
MTV alum Kristin Cavallari—who will soon be starring on her own reality show Very Cavallari—recently revealed that it MTV wanted reboot 'The Hills' for a reunion show but former stars Heidi Montag and Spencer Pratt wouldn't agree to it.
(Raise your hand if you're as shocked as we are that Speidi turned down the chance to get their mugs back on TV?!)
During an interview with Jenny McCarthy on her SiriusXM radio show, Kristin revealed how things went down.
"Well, truth be told, they were trying to get us all together then two people pulled out," Kristin said. "Well it's for a specific reason…[Speidi] couldn't do it….they have another contract so they're not able to do it."
Although 'The Hills' future will remain unwritten (for now anyway), Kristin will be back on TV soon enough with her reality show. 'Very Cavallari' will be filmed in Kristin's new home base of Nashville, Tennessee. It will follow Kristin as she launches the first store for her lifestyle product line, Uncommon James.
Although Kristin is the mother of three kids (Camden, 5, Jaxon, 3, and Saylor, 2), it's unlikely that they will be on the show. On Heidi and Spencer's podcast, the ironically named "Make Speidi Famous Again," Kristin said she would never put her kids on a reality show.
According to the press release recently put out by E!, "We will see Kristin push herself as a boss of a new and expanding brand while combating the pressure to succeed. She will be challenged with juggling her staff of strong-willed employees, making time for her husband, recently retired football player, Jay Cutler, and remaining an active mom to her three kids."
Instead of featuring Kristin's kids, the show's supporting cast will be made up of Kristin's employees…whom Jay Cutler calls "Kristin's minions."
Insert eyeroll here.
Also featured will be the company's social media director Shannon, the store manager Brittainy and Kristin's office assistant Reagan, according to People.
"With everyone working together in the new space and a few new hires joining the team, personalities begin to clash, relationships intertwine, arguments erupt and love triangles begin to form," E! has stated.
This time around the show will follow Kristin's real life, not made-up drama like 'The Hills' did.
"I am involved in every facet of the company, from measuring out the actual jewelry to overseeing all of the shipments to creating the line sheet," Kristin said. "Everything is my vision."
A premiere date for 'Very Cavallari' has not been released, but E! has stated that it will air this summer.
(Photo: E!)