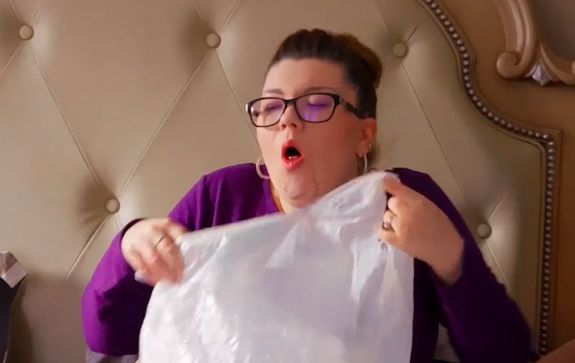 On this episode of Teen Mom OG we get (another) pregnancy announcement, some good old-fashioned baby daddy drama, a trip to rehab and sounds of vomiting that we'll never be able to erase from our brains.
So…basically, it's business as usual for a 'Teen Mom' episode!
First up we check in with Amber who is face down in a plastic bag of brown throw-up. Unlike the times when Amber yakked on camera in the past, this regurgitation is due to pregnancy sickness, not because she got HIGH! HIGH!
And, because it's Amber, she's puking while sitting on her bed instead of in a toilet. As you do…
While Amber loses her lunch of sports drinks and fruit snacks, Andrew stands by smiling and offers her a piece of gum and some water. (I mean…it is only like their fifth date, so he's still trying to keep the romance alive, I guess?)
Later on, Amber's cousin Krystal comes over to whip up some grub while two of her three kids "wraaastle" on the floor. What a downright treat to have so much Cousin Krystal footage in a single episode! Other than Tyler's on-the-leash-of-love sister Amber, Cousin Krystal is about as good as it gets in terms of getting the most trashy drama bang for your buck!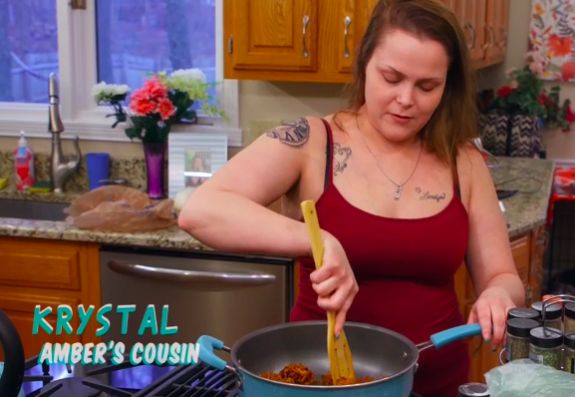 As the two cousins discuss odd pregnancy cravings, Krystal tells us that while pregnant with her youngest offspring, Laytonlynn or whatever the hell she named that poor kid, she had wicked cravings for gas station chicken salad sandwiches.
It's nice to picture Cousin Krystal waddling into the Quick 'n' Lubby with her other kids Lavonastina and Lawsonoly, pulling out her stamp cards and smiling as she gets her swollen mitts on a few of those gas station chicken delights! (Surely she bought an extra one that the kids could wraastle over.)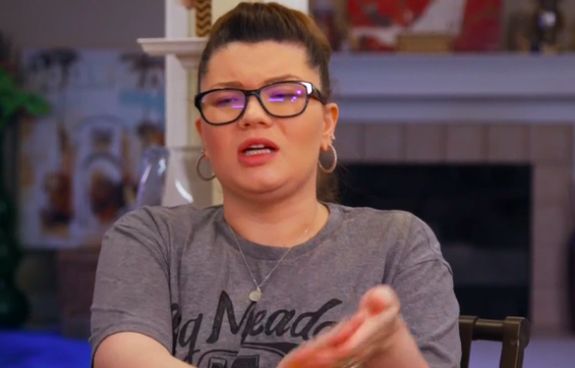 Krystal also talks about how her latest baby daddy left her while she was 15 weeks pregnant. (I mean, this is 'Teen Mom,' after all.) Amber gives her props for being a single mom.
Down in Tennessee, Maci and Taylor talk about adding another beneficiary to their growing leather-pocket T-shirt empire via adoption. Bentley tells them he's on board with the plan because it will give him someone else to play with when the other kids — Jayde, Maverick, Huddle and his dad, Ryan, — are busy.
Speaking of everyone's favorite dazed and confused dad Ryan, we head over to his place to see what him and Mackenzie are up to. Since they have a lot of free time (what with being jobless and all) they decide to turn their kitchen into a doggie day spa.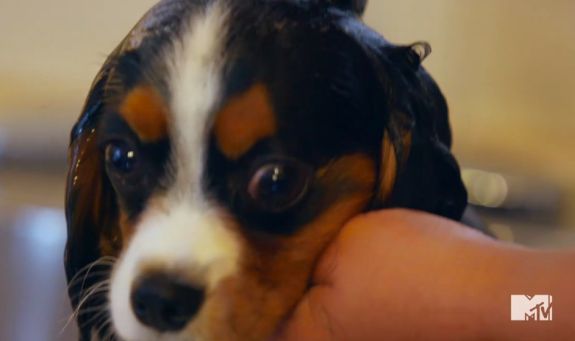 Mack says Ryan's dog washing skills show that he will be a good dad.
Oh, Jesus God Leah…
Mack says they're "one big happy family" …despite the fact that both of their children are not there and there's an ever-present tension stealing all of their scenes. Mackenzie seems to be trying to convince everyone (including herself) that an "oopsie baby" is just what they need to get their marriage back on track and Ryan off the smack!
Cate is still in Arizona at the treatment facility, but Tyler is heading to yet another treatment facility to visit his dad Butch. (Honestly, this season should be called "The Tyler Baltierra Rehab Tour 2017.")
Tyler and his sister Amber talk about their dad's addiction and Tyler says he holds some of the blame for owning the house Butch was getting high in. Amber says positive things are to come and for her sake, we hope she's not referring to a pregnancy test.
Later we see the two of them head to the facility and Amber complains about the fact that Tyler is listed as Butch's primary contact. Um…Amber, girl, the "home" phone number you would write down probably rings at the bar down the street. You need to have several seats (and maybe several baths…just sayin'.)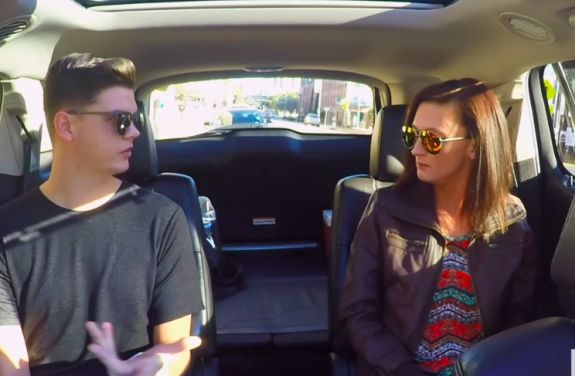 We also learn from Tyler that his mom Kim is struggling with guilt for the issues Tyler and Amber have gone through. (She had to know that fornicating with Butch wouldn't end well…right?)
Meanwhile in Indiana, Amber's throwing up has ceased long enough for more baby prepping to go down. Andrew lugs in a homemade nightstand, courtesy of Uncle Bubby, while Amber lounges on her trusty stuffed sloth (no, we don't mean her ex-fiancé Matt) and talks about Krystal's baby daddy troubles. Amber somehow relates Krystal's problems with her baby daddies to her own issues with Gary, completely oblivious to the fact that she's the one bringing the drama in her situation.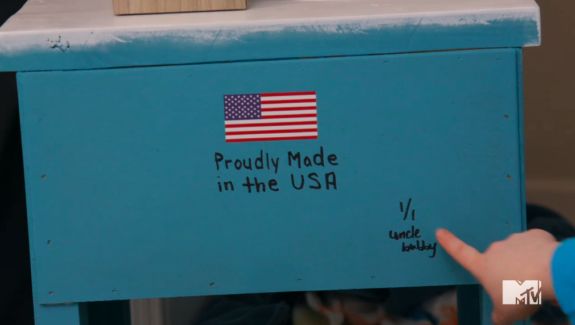 After a trip to the doctor, Amber learns she has gestational diabetes so Andrew researches some tips on how to keep everything under control. Amber is bummed she can't enjoy all of her favorite gas station treats now, but she's down to stay on the straight and narrow…at least until that oopsie baby plops from her sperm palace.
We learn that Amber and Gary are currently having trouble getting along (again), but Amber and Andrew still come by to pick Leah up for some quality time together… Just kidding! They're going to shop for trains and other decor for the baby's room… ya know, exactly what every 9-year-old kid wants to do on the one day a week they get to see their mom.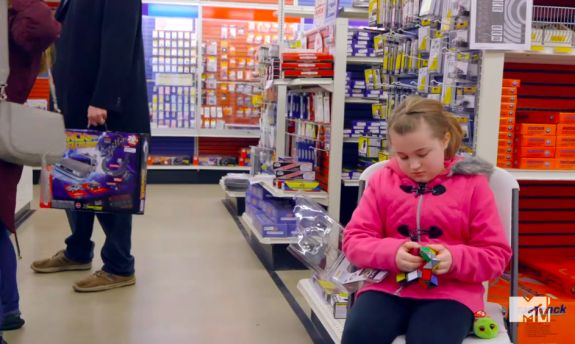 After watching the train shopping fiasco go down, we then check in with… Cousin Krystal? MTV has apparently decided to devote an entire segment to a cast member's random trashy cousin, which I appreciate. Give me a gas-station-food eatin', random kid luggin' Krystal over Farrah trying to prove she's a celebrity, ANY.DAY.OF.THE.WEEK.
Let's be honest, we all should've seen this one coming. First we were treated to an inner look at Amber Baltierra's life (consisting largely of tales of washing dogs' butts and exchanging bodily fluids with local felons), and now MTV is bringing in another messy family member for us to enjoy. Look out, world… Krystal and her litter of L-children have been waiting for this!
For her solo-segment debut, Krystal is off to pick up Baby No. 3 while driving in the snow and complaining about needing new brakes. Krystal planned for one of her assorted baby daddies to change the brakes for her but he calls her while she's on the way to his house to tell her he's not doing it anymore. After loading No. 3 into the death trap of a vehicle, Krystal starts crying and her oldest son asks if she's OK. Krystal then vents to her kids about the situation while adding a few F-bombs in for good measure.
She ultimately pulls the car over to take a cigarette break.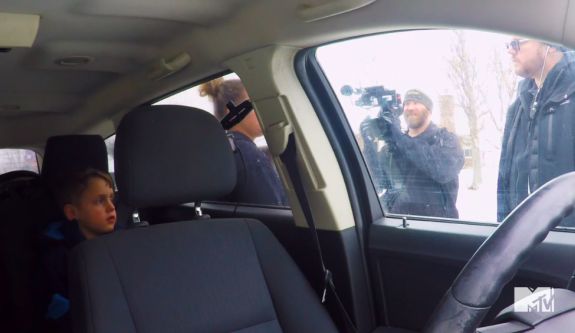 Krystal shares her frustrations with Producer David, who is probably wondering why the hell he's being forced to listen to a second-rate cast member complain, all while standing in the snow. (Despite all this, you know he's just happy to be off Farrah duty. He'll gladly risk a little frostbite and secondhand smoke if he means he doesn't have to deal with Big Red.)
Over in Tennessee, Mackenzie says she's not feeling well, and Ryan acts like he has no idea why she could be feeling sick. (I mean, to be fair, this is Ryan, who usually doesn't even know where the hell he is, so it's possible he's not acting here.)
Meanwhile, Maci and Taylor consult with an adoption counselor.  Maci and Taylor say they aren't ready to adopt right away, but want to get more information on the process for when the time comes. Maci adds she and Taylor both have some grieving to do over her miscarriage.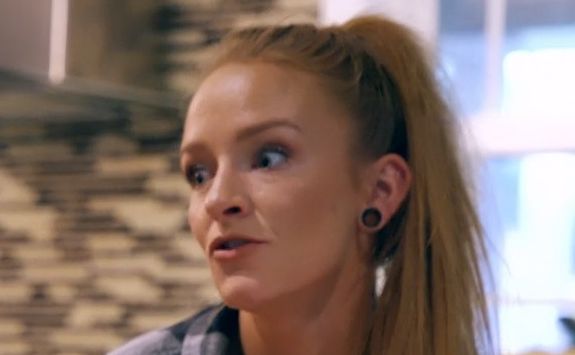 Rachel the adoption counselor arrives at Maci and Taylor's house and the three of them sit down to talk. Maci tells Rachel they are looking to adopt a child over the age of 4. Rachel says the majority will come from foster care and some may have issues they are dealing with. Rachel also explains the transition period for adoption.
After Rachel leaves, Taylor says the chat has convinced him even more that adoption is the way to go. Maci agrees (most likely because it means she doesn't have to keep her womb free of Bud Light for four or five months). She adds that she now wants to do it sooner than they originally planned.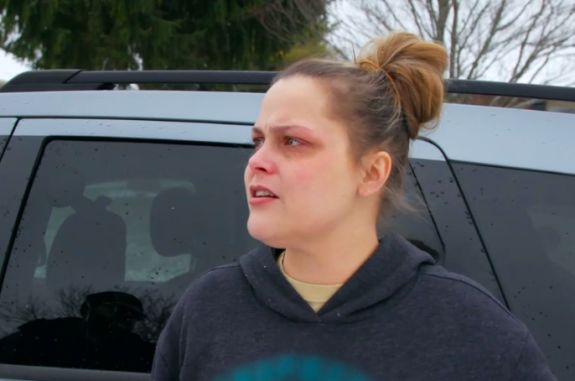 We move over to Butch's recovery facility,  where Tyler and Amber are meeting with a staff member to get an update before the visit. They are told that Butch is doing well but will have to be involved in programs and other recovery methods on a daily basis in order for him to be successful. They are also told that Butch isn't cured and will never really be cured, but it is important for them to know how they can help him going forward.
It's finally time for Tyler and Amber to see Butch, and Amber is especially emotional about the reunion. (Perhaps she's sad that her smoke-out buddy has sobered up, I dunno?)
The three of them sit down and Butch shares some of the writing he's been doing. He tells his kids that he's always been one to try his best, whether it was at work or doing drugs.
I think that's nice.
Amber points out that he didn't try his best at being a father, but that it's not too late for him to be a good grandfather to his existing grandkids (and whatever spawn Amber and her leashed felon boyfriend create in the near future). Tyler tells Butch to keep writing to help him work through his issues and Butch tells him he's grateful for both of them and for the opportunity Tyler has given him by sending him to treatment.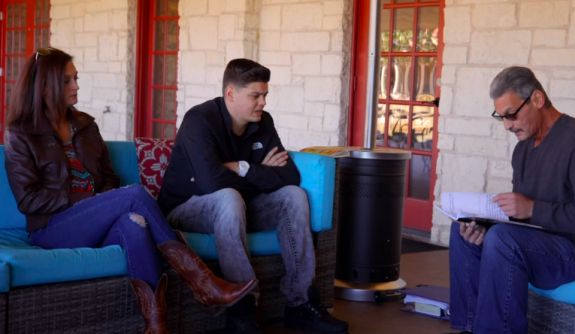 Over in Indiana, Cousin Krystal updates Amber on the rocky relationship with her most recent baby daddy and the pregnant girl he left her for while she was also pregnant.
We'll give you a moment to let that all sink in…
Amber tells her she'll eventually find a guy that's a good match for her. (And, if not, she can always go on a reality show and hook up with one of the cameramen, right Ambie?)
Finally, we swing back to Ryan and Mackenzie's place. As per usual, Ryan is lounging on the couch, thinking about ways to blame Maci for crap about his life he doesn't like.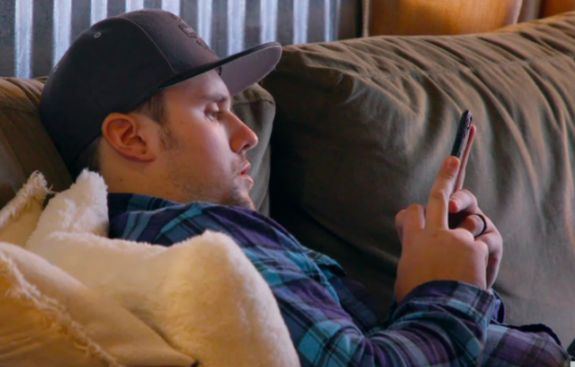 However, Mackenzie has some BIG NEWS to share. After taking a producer into Huddle's room and closing the door, Mack pulls out a positive pregnancy test. She waves the pee-soaked stick around proudly, knowing that this little gem has just secured her a fat monthly MTV paycheck!
She says Ryan was "ecstatic" about the news… so much in fact, that he didn't want to be on camera when she announced it.
I think that's nice…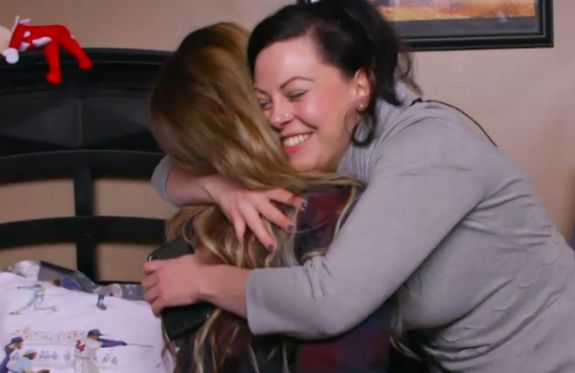 Later on, Mack and Ryan decide their respective exes will find out about the big news on their own and then they chat about all the things they need to do before the baby arrives. Ryan is already overwhelmed at what's to come and tells Mack she can call him when the baby is "about three." Mackenzie doesn't see the humor in Ryan's "joke."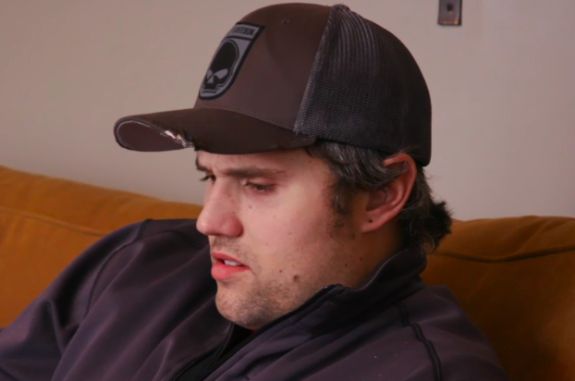 Wait a few years, Mack. You'll be grubbing at the gas station, pulling over to swat your car full of screamin' trap babies and calling Ryan to yell about him not fixing the brakes on his car!
Fingers crossed MTV is there to capture all of these Kodak moments!
Until next time….
To read The Ashley's other 'Teen Mom OG' recaps, click here!
(Photo: MTV)