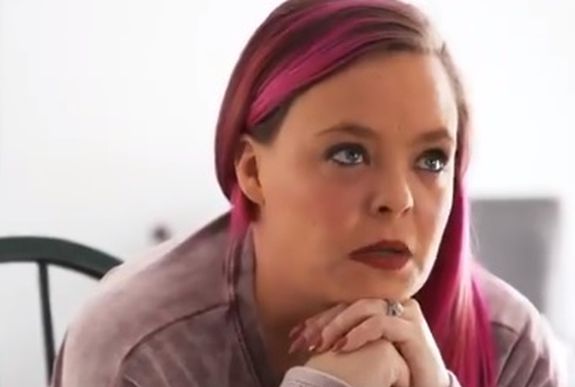 On this week's Teen Mom OG season finale, Catelynn Lowell informed her husband, Tyler Baltierra, that she intended to return to the Arizona treatment center she had just left in order to continue her treatment for her mental health issues. After the episode aired, Catelynn defended her actions to nay-sayers, telling fans it was necessary for her to go back to treatment.
While Catelynn has discussed the reasons she made the decision to go back to treatment, viewers still voiced their opinions about Catelynn leaving her family (and young daughter Nova) again to go back to Arizona.
"I feel like she's just lazy she doesn't want to take care of her wife/mom duties," one person wrote on Twitter.
"I love Catelynn but I feel for Tyler," another person tweeted. "She didn't even consider Outpatient therapy just wanted to be gone from the house."
After the episode aired, Cate took to Twitter to tell her side of the story.
"All you ignorant people are the reason why mental health still has this huge stigma around it! #GetEducated #KeepTalkingMH you have NO clue unless you have been through it yourself. Some of you people disgust me," Catelynn wrote, before explaining that some things that went down during that time period were not shown on 'Teen Mom OG.'
"I wasn't running away from my problems I was FIXING them!" she tweeted. "Working HARD & getting on the right medication. I wouldn't wish this crap on my worst enemy! But I guess I'll have haters no matter what! Just glad I got myself better and if ppl r mad then be mad I guess.
"Wasn't refusing [to do outpatient treatment]. [I] KNEW that I needed more than what I was getting," she added. "I was doing outpatient counseling etc. #youonlyknowhalfofit"
During an appearance on Kail Lowry's Coffee Convos podcast, Catelynn stated that her mental health has improved since returning from her third rehab trip.
"I feel way better," Cate said on the podcast. "I did a whole med switch and genetic testing. I found out that the medication I was on for five years doesn't even work for me. They put me on different medications and they seem to be working really well. It all stems from the trauma of my past so I'm going to have to keep digging into that."
Catelynn and Tyler also discussed their desire to appear in a 'Teen Mom' special focused on mental health issues.
"'Teen Mom' has had a lot of mental health [issues] that have been covered on a lot of the stories," Tyler said on the podcast.
Catelynn and Tyler recently taped an episode of The Dr. Oz Show in which they will discuss their mental health struggles. That is set to air later this month.
Watch the 'Teen Mom OG' clip in which Catelynn explains to Tyler why she needs to return to rehab.
Catelynn needs to figure out what the best plan of action is for herself and her family. ? #TeenMomOG pic.twitter.com/qLms7oOFKd

— #TeenMomOG (@TeenMom) April 10, 2018
(Photo: MTV)