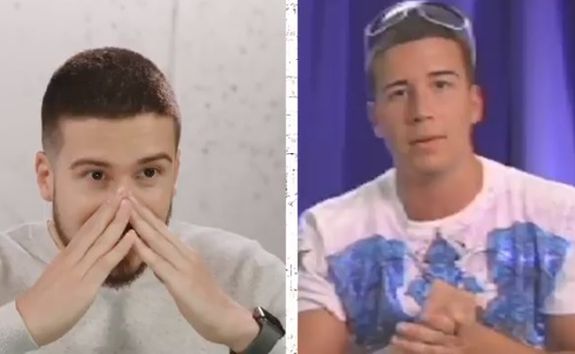 The cast of Jersey Shore recently made their loud and intoxicated return to our TV screens and, in honor of the return of "T-shirt Time," let's look back at a time when the show's cast members were just a group of Guidos and Guidettes auditioning for a chance to have a little fun in Seaside Heights on MTV's dime.
The 'Jersey Shore' kids recently sat down to watch their casting tapes, most of which were made back in 2008 and are full of embarrassing quotes!
First up on our trip down memory lane is the casting tape of Vinny Guadagnino, who was known for being the most traditional Italian-American of the bunch with the least amount of spray tan and the most amount of pink eye.
In his casting tape, Vinny brags about his college education and 3.9 GPA.
"I fist pump at night but I pump my pencil during the day," Vinny says in his tape.
(We get to see Vinny watching his casting tape, begging his 2008 self to "take the sunglasses off your head, bro!")
In addition to giving what Jenni dubs "pre-puberty" face, Vinny serves up this gem of advice in his tape: "Intelligence is the virtue that bitches like. That's why I slay the bitches." (Modern-day Vinny apologized to women for calling them bitches!)
Vinny also refers to himself as a "Renaissance man" in the tape—bragging that he is a painter, graphic designer and writer. To prove his artistic abilities, Vinny shows off his giant cross necklace.
"Oh my God, kill me!" Vinny says as he watches his former self.
After dissing the whole GTL lifestyle (and basically describing Pauly D, his eventual best friend in the house), Vinny throws on his shades and tells the camera he was "made for this."
Look what I just got my hands on! THE ORIGINAL JERSEY SHORE CASTING TAPES ? @VINNYGUADAGNINO's reaction? Priceless. Let me know whose tape you want to see next on the road to #JSFamilyVacation! pic.twitter.com/Zaca1XHBU3

— Jersey Shore (@JerseyShore) March 21, 2018
Pauly D's casting tape could have very well been filmed this year, as his signature tan and blown-out hair are still present and as strong as ever. Pauly's casting tape consists largely of him walking the casting crew through a day in the life of Guido while stressing the importance of claiming your spot in the bathroom. He also talks about one of his favorite extracurricular activities: picking up girls at the club.
"You've gotta have the hair, you've gotta be tan, have muscles, be cocky," Pauly says in the tape, as he describes the perfect 'Jersey Shore' man.
"I swear to God, I've never cried over a girl in my life," Pauly says in the tape—a statement he claims is still true 10 years later.
The cast all agreed that Pauly hasn't changed much since the video was made in 2008.
"Why are you the same person 10 years later, though?" Deena asks Pauly as the watch the tape.
But does @djpaulyd ever age? ? Straight from the vault, here's his original Jersey Shore casting tape — and not much has changed. Whose tape do you want to see next on the road to #JSFamilyVacation? pic.twitter.com/7QaR1giVSF

— Jersey Shore (@JerseyShore) March 23, 2018
Next, Mike "The Situation" Sorrentino gets to watch his former self talking to the cameras.
"I go by a little nickname, it started off last summa, The Situation," Mike says in the tape.
"You look like the Guido Screech!" Vinny tells Mike as they watch Mike's tape.
In the tape, Mike predicts that he'll do "such an awesome job" on 'Jersey Shore' that MTV will give him his own spin-off show. He also says that all of the other guys in the house will be jealous of him, given that he's "ripped up like Rambo" and all.
"You are the ultimate douche bag," Vinny tells Mike. "Like, literally a cartoon character."
"He was so full of himself!" Jenni exclaims as she and Nicole watch the tape. "He still is, but that's a level of OMG…no wonder I punched him in the face!"
"I go by a little nickname… it's called The Situation." Did I save the best for last? Maybe. ? @ItsTheSituation's casting tape will get you even more pumped for #JSFamilyVacation! pic.twitter.com/pqZiCVC2QS

— Jersey Shore (@JerseyShore) March 27, 2018


Ronnie Ortiz-Magro's casting tape echoed the same message he came into the Shore House with and the same message he ultimately threw out the window: "I'm not looking for a girlfriend."
To drive his point home, Ron says on the tape that his main objective when going out to do some fist pumping is to get some "vag"—which he emphasizes with an accent that nobody was asking for.
Ron also says in the tape that he's down to get dirty in the bathroom… Clearly MTV had high hopes with this pick!
The cast giggled over the fact that, as soon as he got into the Shore House, he went against everything he said in his casting tape and immediately started dating Sammi Sweetheart.
Oh, Ron… You set yourself up for this one! ?Here is @RealRonnieMagro's original casting tape for Jersey Shore — and it is TOO good. Let me know who you want to see next as we count down the days to #JSFamilyVacation! pic.twitter.com/KImUOvFmeI

— Jersey Shore (@JerseyShore) March 24, 2018
Next we take a look at the girls' casting tapes. First up is Nicole "Snooki" Polizzi, who is shown in all of her tanned, poof-rocking glory.
(Fun fact: according to the New York Post's interview with the man who casted the show, Doron Ofir, Snooki arrived at the casting with "bronzer all over herself," and "when she filled out the release, it was covered in orange fingerprints.")
"Oh my God," Mike says as he watches Nicole's tape. "She's ORANGE!
Nicole kicks off her casting tape reel by bragging about her natural hair and boobs, as well as her tendency to dance on bars from time to time. She says she's known to get feisty but assures us she isn't looking to go to jail (whoops!).
"I'm looking to grow up soon, not too soon… but for now, we should go to the bar!" Nicole says in the tape.
Modern-day Nicole is impressed with her former self.
"I was very inspirational," Nicole says. "America should have seen this!"
"Instead they saw your cooka!" Jenni tells her.
?️ I heard you loud and clear. You wanted to see the original poof in all its glory, so here's @snooki's reaction to her casting tape! Check out our FB page for the full video.
Reply with whose casting tape you want to see next on our road to #JSFamilyVacation! ? pic.twitter.com/lha200Awds

— Jersey Shore (@JerseyShore) March 22, 2018
Next up is the casting tape of then-24-year-old Jenni "JWoww" Farley. When looking back at her casting tape, Jenni calls herself "attitude-y" and says she hated most people back then, no less herself, and admits that she probably hadn't showered in a while before the tape was made.
"You look so ratchet!" Nicole tells Jenni as they watch the tape. "You look like a stripper from '8 Mile'!"
While Jenni may have cleaned herself up since then (literally and figuratively), something that's remained strong is her love of "juice heads," which she professes in her tape, along with her willingness to throw down.
"I'm not the one to start a fight, I'm mostly always the one to end it," she says, before telling a story about how she once broke a girl's jaw and nose in the VIP section at a club.
The Situation can attest to the power of Jenni's punches back then. After all, he got a taste of her fighting skills during a trip to Atlantic City back in Season 1.
"Jwoww packs a monster punch!" Mike says.
Vinny and Pauly laughed as they watched Jenni's tape, commenting on how different she looks 10 years later.
"That's the old face!" Pauly joked, poking fun at all of the plastic surgery Jenni has reportedly had since then.
"The face before the face!" Vinny added.
I'm both in love and in fear from watching @JENNIWOWW's original casting tape! "They probably thought I was gonna punch someone, which I did." ? Take a look at her reaction as we continue on our road to #JSFamilyVacation. pic.twitter.com/NxfGVR4e7U

— Jersey Shore (@JerseyShore) March 26, 2018
We round out this blast from the past with the self-proclaimed "blast in a glass"—Deena Nicole Cortese. While MTV didn't bring the then-22-year-old "Tri-State Bitch" on board from the show's get-go, she was able to bring her shenanigans to the shore in Season 3 and remained on the series thereafter. In her casting tape, Deena (who could have easily been mistaken for a Snooki doppelganger with her dark hair and matching poof hairstyle) tells us that, just because she's "a good time" and likes to have some fun, she still has standards when it comes to the men she dates.
"I'm no Virgin Mary, but it's not Halloween so I'm not handing s**t out for free, ya know? Like, this isn't candy, you need a golden ticket, like, get real."
She states that every guy she dates has to be tan and "juice-oxed out."
"She is straight Jersey," Jenni says as she watches Nicole's tape.
"No wonder she got casted." ? Take a look at @DeenaNicoleMTV's original casting tape. With that poof and hilarious punch lines, it's obvious how the meatball joined the Jersey Shore fam!
Reply with whose casting tape you want to see next on our road to #JSFamilyVacation! pic.twitter.com/LmE1zP9pv9

— Jersey Shore (@JerseyShore) March 25, 2018
'Jersey Shore Family Vacation' airs Thursdays on MTV. To read our 'Jersey Shore Family Vacation' recaps, click here!
(Photo: Twitter)