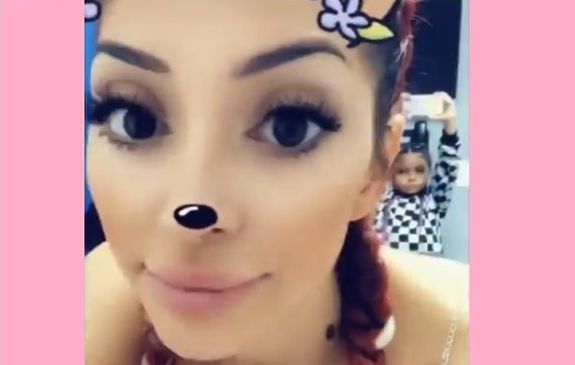 File this under: "WTF Farrah?"
Former Teen Mom OG star Farrah Abraham showed off her stellar parenting skills on Friday, taking her nine-year-old daughter Sophia to the "booty plumping store," and having the kid film as Farrah had filler injected into her infamous butt (which, as you may remember, had a starring role in Farrah's 2013 sex tape "Backdoor Teen Mom").
Farrah posted a video to social media of herself lying on a table, getting butt injections, while Sophia (and her pet dog) can be seen in the background, filming the event with a phone.
The mother/daughter booty plumping expedition garnered Farrah a ton of backlash on social media, but Farrah told TMZ that this field trip was actually educational for Sophia.
"Our children are curious so more power to Sophia learning about aesthetics and health," Farrah told the site.
(I mean, what kid hasn't asked questions about booty fillers…am I right?)
Farrah compared letting her pre-teen daughter watch her get crap injected into her butt to allowing Sophia to witness any other medical procedure.
"This is non invasive, just like blood work or getting shots. @Flawlessvegas did an amazing job," Farrah told TMZ.
Teen Mom 2 star Kail Lowry voiced her opinion on Twitter about Farrah's Filler Field Trip.
"Yet I'm mom shamed for being on vacation when my kids are with their dads," Kail wrote in the caption of the link to a story about Farrah. "What kind of s**t."
In other Instagram Live videos from the same appointment, Farrah stated that she had the same stuff injected into her face and it was "nothing but natural, nothing crazy."
Sophia looks less-than-thrilled to be at the appointment.
Farrah's estranged mother, Debra Danielsen, was not happy that her granddaughter was in the room while Farrah was having the cosmetic procedure done.
"I believe this kind of procedure is for adults and children need to know they are beautiful the way they are," Debra told The Ashley. "Children should be nurtured with a positive body image and have confidence to go achieve great things."
Watch the video below:
(Photo: Instagram)