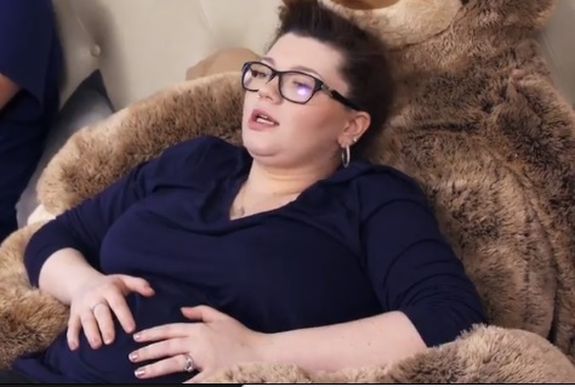 Crack open a radioactive-colored wine cooler, grab a trash bag to puke into and settle into your giant stuffed sloth as we head into the home stretch of this season of Teen Mom OG.
That's right; this season is coming to an end. Of course, because they crammed so many episodes into this season, it legit feels like we have been recapping this season for years! Farrah's already gone through about three different faces since we first began!
Our first stop is Tennessee to check in with Maci. As per usual, the kids are running amok– swinging bats, throwing blocks and climbing into wooden crates. Exhausted from all child-wrangling, Maci and her friend Katie hit up the nail salon for pedicures.(And, because this is Maci, the pedicures also include all the boxed wine you can drink. I mean, can you even have someone scrap fungus from underneath your toenails without guzzling some cheap white zinn?)
Maci doesn't want to talk about foot fungus, though. Naturally, she needs to yap about her favorite subject: her ex, Ryan. Maci tells Katie that Mackenzie and Ryan are expecting an oopsie baby of their very own.
Maci says that Ryan still hasn't taken a drug test to prove he's been off the smack long enough to warrant a visit with Bentley. Katie says for Bentley's sake, she hopes Ryan turns something around besides his baseball cap and Maci agrees.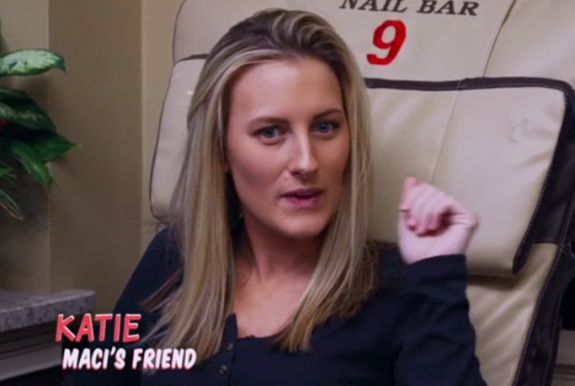 Over at the doctor's office, Mack and Ryan get everything checked out with the pregnancy and also get to hear their baby's heartbeat. As the doctor points out the currently-sack-shaped fetus, Ryan tells everyone he thinks it looks like a boy. (Well, it makes sense…when it comes to dingalings, it takes one to know one, right?)
Ryan is on the struggle bus currently. He's sucking on some sort of lollipops (yes, plural)…at the obstetrician's office. He can't be bothered to take either pop out of his mouth while talking to the doctor, so everything he says sounds slurry and mumbly. (Where are those subtitles they use when they go down to the holler to visit Leah Messer & Friends!? Help us out, MTV!)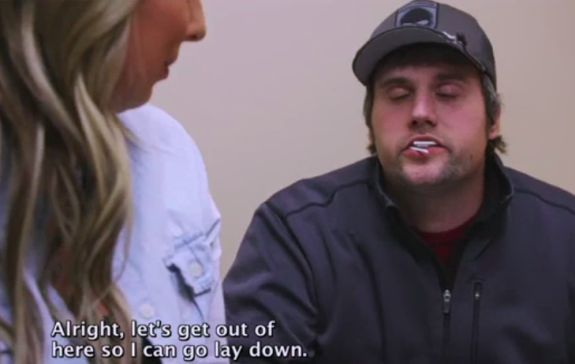 We learn that the baby is coming in October, which is also probably the time we'll see Ryan make like a bread truck and haul buns outta there!
Ryan has had enough of the baby talk and whatnot. He looks like death warmed over, and keeps telling his wife (who, mind you, is up in the stirrups) that he wants to go home because he's "hurting."
It's probably all that sobriety that's causing him to feel yucky. Yeah, that's it…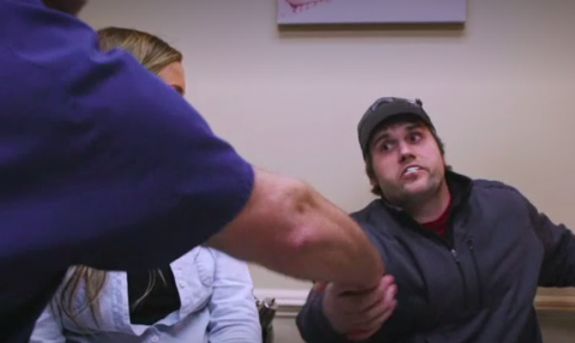 Next, we head over to Indiana where there's been a major development:
AMBER HAS LEFT THE COUCH! I repeat… AMBER HAS LEFT THE COUCH!
Amber is actually hanging out in her baby's nursery (most likely scoping out the best snoozing spots), while baby daddy Andrew video chats with some LA friends about "the biz."
Andrew's friends tell him they've gotten funding for "the pizza thing" they had all been working on and they want Andrew to come out to California for two months right after the baby is born.
(For the love of Baby Butch, please tell me that "the pizza thing" is actually going to be some sort of game show in which Andrew and Gary compete in a pizza-eating baby daddy showdown, while they are both wearing "Dad Bod" shirts. I'd much rather watch that than watch Ambie yak into a grocery bag. Make it happen, MTV!)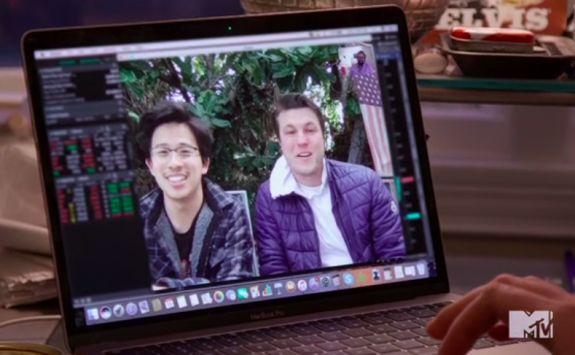 Andrew runs the plan to go to California by Amber and she's on-board. (Hopefully Andrew took the time to explain the concept of a job to Amber.) Andrew wants Amber and the baby to go with him on the adventure and she's excited.
While Amber is OK with the plan, she warns Andrew that she'll be spending money like she's Kieffer in a cannabis store! She tells him that she'll need to make herself "comfortable" while they're in California.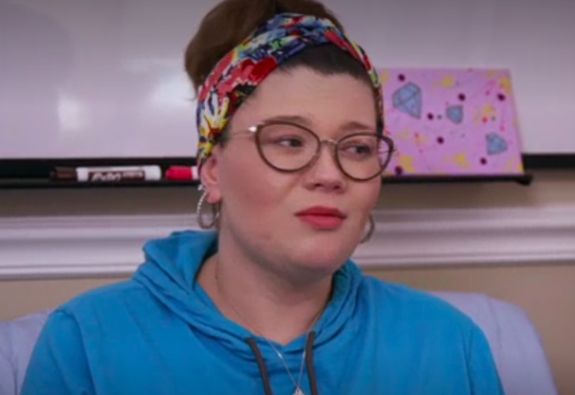 As an afterthought, Amber throws in that Leah will be on summer break then and maybe Gary will find it in his dad bod to let her come out for a visit.
Over in Michigan, Tyler is having a blue Christmas, given that he and Nova are celebrating without Catelynn, who is still at the treatment facility.
A week later, Cate finally makes it home to an excited Tyler and Nova.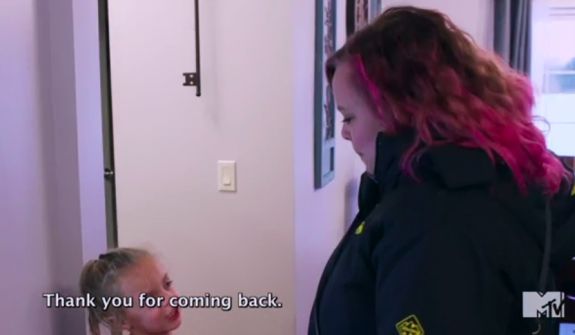 Later, Cate tells Tyler her plans for aftercare now that she's out of rehab. She's planning to do things with Nova and take time for herself. Tyler is excited to show her all of the things he's had done to their new house while she was away. They go check it out and Catelynn seems uninterested, muttering, "Yeah, it's dope." (Because…apparently it's 1994 again?)
She tells Tyler she's exhausted and then goes and curls up in a ball while Tyler and one of the workers move some cabinets around. At least she didn't order Tyler to make her a quesadilla for lunch or something, so there's that…
I'll just go ahead and ask the question we've all been thinking…when is it TYLER'S turn to go to rehab!? This dude has been touring the nation's finest treatment facilities, visiting whatever relative happens to be petting therapy horses and writing poems and whatnot for over a year now.
WHEN DOES TYLER GET TO PET SOME DAMN HORSES!?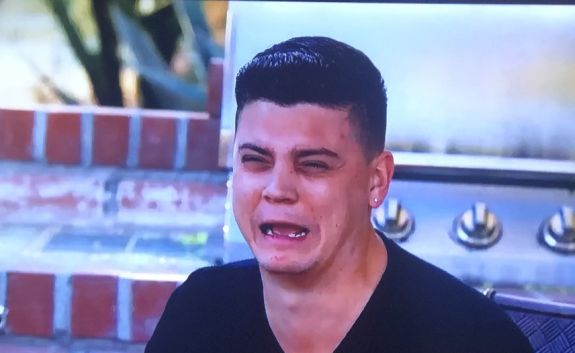 Next up, we head to Jen and Larry's Casa de Enable to watch as Ryan and Mack share the details of their thrilling doctor's appointment. (They left out the part about Ryan being two Tootsie Pop licks away from passing out in the baby doctor's office, of course.)
Mackenzie decides to regale us with the story of how she informed Ryan that she was sperminated. Apparently, she made the big announcement by slipping her positive pregnancy test into Ryan's fast food bag.
AS.YOU.DO.
Poor Ryan. He's just trying to slop down a couple of McRibs, minding his own business before taking his second mid-afternoon nap, and he comes across a wet Clear Blue Easy that tells him he's now locked into fatherhood for another 18 years. If his stomach wasn't churning already from his meat-byproduct sandwich, that pregnancy news surely did the trick!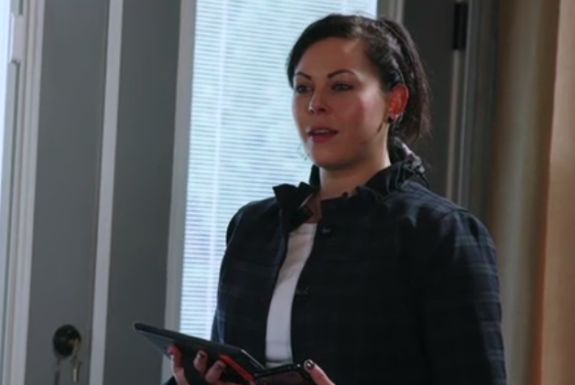 "There was a pee stick in my food bag," Ryan reiterates.
Everyone thinks this is hysterical and not at all disgusting and unsanitary. Go figure.
Mack says Ryan started freaking out about the news, which she assumes was due to his excitement. (Spoiler alert: It wasn't.) Mackenzie says she had to remind him that they married and "adults" now so it's OK to have an oopsie baby or two.
Next, we go back to Amber's place, where she and Cousin Krystal are s**t-chatting about Gary. (The editing is so bad on this show these days. I kind of love that they don't even try to make scenes look cohesive anymore, although I do miss the days where they'd make the girls wear really bad wigs to cover up stuff that was filmed earlier.)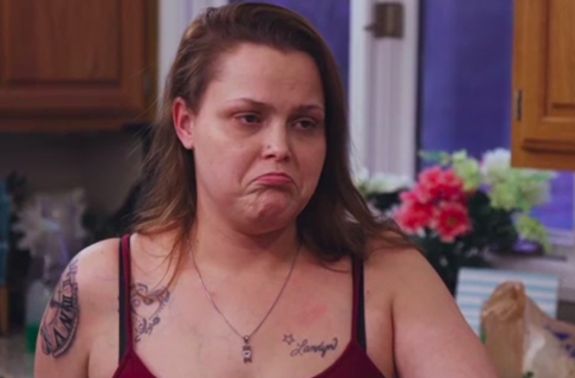 Anyway, Amber tells Cousin Krystal that Leah is more interested in having sleepovers with her friends these days than visiting with her and it's hurting her feelings. Amber thinks things will be better when the baby arrives (umm… sure) and then tells Krystal that Leah is the only reason she's even staying in Indiana.
Well at least she's not putting her 9-year-old on a guilt trip or anything…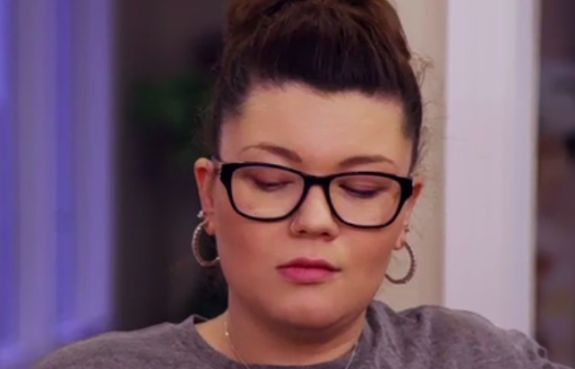 We then get to listen in as Gary and Kristina talk about how Leah would rather hang out with her galpals then watch her mom shop for baby crap. Gary says Amber wants him to switch weekends with her so that Leah's outings with her friends fall on Gary's days instead of hers.
Gary tells Kristina he doesn't want to give up his time his kid. (Kudos to Gary for actually wanting to see his child. Most of the dads on these shows only want to see their kid when it's convenient for them and/or it will help them to get some sort of Instagram product sponsorship or something.)
He tells his wife that he has to tiptoe around the subject with Amber because "anytime you say anything, she gets mad." (Again, you can't blame Gary. He just doesn't want to end up getting blood on his DadBod shirt. I can respect that.)
Back in Tennessee, Maci sits down to "help" Bentley with his homework, though we quickly learn he's just fine on his own after he finds the solution before Maci does. Apparently, Maci ain't much for the mathin' and numberin'. (The upside to having Ryan as his dad is that Bentley can go to him when they start learning about weights and measures. Surely Ryan is an expert on adding grams and ounces. Who says there's no hope with dope!?)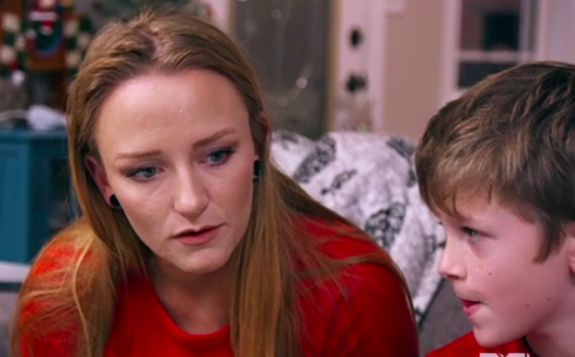 Meanwhile, Ryan and Mackenzie are sitting down for dinner with Jen and Larry. (Jen is somehow refraining from cutting Ryan's meat for him.) She asks Ryan about his sobriety and he tells her he "feels normal."
Um…that isn't exactly reassuring, bro.
Naturally, Ryan is chewing a big ol' pinch of tobbacy as he tells his family that having a new baby will be a good thing because it will give him a little person to stay sober for. (Apparently that little blond boy that comes around sometimes and calls him "Dad" wasn't enough?)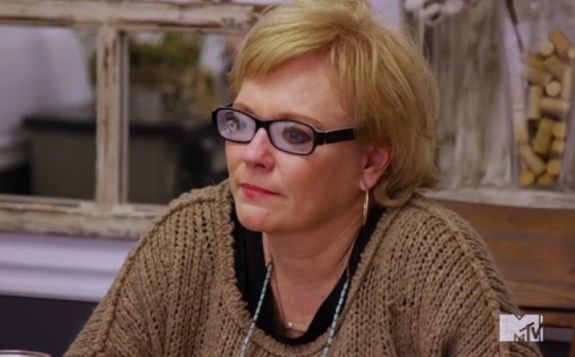 Larry tells Ryan that he knows this is a struggle for him, but that "we're on the same damn train, and when it wrecks, we wreck." Clearly the train he's referring to is the crazy train, and yes, the word "wreck" is definitely fitting here.
Larry then says how proud he is of Ryan and how being honest and putting his story out there can help others. Oh boy…the timing of this speech is giving us legit cringe-sweats.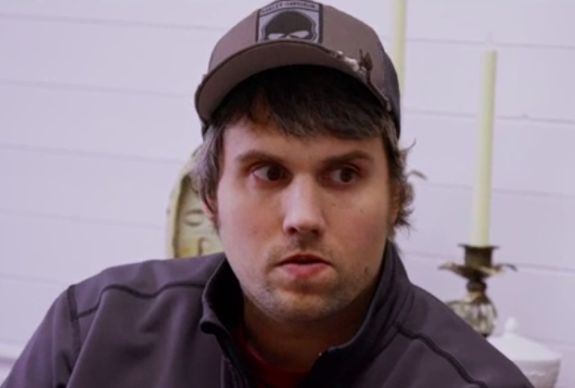 We go back to Michigan, where Cate is struggling to get back on schedule. She later tells Tyler that her anxiety is at an all-time high, which is causing her a lot of guilt. She says her medicine isn't working but Tyler assumes it has something to do with him.
Cate says it stems from her "inner-child s**t" and tells Tyler he's awesome and supportive but… she's HIGH! HIGH! tailing it back to Arizona for more treatment.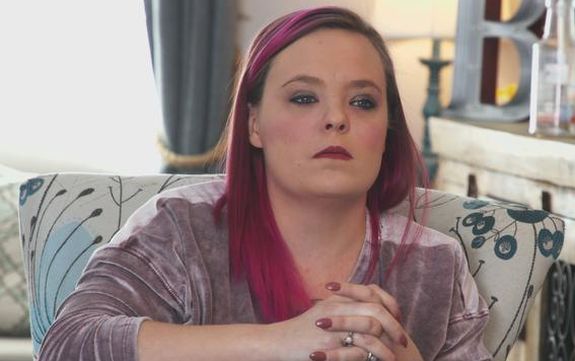 Poor Tyler looks shocked. He tries to hide his unhappiness about Cate's plan, but, being faced with taking care of Nova solo again, coupled with the task of keeping his children's clothing empire a float, it's hard for Tyler to hide. Cate tells Ty that she wouldn't blame him if he wanted to divorce her. Tyler tells her he's in it for long haul and will be there for her…again.
After telling Tyler her plans to go back to treatment, Cate calls to let her doctor know what's going on. Tyler suggests Cate consider outpatient treatment so she can still be at home, but Cate isn't down for that and wants to head back to Arizona ASAP. She tells Tyler she isn't sure how to handle the situation with Nova, who was thrilled when Catelynn came home the last time.
Later, Tyler goes to dinner with his sister, Amber. (Amber's beau wasn't able to join in on the dining excursion, what with his being leashed and all.)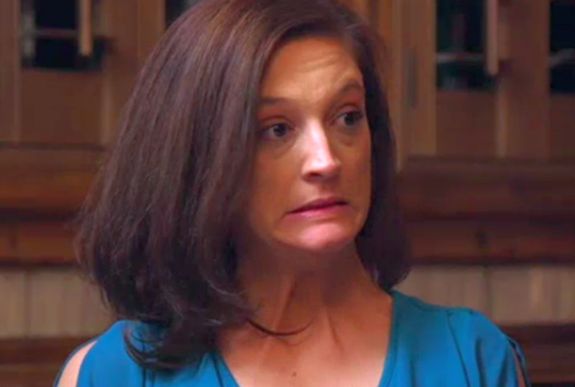 Tyler tells Amber about Catelynn wanting to go back to treatment and Amber questions Cate's decision. Tyler is concerned about Nova, or, "dude, our kid, bro" as he puts it. Tyler says that when he expressed his concerns over how Nova would react to Cate leaving again, Catelynn told her that Nova "will manage."
Ouch. That's frostier than Mackenzie's hair highlights after that MTV check comes rollin' in!
Tyler and Amber both agree that Cate's comment was selfish, since Nova is only three years old. They also relate the comment to things Butch has said over the years, which is probably the lowest of blows. (No Butch, not that kind of blow!)
Tyler also tells Amber that maybe he's not good enough for Catelynn.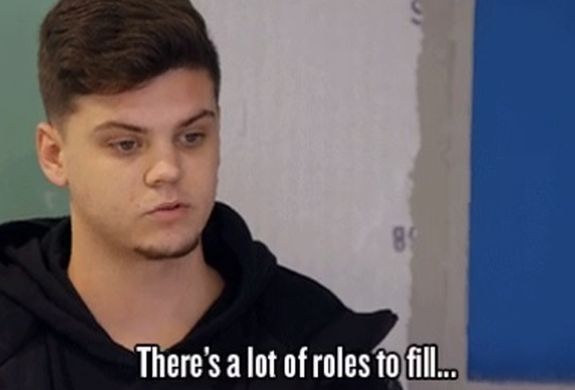 Later, it's almost time for Cate to head back to treatment but before she does, she takes Nova to school. On the ride there, Nova is excited at the thought of her mom coming to pick her up later that day, but Cate lets her know that her daddy will be picking her up.
Nova seems to be putting the pieces together that her mom is leaving again. She starts crying in the backseat, telling Cate she doesn't want to go to school. After handing Nova off to the teacher, Cate gets emotional about having to leave her once again.
Back at Amber's, we learn that Gary sacked up and declined Amber's offer to switch their weekends with Leah, which Amber is, of course, not happy about.
Producer David asks Amber if she thinks Leah is aware of the conflict going on with her and Gary and Amber says no, but admits she possibly she feels some tension.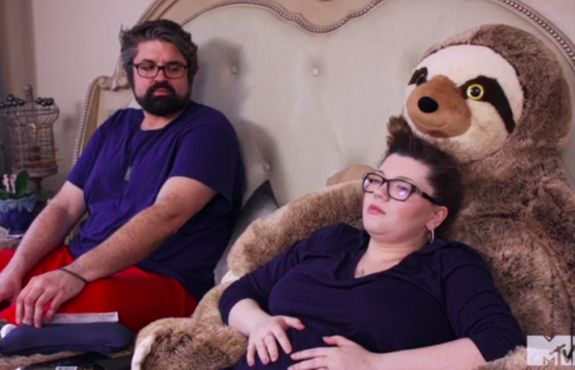 Amber says she doesn't want to go back to court to sort out her and Gary's issues and she admits that although she used to be a bad mom and a "pill head," she put herself in prison to turn her life around and that should count for something.
Um…yay?
Finally, we head out with Maci, who is having lunch with her long-lost mother, Sharon. Maci tells her mom the news about Ryan and Mackenzie having a baby, and you know Sharon's gonna have something to say about that! (I like me some Sharon; she does NOT play.)
Maci's mom is shocked about the pregnancy. (Either she can't believe Mackenzie let Ryan knock her up OR that Ryan was able to stay awake long enough to spread his seed.)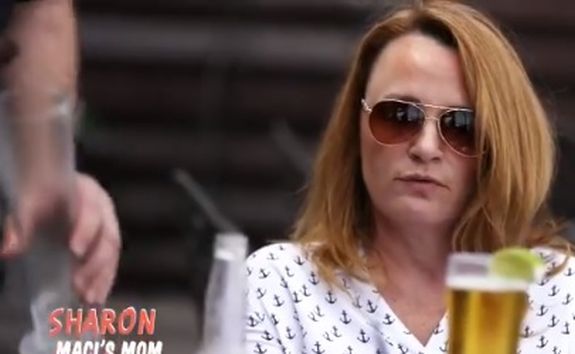 Maci tells her mom that Ryan has yet to turn in a drug test to her. Sharon tells her that if Ryan were clean, he would already given her a drug test to prove it.
Maci has gone a bit "Inspector Gadget" on us. She says "her people know people" who have told her that Ryan isn't clean. (Would those people be literally anyone with working eyeballs?)
Sharon says Ryan has to take the lead on his sobriety and that no one else can make him change. Maci tells her mom she's basically fed up with the addict antics.
While Maci and her mom are boozing and crap-talking about Ryan, it's bad times for our newlyweds. Ryan's in a bad way. He's shivering and acting like he's got the plague. Ryan criticizes Mack's driving, moaning that he just wants to get home. Once they arrive at their house, we hear them inside and Ryan complains of the house being cold, which Mack denies.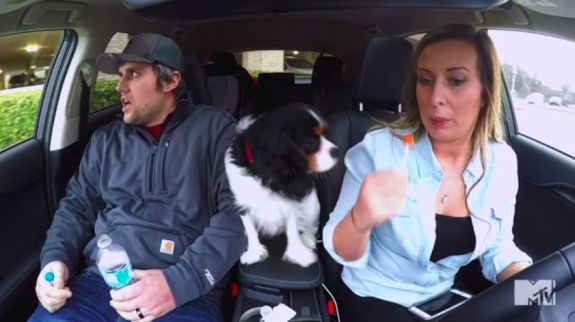 Ryan tells her he doesn't know if he can deal with her attitude and that maybe they just need to separate for the next…say…nine months. That way, the 'Teen Mom' Trap Baby will have already come slip-sliding out of Mackenzie's spawn chute and he won't have to deal with her pregnancy hormones.
Ain't that just so special?
That's it for this season! Next, the gang will check in with Dr. Drew!
To read our previous 'Teen Mom OG' recap, click here!
(Photos: MTV)