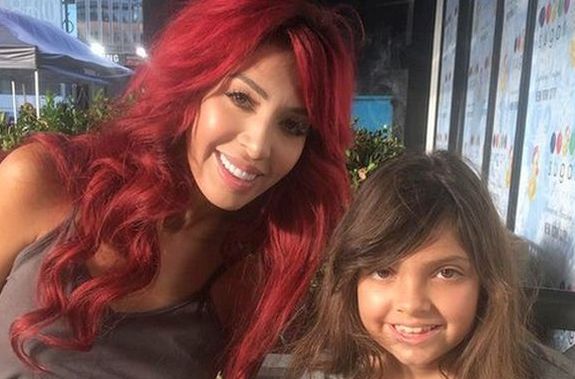 Farrah Abraham is no stranger to exposing her 9-year-old daughter Sophia to an array of seemingly age-inappropriate things. (She brought her daughter to her recent butt injection appointment, after all!) However, the former Teen Mom OG star wants people to know she draws the line at bringing her kid to Coachella.
During a Coachella party this week, Farrah told US Weekly that, although her daughter did tag along with her to the Coachella Valley, Sophia was chillin' in a hotel room and not attending the festival.
Farrah explained (in her signature "Farrah Speak") why it was not appropriate to bring kids to Coachella.
"I'm sorry, the inner-mom and the critical parent in me is like, I'm at the Coachella festival and I have to say, when I see a newborn, I honestly don't think it's a safe place for children," Farrah told the magazine. "That's why my daughter's at a resort, enjoying the pools and the country club with a nanny."
Farrah added that the "drugs and psychedelic s**t" at Coachella weren't safe for kids to be around.
"I was reading that some parents are saying, 'Yeah, bring your kids! It's fun for the kids.' I honestly don't think it's safe for kids, so I have to disagree," she added.
Farrah's foray into moral parenting ironically came just days after she brought Sophia along to film while Farrah got butt injections. The video struck a nerve with Farrah's followers and the criticism flooded the comment section.
Farrah defended the mother-daughter bonding time, likening the non-invasive procedure to Sophia watching her mom having blood drawn or getting a shot.
While Farrah says it's not appropriate to allow kids to witness the adult party atmosphere of Coachella, she had no problem with her daughter watching a very adult procedure Farrah had done earlier this week while live on social media.
As Farrah was getting labiaplasty (which, for those who don't know, is basically a surgery in which extra pieces of Farrah's lady parts were cut off to create a better looking vagina), Sophia was watching…and commenting on the Instagram Live feed.
As her mom's vagina was getting hacked up, Sophia repeatedly left comments, including "Hi Mom! Hi Mom!" from her own verified Instagram account.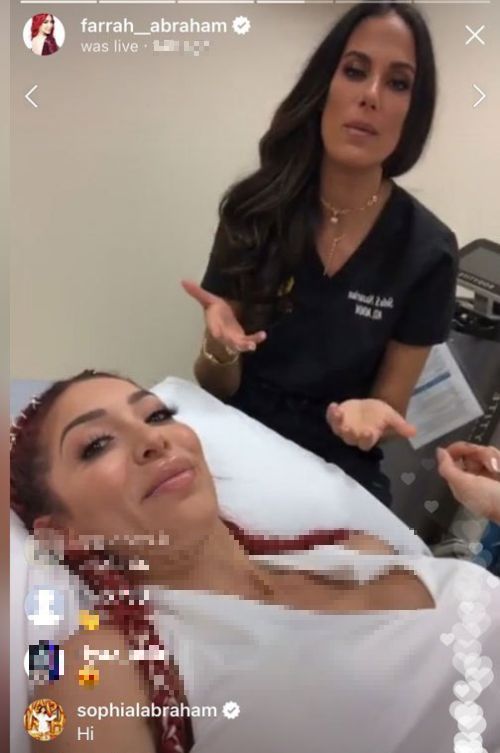 Nope…nothing creepy about that!
Sophia later posted a video to her Instagram in which she lip-synced to a rap song that talked about big booties and implants. She wrote that she posted it to cheer her mom up while she was recovering from her surgery.
Earlier this week, Farrah's estranged mother Debra Danielsen slammed Farrah for allowing Sophia to witness the very adult cosmetic procedures she was having done.
"I believe this kind of procedure is for adults and children need to know they are beautiful the way they are," Debra told The Ashley. "Children should be nurtured with a positive body image and have confidence to go achieve great things."
(Photos: Instagram)