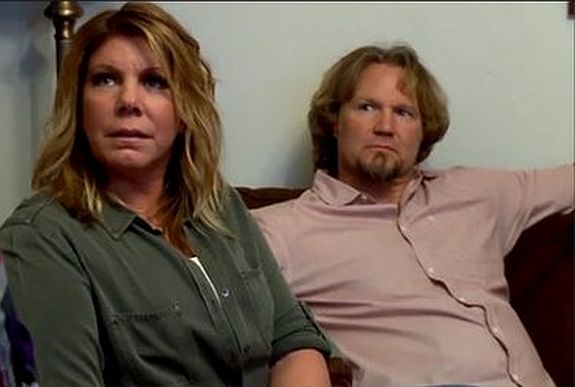 When we last saw Kody and Meri Brown, it looked like their marriage was not long for the road, with Kody even admitting during the season finale "Tell All" episode that he and his first wife now have a platonic relationship and that he has no desire to be intimate with her anymore.
However, it appears that the Sister Wives couple may be trying to improve their relationship. On Sunday, Meri posted to social media, informing her followers of a sweet gesture Kody made to celebrate their anniversary.
In a photo posted to Instagram, Kody and Meri are shown smiling for the camera. In the photo caption, Meri, who's out of town on business, wrote, "Kody flew out to Chicago on my last day of #LuLaRoe  leadership so we could spend our anniversary together yesterday. How sweet was that?!"
In an effort to combat Internet rumors that she and Kody had split up, she added, "28 years and still here!"
Kody married Meri in 1990 and together they have one daughter, Mariah. Meri was Kody's first (and only legal) wife until 2015, when Meri legally divorced Kody so that he could marry his fourth wife, Robyn, in order to adopt her children from a previous marriage. However, Meri and Kody remain spiritually married, although their relationship has been strained for the past few years.
The sight of Meri and Kody getting along and celebrating their marriage gave plenty of 'Sister Wives' fans a happy feeling.
"I'm so glad he came out to be with you!" one of Meri's followers wrote in the comment section of the photo. "I'm pulling for you two!"
"Happy to see some progress in your relationship and goals of working at it together! I LOVE IT," another person wrote. "Congrats!"
Of course, there were some nay-sayers who wondered if Kody only came to see Meri to look good for the TLC cameras.
"This had nothing to do with the show," Meri told one person in a comment. "This is us and our relationship."
"You don't know us then," she told another person who encouraged her to leave Kody. "We don't give up easily."
Although it doesn't appear Kody's surprise visit to see Meri was filmed for the show,  'Sister Wives' fans will get to see the couple work on their relationship, as the show has been renewed for another season.
(Photos: TLC, Instagram)