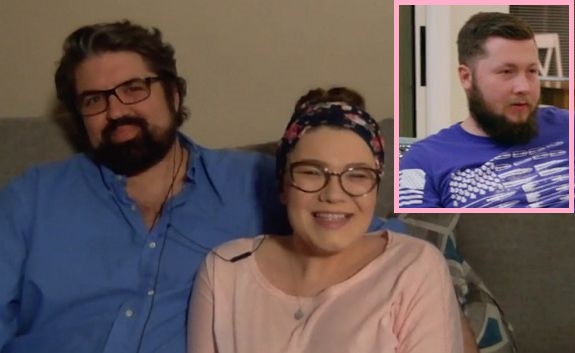 Amber Portwood's new beau Andrew Glennon has earned the "Bubby Seal of Approval!"
In an exclusive interview with The Ashley, Amber's brother Shawn Portwood came to the defense of his sister's relationship, after the Marriage Boot Camp: Reality Stars docs called Amber and Andrew's situation "a mess."
While Shawn admitted that Amber and Andrew fast-tracked their relationship (with Amber getting pregnant less than a month in), he had to admit that he's seen a lot of positive changes in his sister since she started dating Andrew.
"When I said that Andrew 'contains her' in a sense, I mean it," Shawn told The Ashley. "Her mood and her behavior has chilled out a lot since they've been together. I have never shied away from the fact that I believe she moves really quickly, but I think this is one move that she made that has benefited her health and her family situation."
Amber's brother has always served as voice of reason for the Teen Mom OG star. (He's appeared sporadically on the show since Season 1.) After reading what 'Marriage Boot Camp' star Dr. Ish Major said about his sister, Shawn stated that, while he respects the doctor's opinion, he feels that Amber's changed a lot since filming 'Boot Camp' last summer.
"I am sure from a medical standpoint he probably has some reason to believe what he said but I do not think that it was correct for him to say that," Shawn told The Ashley. "He only got 10 days to know my sister. I have known her for 27 years.
"I have seen her ups and her downs and I have seen her at her worst," he added. "Because of that I can honestly say, without a doubt, that she is doing better now than she has in 15 years."
On Monday, Shawn tweeted that Dr. Major, "doesn't know crap about how she is now. I know my sister and I can say with certainty that Andrew has helped turn her attitude around. She is a much more pleasant person to be around now."
Over the years, Shawn made it known that he was not fond of Amber's ex-fiance, Matt Baier. After spending some time with Andrew, Shawn assures 'Teen Mom OG' fans that "he is tenfold better than the last person she was with [Matt]."
"I do not know what their future holds but I do know that since being with Andrew, Amber has been able to get off a lot of the medications that she was on while with Matt," Shawn added.
Amber is due to give birth to her second child, a boy that she and Andrew plan to name James, next month.
(Photos: MTV, Instagram)