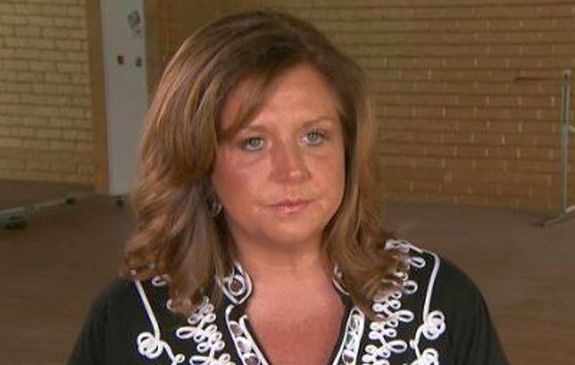 Abby Lee Miller has resurfaced on Instagram, days after the news of her cancer diagnosis broke.
The former Dance Mom star posted a selfie from what appears to be a hospital bed. In the photo, Abby looks distraught as an IV line is clearly visible in her hand. She used the photo's caption to thank her followers for their support. It's the first time Abby has spoken publicly since her doctor revealed last week that she had been diagnosed with what appears to be a form of Non-Hodgkin's lymphoma.
"So much gratitude and love for those who listened, those who looked deeper and those who leapt into action," Abby wrote on Saturday. "So much more I wish I could say……about how quickly your life can change at the hands of others. Thanks for ??
❤
"
Before her diagnosis (which, according to her doctor, is Burkitt lymphoma) Abby underwent life-saving emergency spinal surgery. On April 10, she had left the halfway house she had been staying at since her release from prison last month, suffering from what at the time was an "unspecified medical complaint."
While Abby did not indicate what her treatment will be, her doctor told People last week that a plan is being put together for Abby.
"We're getting an oncologist involved and we have to figure out what the next steps are as far as chemotherapy or radiation or more spine surgery," Dr. Hooman Melamed told the magazine. "There's a chance this can spread to any part of the body…this is probably coming from somewhere else. We don't know where the source is. Any tumor that spreads anywhere is automatically Stage 4, but we have not determined the stage yet."
Abby's former student Mackenzie Sol, who has stayed close to Abby, tweeted that he would be there for Abby during her battle with cancer.
"My whole world," Mackenzie wrote in a retweet of Abby's post. "We are going to fight this together #FightingWithMyFamily #WeWillWin."
Happy Easter ? pic.twitter.com/DsAmW2zCmC

— MackenzieSol (@MackenzieSol) April 1, 2018
Although Abby was scheduled to stay at the halfway house until the end of May, Radar Online is reporting that, due to her cancer diagnosis, it's unlikely that she'll have to return to the halfway house.
"Abby Lee's medical situation may require her to stay in the hospital for at least another month," a source told the site.
(Photos: Lifetime, Instagram, Twitter)