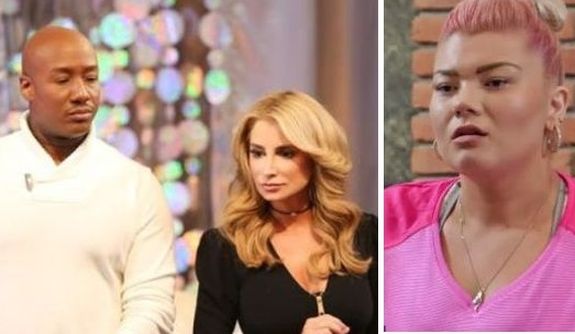 Amber Portwood's swift rebound from ex-fiancé Matt Baier to her current boyfriend Andrew Glennon is raising concerns among the pros of Marriage Boot Camp— the very show that brought the expecting parents together.
In a new interview with In Touch Weekly, one of the show's docs described pregnant Amber's current situation as "a mess!"
The Teen Mom OG star met Andrew during the filming of 'Marriage Boot Camp: Reality Stars.' Andrew was working on the show's production crew, while Amber was in front of the camera, attempting to hash out her tumultuous relationship with then-fiancé, Matt. She became pregnant just a few weeks into her relationship with Andrew.
The 'Marriage Boot Camp' hosts, Dr. Ish Major and Dr. Venus Nicolino recently spoke to In Touch about Amber's rebound romance with Andrew, as well as her pattern of "dysfunctional" relationships.
"The issues with [her new relationship] is the impulsivity of it," Dr. Ish said. "You are in a program designed to get you some closure and move forward in your life, in wherever direction that takes you — but while you're in the program, the guy you came with doesn't work out, so you end up with another guy, and you ended up getting pregnant — it's a mess."
Dr. Ish added that Amber's impulsive behavior and inability to be alone is part of "her personality issue."
He even predicted that Andrew will eventually see some of the unpredictable (and sometimes downright violent) behavior that Amber has become known for.
"I certainly don't like the fact that it happened while she was there, and it speaks to me that there might be more of the same in store for her with [Andrew]," Dr. Ish said. "The thing that's the same in every dysfunctional relationship she's had is her. She's the common link. That makes me worry for her in this relationship also."
Back in August, Amber's ex-fiance, Gary Shirley, expressed a similar opinion about his ex's quick rebound.
"I think she should've stayed single longer and really gotten to know herself and get over someone before getting with someone else — because that's how you do it, man," he said. "The correct way. You don't need someone to make you feel like you're living."
As for Dr. Venus, her concerns lie more with Amber's attempt to seek stability through her children — 9-year-old daughter Leah (whom she shares with Gary) and her unborn son, James.
"While that's not necessarily a bad thing, we shouldn't find stability in our children or in our relationships," she said. "Stability needs to come from within us."
Last month, Amber attempted to explain way her bad behavior on 'Marriage Boot Camp.' She admitted that she wasn't sober at the time she filmed the show (around June 2017), but explained that she is now sober and happy in her relationship with Andrew.
"I was heavily drinking on top of my bipolar and borderline medication," Amber tweeted. "Obviously something you shouldn't do with medications like that. However it happened and I went through hard times in order to be truly happy finally."
Amber is due to give birth to her son next month.
Amber and Matt's trainwreck breakup is currently playing out on 'Marriage Boot Camp: Reality Stars Family Edition,' which airs Fridays on WEtv.
(Photos: WEtv, Instagram)