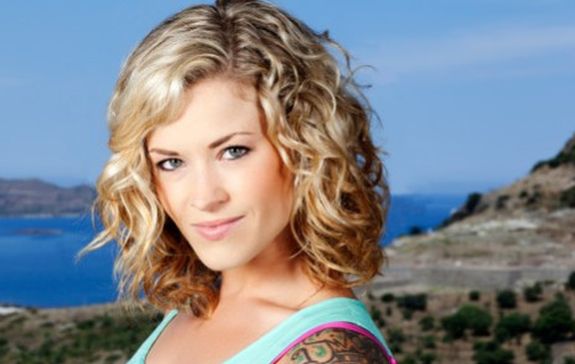 Sarah Rice uses her Brain Candy Podcast to chat about MTV's The Challenge, reality TV and other fun issues, but the latest episode of the podcast dealt with something much darker: her recent miscarriage.
Sarah's co-host Susie Miester told their listeners that Sarah had been planning to surprise her fans with the pregnancy announcement, but lost the baby 12 weeks into her pregnancy.
"The surprise was going to be that I'm pregnant," Sarah, who married Landon Patterson in 2015, said. "And that was so exciting and it was great and so hard to keep my mouth shut. But then I got another surprise when I went in for my first ultrasound at 12 weeks. The baby didn't have a heartbeat, so no more baby. And I had a miscarriage. So it was a different kind of surprise but not the best kind."
Sarah, who last competed on 'The Challenge' during 2016 "Rivals III," stated that the experience was much more traumatic for her than she expected.
"The baby stopped growing at about nine weeks, and I didn't find out until 12 weeks," she said. "I felt like a coffin. I was loving and romanticizing something that had been dead inside me."
The emotional effects of the miscarriage made her a "shell of herself" –according to Susie– for about three weeks.
"I had bought stuff," she said. "I got the nursery all cleaned out and I bought baby hangers… you start visualizing it.
"It's basically like doing a Final Challenge and leaving with no money," Sarah added. "It's like, 'What the hell? I just went through all that and there's not even a consolation prize?'"
(Sarah knows all about that. She and her partner Johnny Bananas won "Rivals III" but, in a twist, Johnny was able to keep all of the $275,000 prize money for himself, leaving Sarah with nothing.)
Sarah revealed that she had to undergo a D&C to remove the fetus from her body.
"I was far enough in my pregnancy that my body wasn't naturally getting rid of [the baby]," she said.
Thank you for all the love you've sent to @ImSarahRice today. Your support means everything! To hear her story listen here: https://t.co/3PpNbGEh0R pic.twitter.com/CSHxUHXnCN

— Brain Candy Podcast (@braincandypod) April 26, 2018
Sarah decided to share her experience in hopes of helping other women.
"I was thinking, 'Should I talk about this or do I not?' and I was like, 'Absolutely I should.' Because nobody ever talked to me about this! The doctor was like, 'Oh, it's so common. It happens all the time.'"
Sarah isn't the only MTV reality TV star to open up about their recent miscarriages. Teen Mom OG stars Maci Bookout and Catelynn Lowell each discussed their own miscarriages during the most-recent season of the show.
Listen to the entire episode of Brain Candy Podcast below!
Related Story: 'Teen Mom' Maci Bookout Revealed She Miscarried A Baby in 2017
(Photo: MTV)