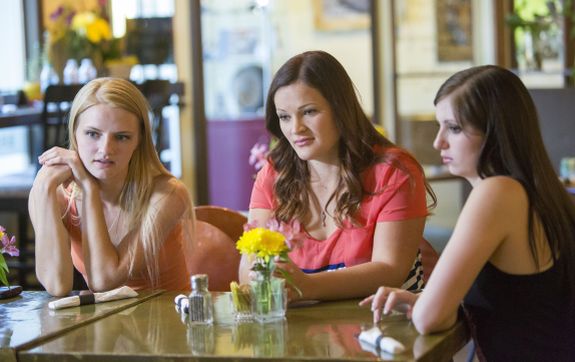 A new season of Escaping Polygamy is coming our way this summer!
Broadway World reports that the show's fourth season will premiere in June, with the show moving from A&E to Lifetime. The same group of sisters– Shanell, Andrea and Jessica Christensen–will once again be attempting to help people escape from polygamous situations. 
While past seasons have featured escapees from the Kingston Clan and the Fundamentalist Mormon (FLDS) groups, Season 4 will also feature people who want to escape the Apostolic United Brethren (AUB), which is the church that the cast of Sister Wives belongs to!
According to the new report, the new season will feature "an AUB father looking to save his children from the painful world of polygamy."
Other notable escapees who will be featured on Season 4 include the daughter of an elite member of the Kingston Clan who doesn't want to marry her older cousin; and the son of FLDS leader Warren Jeffs, who is looking for his mother.
Some of the 'Escaping Polygamy' girls were seen during the last season of 'Sister Wives,' participating in the same rally that Kody Brown and his family were at. While the Browns were at the rally to fight in favor of polygamy, the girls of 'Escaping Polygamy' (as well as some of the escapees the sisters have helped) were protesting against polygamy.
According to Broadway World, the girls of 'Escaping Polygamy' have had a harder time helping people lately, due to the notoriety of the show.
"As more polygamous sects become aware of the girls' mission, the more they are despised by those faithful to the religion making escapes increasingly dangerous," the story reads.
The new season of 'Escaping Polygamy' premieres on Lifetime.
(Photos: A&E, Instagram)