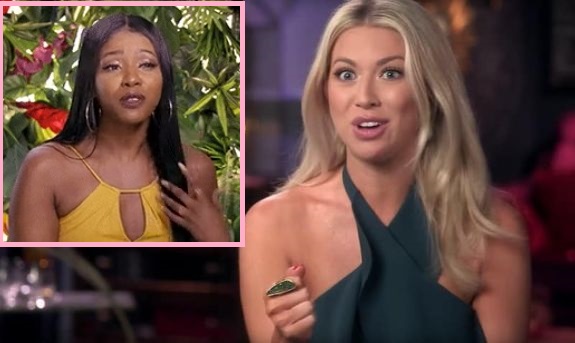 Stassi Schroeder's days of serving tea might be behind her but the Vanderpump Rules star is still known to spill some… and now she may be facing a lawsuit because of it.
During a recent episode of The Bitch Bible podcast, Stassi got on the subject of Faith Stowers — a 'VPR' minor-character known best for being the (most recent) girl Jax Taylor cheated on his girlfriend with. Stassi revealed to host Jackie Schimmel that she believes Faith was responsible for stealing more than $300,000 worth of items.
Naturally, Faith is not happy that her former 'VPR' cast mate has been accusing her of theft (among other things), and decided to do something about it. She says she plans to sue Stassi for making the claims (which she says are false) against her.
The story behind the potential lawsuit reads like a bad Nancy Drew novel. Stassi said that she and Kristen Doute played detective last summer, after a friend alleged that Faith had stolen her credit card. Upon hearing the accusation, Stassi said Kristen connected the dots to an unsolved crime in LA in which the suspect had drugged two people and stolen over $300,000 worth of money and jewelry.
After pulling up the article and comparing the tattoos of the suspect in the surveillance footage to the tattoos Faith has, Stassi believed that it was a match. She and Kristen contacted the police, though she noted the police "didn't give a f**k" about their findings.
Months later, Stassi said Kristen saw Faith at a club and decided to call the West Hollywood Police again. According to Stassi, the police basically told Kristen they knew what Faith had done but for some reason, they were not interested in apprehending her.
During the podcast, Stassi went on to also accuse Faith of being homeless during the filming of 'VPR,' stealing Jax's car and even going AWOL during her time in the military.
Upon hearing her former cast mate's claims, Faith revealed on The Tomorrow Show that she's now in the process of suing Stassi over some of the accusations.
"I can't talk about one of them because I'm currently about to have a lawsuit with one of them," Faith said on the show, confirming that she had sought legal representation.
Faith went on to call some of Stassi's claims "outlandish," namely the one about her stealing Jax's car.
"I think she said that the night of Scheana's birthday party when it came out that I slept with Jax or whatever, that I stole Jax's car that night," Faith said. "Jax Taylor's car magically went missing and I had to be the person that stole it. She thinks that I'm a thief."
Faith also rebutted claims that she was the one in the surveillance footage taken of the unsolved crime.
"I don't know if Stassi's been around a lot of black women in her life; I'm guessing probably not," Faith said. "But this lady that she said looks like me on The Daily Mail is at-large and has been taking $300,000 worth of Rolexes and drugging people in the clubs and I mean, just disgusting type stuff.
"She thinks it's me so she calls the police to let them know that they know that I'm at this club in LA and that they should come. And the police are like, 'No, we're not coming. It's not her.'"
Faith said she wouldn't accuse Stassi of being racist for making the claims against her.
"I don't think she's saying it because I'm black, but I will say the girl that, that was on Daily Mail was a black girl, but she looks nothing like me…a black girl in a wig with some tattoos, which I was really shocked by," Faith said.
Faith wants Stassi to retract some the things she alleged.
"I don't want to say too much because I really want the lawyers to do their jobs because they're, they're great," Faith added. "They actually represent Lisa [Vanderpump]. So they're really good. So I'm going to let them do what they have to do, and um, you know, let them go from there."
Faith, who is currently starring on MTV's Ex on the Beach, said she's not seeking money from the lawsuit; she just wants her name cleared. She added that Stassi's status doesn't give her the right to say damaging things about other people.
"I mean, even with MTV, they had to do a background check on me [for 'Ex on the Beach'] because of the things she said," Faith said.
"You have a reach ma'am, and because you have that reach, you have a responsibility so when you say things, you make a check and you make sure they're true," Faith said, addressing Stassi directly. "And if you're gonna say something crazy, at least have a reason to because she doesn't have a reason not to like me. I've never done anything to this woman, ever."
As for a possible motive for the accusations, Faith said it could have something to do with Jax.
"Maybe she still likes Jax, I don't know. I don't know. It's really weird how all these things play out with people."
Unfortunately for viewers (and probably fortunately for Stassi), Faith confirmed she did not attend the 'VPR' reunion due to filming with MTV.
(Photos: Bravo, MTV)