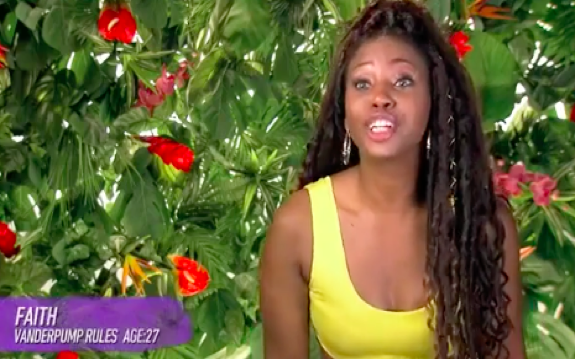 Faith Stowers' run on Vanderpump Rules may have been brief, but it's one she'll never forget – even if she'd prefer to.
The former SURver— who after leaving the Bravo show, went on to appear on MTV's Ex on the Beach and The Challenge— revealed some shocking details about her 'VPR' days during an Instagram Live interview with Floribama Shore star Candace Renee Rice, most notably, how she was mistreated.
Before diving into her Bravolebrity past, Faith prefaced her story, telling Candace, "I was the only black person [on the cast] … it was a lot."
She then referenced her hook-up with Jax Taylor, the aftermath of which fans saw play out during Season 6 of 'Vanderpump Rules'. Despite Jax being in a relationship with Brittany Cartwright at the time and Faith being single, Faith said she ended up getting attacked by her cast members, with many of them calling her names and saying her hair was nappy.
Faith said she finally reached a breaking point when Stassi Schroeder and Kristen Doute chose to get revenge on an entirely different level.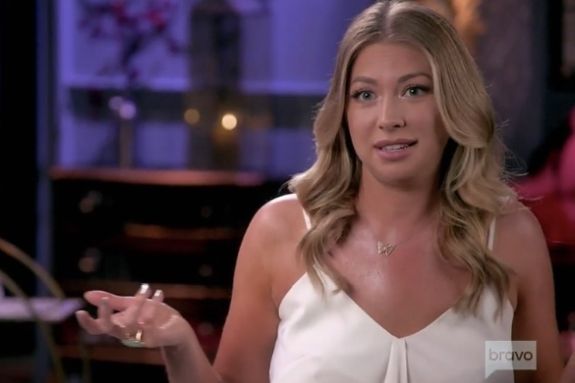 "It hit the ceiling for me … when Kristen and Stassi decided they were gonna call the cops on me," she said, noting that at this point she had "quit the show," even though she had been asked to return. "Once I [quit], I felt like they got upset with me."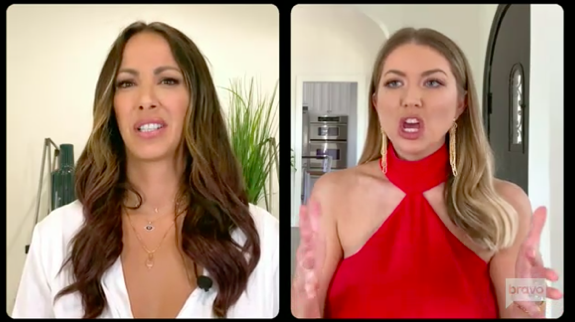 How upset? According to Faith, upset enough for Stassi and Kristen to call the cops after running into her at a club in West Hollywood, claiming that she was an "at-large" African American woman that had been featured in the DailyMail for drugging and robbing people.
As The Ashley told you in April 2018, Stassi seemingly bragged about making these allegations against Faith during an episode of The Bitch Bible podcast, telling host Jackie Schimmel that she believed her ex-cast member was responsible for stealing more than $300,000 worth of items. She then revealed that after a friend alleged that Faith had stolen her credit card, she and Kristen connected the dots to an unsolved crime in LA in which the suspect had drugged two people and stolen hundreds of thousands of dollars in money and jewelry.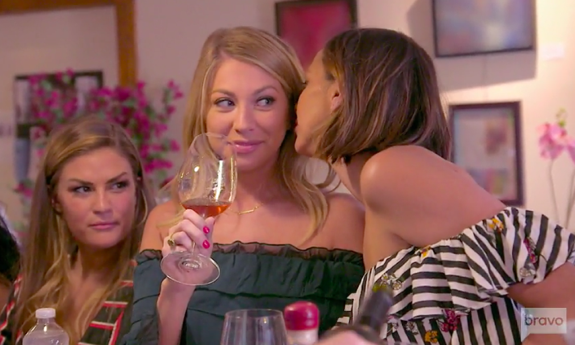 After pulling up the article and comparing the suspect's tattoos to the tattoos Faith has, the two believed it was a match so they contacted the police, who Stassi said "didn't give a f**k" about their findings. As Faith said during the Instagram Live interview this week, Stassi admitted during that podcast interview to calling the West Hollywood Police again after running into Faith at the night club. Stassi claimed the police told Kristen they knew what Faith had done but for some reason, they were not interested in apprehending her.
Shortly after the podcast aired, Faith said she planned to take legal action against Stassi – who also accused her of being homeless while filming, of stealing Jax's car and of going AWOL during her time in the military – but she did not provide an update during this week's interview.
While her experience on (and after) 'VPR' was a shock, Faith said she was more shocked by her boss, Lisa Vanderpump.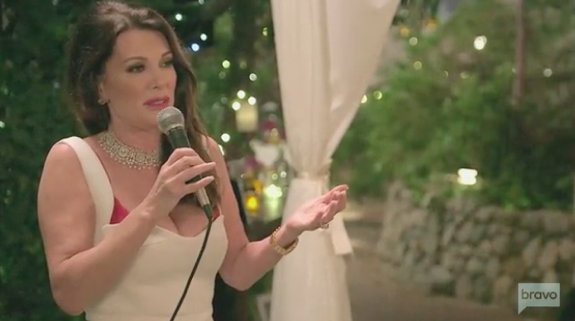 "When she first approached me she was very, you know, happy about the fact that, you know, there was a black person that was going to be on the show and she was like, 'I want you to put them in their place and kind of give them this NeNe Leakes kind of attitude,' … and I was very nice coming in," she said. "I wasn't really giving nobody real attitude and giving her that show she needed."
Faith did compliment her former boss later in the interview, calling Lisa a "real business woman" from whom she learned a lot.
Unfortunately, viewers didn't get to hear Faith side of the story regarding her hook-up with Jax or any 'Vanderpump Rules' happenings, because unlike the rest of the cast, she wasn't given an opportunity to film confessionals or interviews.
" … In my opinion, I thought it was weird that everybody on that show got to do interviews and confessionals and I didn't get a chance to do that, to tell my story, which was a very interesting story, being a black woman in the military," she said. "At the time I was still in the Army … I was leaving military drill like, real, real jobs to come film with y'all and act up."
Faith said she felt that the show didn't appreciate that fact and once the season wrapped, the opportunity to share her side of the story continued to be stifled as the network allegedly threatened to take legal action if she did interviews elsewhere.
Despite her bad experience on Bravo, Faith said she's now "in a way better position anyway, so it's fine." In January, she welcomed her first child, a son, Marcio Rock Marchena III.
Watch Faith's full interview with Candace below.
UPDATE: On Wednesday, Bravo announced that Stassi and Kristen, as well as Max Boyens and Brett Caprioni have been fired from 'Vanderpump Rules' over their past racist words and actions. Click here for the latest details!
RELATED STORY: Screaming, Sexuality, a Shocking Hookup & More: A Breakdown of the 'Vanderpump Rules' Season 8 Reunion (Part 1)
(Photos: MTV; Bravo; Instagram)