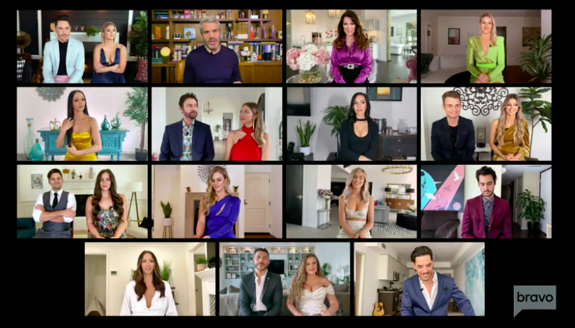 The cast members of Vanderpump Rules – all 800 of them – crammed onto our screens Tuesday to SURve up drama, spill tea and show off their quarantine looks during Part 1 of the Season 8 virtual reunion.
With the current pandemic preventing the traditional reunion format from going down, the cast was left to gussy-up their top halves, surround themselves with ring lights and hope for the best, all while behaving their worst…which, of course, is exactly how we prefer it.
Season 8 of 'Vanderpump Rules' itself seemed to drag on for years, so the few exciting points of the Part 1 Reunion were a welcomed surprise. However, if you've already hit your limit on 'VPR' nonsense for the season, we'll do the heavy lifting and catch you up on what you missed.
(And unlike Jax Taylor, we won't document our "heavy lifting" in a series of videos posted to our Instagram Story.)
Here are the most shocking things that went down during Part 1 of the 'Vanderpump Rules' Season 8 reunion:
Dayna admits to being "obsessed" with Max.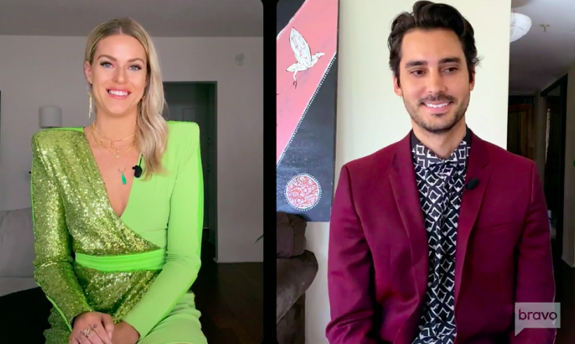 When asked about the relationship that started (and quickly ended) this season with fellow 'VPR' newcomer Max Boyens, Dayna Kathan admitted she was "really f**king obsessed" with Max at the time. Despite viewers seeing Max initiate the conversation with Dayna this season about dating exclusively, Max downplayed their relationship during the Reunion, which he also did when asked about Scheana Shay, whom he dated prior to Dayna.
Max reveals he hooked up with a third 'VPR' cast member.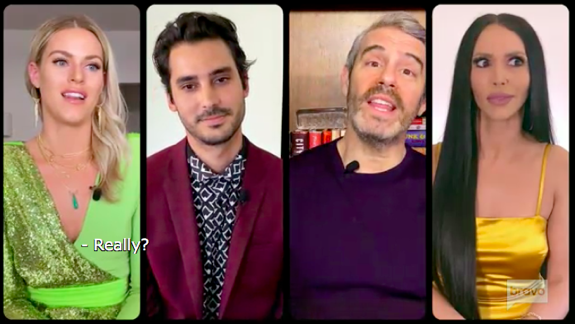 After probing Max about his "casual" relationships with Dayna and Scheana, Andy Cohen asks Max if he's hooked up with anyone else on the show and without hesitation, Max drops Kristen Doute's name. Kristen, clearly unbothered that Max has shared this juicy detail, adds that they've actually hooked up twice.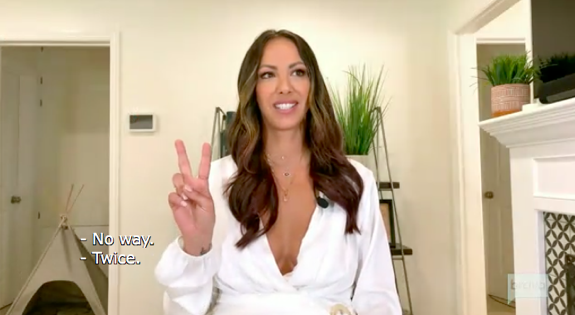 Judging by the reactions of the rest of the cast, these two seemed to have kept this secret well-hidden.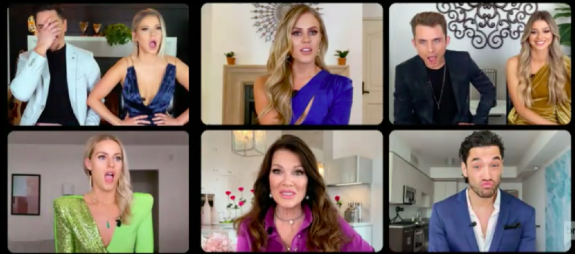 Stassi and Kristen go head-to-head.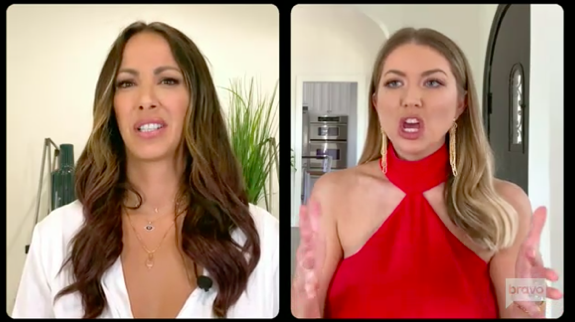 While Kristen tried to explain that her hookup with Max happened while they were both single, her former best friend Stassi Schroeder jumped in to question when she was single before then criticizing her for pretending to be friends with Dayna.
"It's so f**king on-brand for you to act like you are so close to Dayna and then go f**k the dude that she's talking about," Stassi said – a dig at Kristen for having previously slept with Jax, right after he and Stassi broke up. "You were born shady, you remain shady, you will always be shady and you're a liar and you have no remorse and that's what makes you insane."
Charli stands up to Jax.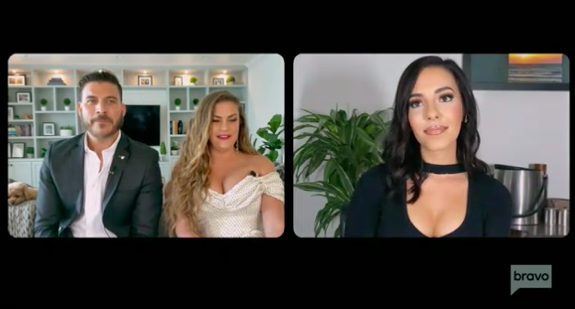 After being asked if he felt threatened by the show's new blood, Jax denied such claims; however, Charli Burnett argued otherwise, pointing out that Jax obviously felt threatened enough to "bully" her on Twitter.
" … I don't even know this like, 50 year-old man," she added.
Charli went on to say she doesn't care what Jax thinks about the new cast and as far as she's concerned, "he's retired and done and wrapped."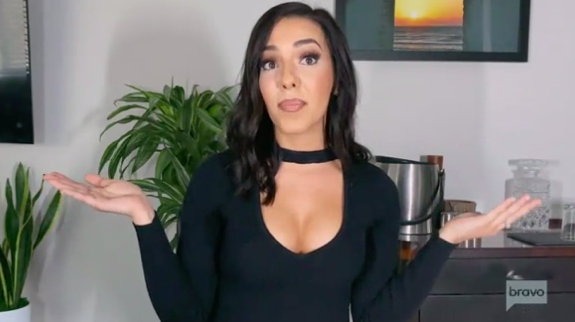 "Know your role, sweetie," Jax replied. "Know your role! Know your role! You should be lucky that you're here! You should be lucky that you're here!"
Charli told Jax and the rest of the 'VPR' OGs she didn't need their OK after Lala Kent said she had to earn respect on the show.
" … I am who I am and I don't give a f**k if you like me," Charli said. "End of story."
Jax later told Charli she was "the most disrespectful person."
Schwartz tries (again) to defend his bad behavior.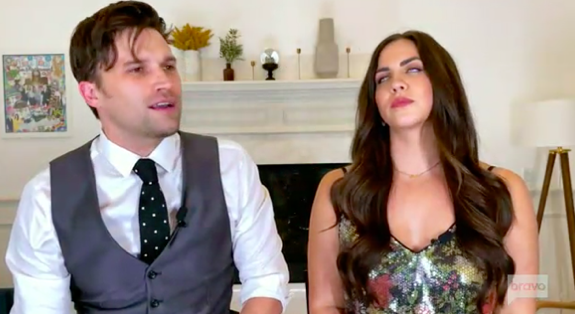 Tom Schwartz tried once again to explain why he snapped at his wife Katie Maloney this season after Katie disapproved of the arrest prank Jax and Randall Emmett played on Tom Sandoval. Schwartz said he "just lost it" mainly because Randall had put "so much effort" into organizing the prank. He assured the group he doesn't usually speak to Katie in that manner.
" … If I talk that way to Katie or if I acted like that on a regular basis, I would have myself committed," he said.
Katie herself said she wasn't going to "sit here and try to normalize this kind of behavior," though she admitted it wasn't the first time it had happened.
Jax (kind of) apologizes for the digs he's made about Ariana's sexuality.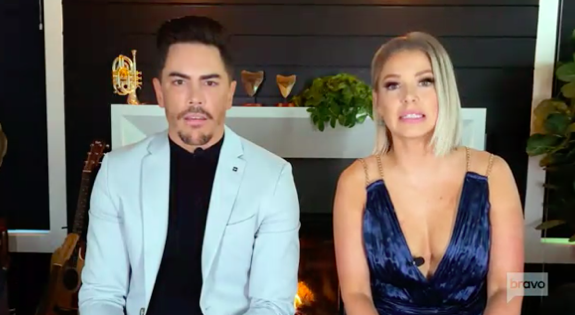 When asked about the multiple times he's made offensive remarks about Ariana Madix being bisexual, Jax apologized. He denied having any confusion regarding what it is to be bisexual and then clarified that bisexuality doesn't bother him…but Ariana does.
"I don't think it's very hard to understand what it is to be bisexual; I've never flip-flopped on that," Ariana replied. "Anybody who knows me has known that for a very, very long time. It's also like, really fun to just know that I bother him so much."
Lala reveals she's been holding a grudge towards Ariana.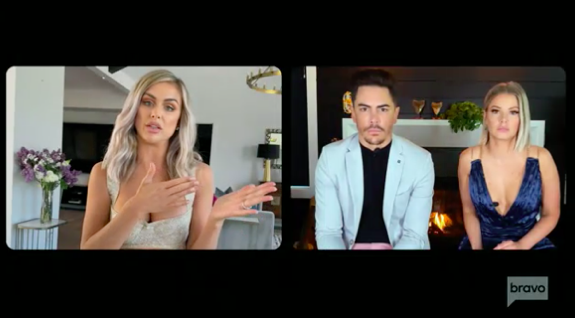 After Andy questioned Lala about a video she posted online "going off" on Ariana and Sandoval, Lala said she felt the two treated her differently once she became close friends with the rest of the cast. In turn, Ariana said Lala began taking trips with some of the cast that she and Sandoval weren't invited to go on, causing the two of them to look at her like a fair-weather friend.
Lala went on to reveal that she was still holding onto the comment Ariana made last season about her needing to "toughen the f**k up" after the death of her father.
"If I didn't apologize then, I want to apologize now," Ariana said before detailing some of her own experience, having lost her own father shortly before joining the show. "When I was saying that, I was bitter as f**k about my experience … ."
Max and Brett comment on their racist tweets.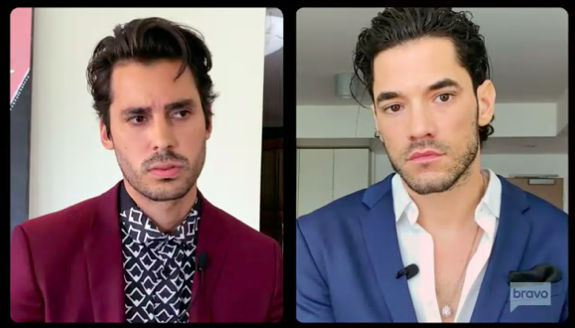 Regarding the racist tweets belonging to Max and Brett Caprioni that surfaced prior to the Season 8 premiere, both employees issued apologies.
Max, whose mother is biracial, said he cringes just thinking that he said those things.
"We live in a generation now where saying some things, even if you are of that culture, is just frowned upon," he added. "I just want to say I'm just really, sincerely sorry."
As for Brett, he said his actions were OK then and they aren't OK now, calling it a "dumb f**king thing to do."
" … I'm doing my best to move forward and be the best person I can be," he said.
Brittany gets heated talking about her homophobic pastor.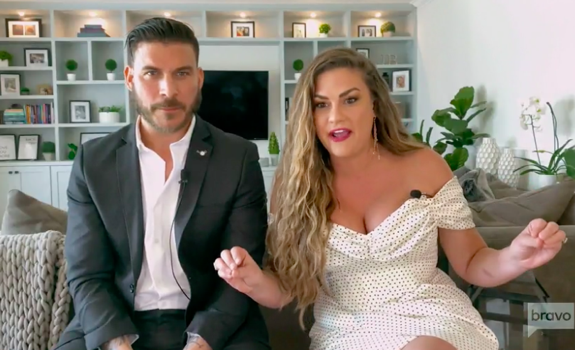 After homophobic tweets from Brittany's pastor surfaced prior to her wedding to Jax, Lisa confronted the couple and they ended up having Lance Bass officiate their nuptials. Still, the couple not acting sooner raised some concerns among some of the cast. During the Reunion, Stassi accused the two of having "a habit of sticking their heads in the sand."
"I promise you guys," Brittany said while getting emotional. "I did not see anything more than the one tweet. He promised me that he [wasn't homophobic] so I believed him."
Brittany went on to tell the group how difficult that time was for her, while getting more upset.
Sandoval brings up Jax's mom.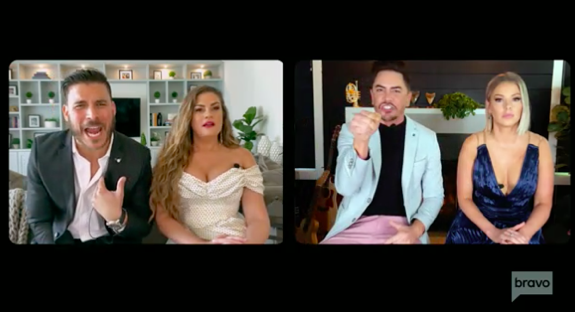 Sandoval also chose to speak up about the pastor drama with Jax and Brittany, as he did this season, prior to the couple's wedding. When Brittany expressed during the Reunion how stressful that situation was for her, Jax attempted to blame it on Sandoval for having brought it up on the show, but Sandoval wasn't having it.
"I have been a way better friend than that motherf**ker has ever had in his life," Sandoval fired back at the accusation. "I've never had anyone do more f**ked up things to me in my entire f**king life, friend or foe, than Jax motherf**king Taylor!"
Jax stood by his comments about not wanting Sandoval at (or in) his wedding, claiming that he was pushed into it by "the girls." In response, Sandoval pointed out that Jax's own mother didn't even score an invite to his wedding.
"You expected your mom to f**king, like, hit you up after all the stuff you've said about her," Sandoval said.
Jax, who has been feuding with his mother since the 2018 death of his father, responded to Sandoval, calling him an "awful person."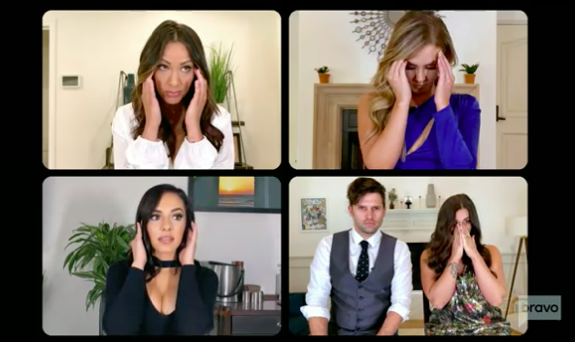 Part 2 of the 'Vanderpump Rules' Season 8 Reunion airs Tuesday, June 9 on Bravo.
You can watch a sneak peek of Part 2 below!
RELATED STORY: Scheana Shay Talks Season 8, the Bri Dellinger Scandal & Why She Thought She Was Going to Get Fired from 'Vanderpump Rules'
(Photos:Bravo)