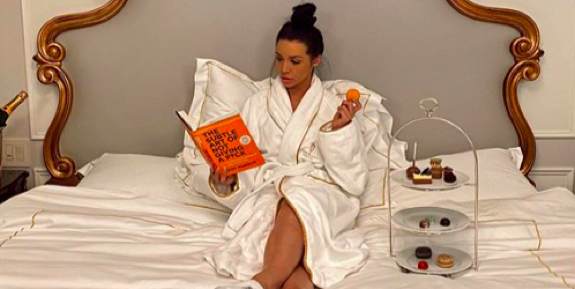 Scheana Shay says she's ready to move on from the drama of the latest season of Vanderpump Rules.
During an interview with the Not Skinny But Not Fat podcast this week, Scheana revealed how happy she is that Season 8 is over. She also revealed that she was, at one time, fearful that 'VP' newcomer Dayna Kathan would replace her on the show.
"I'm so glad the f**king finale was on last night [May 19] because I'm like, finally, I can move forward with my life, like, in every way, where I don't have to relive the past, watching old s**t," she told host Amanda Hirsch.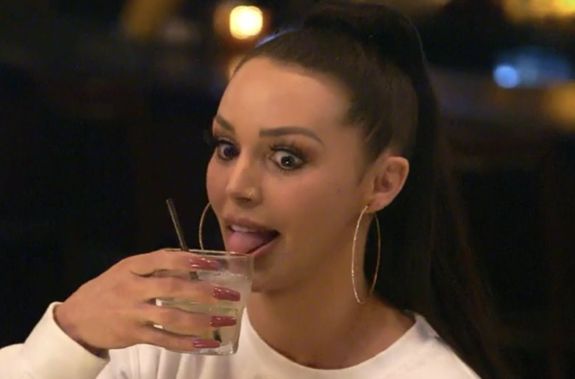 Scheana's feelings about the show's eighth season were no doubt impacted by recent revelations from now-former 'Vanderpump Rules' editor Bri Dellinger, who shared in a podcast interview that she would purposefully make edits to embarrass the SUR server and singer. In the wake of the interview, #justiceforscheana trended on social media. (Bri later revealed in a now-deleted open letter to the 'VP' cast that she has been fired from the show.)
"I definitely, like, felt like vindicated because I'm like, 'OK, I'm not crazy, I'm not crazy,'" Scheana said on the podcast. "But, you know, I mean, I'm the first person to say, 'If I said it, I said it, I did it, like this is what I signed up to do.' But it was frustrating when there are so many scenes that I watched and I'm just like, 'Ugh, it wasn't like that,' but then it's like I'll get s**t if I go and say, 'Well, what really happened, what you didn't see …'"
Prior to the Not Skinny But Not Fat interview, Scheana had kept relatively quiet about the editing controversy. She credits her boyfriend Brock Davies— not Bravo execs, as had been reported— with keeping her from ranting about the situation on social media.
"When I saw all of that, yeah, I was livid, and normally I would go straight to social media and rant about it but, thankfully, I have an amazing boyfriend who sees the bigger picture, doesn't have an emotional relationship with the show, just with me, and wants the best for me," she said. "He can see from an outside point of view. Like, we got into a huge fight that morning, but I'm so thankful because he was like, 'Why are you going to do that? What good is that going to do? You're just going to piss off more people, it's not going to change anything. How about you just don't go to social media?'," Scheana said in the interview.
Scheana also talked about dating Max Boyens before filming and confronting him about comments he about her made in testimonials.
https://www.instagram.com/p/CAOdQYOJC-Z/?utm_source=ig_web_copy_link
"I called him and I was like, 'Look, this is only the second episode but it is the second episode you've said something that's hurt my feelings, and I promise you Max, if this is what we're in for for the next 20-however-many weeks, we are not friends anymore, our friendship is done…'" she said, later adding, "And from that day forward, never was there one interview, one comment in a conversation, not once since that day because he does value our friendship, we do love each other, we're such good friends, and that does mean something to me."
New cast members were also discussed in the interview, with Scheana revealing why she was unhappy about Dayna Kathan joining the cast. Surprisingly, though, it wasn't because of Dayna's relationship with Max. Scheana said it was actually a mix of her own pettiness and insecurities.
https://www.instagram.com/p/CAYErRwA0ir/?utm_source=ig_web_copy_link
"I kind of had this attitude where I was like, 'Look, you're coming into our group, you're coming on to our show, you should be kissing our a**es. I don't need to befriend you; you need to befriend me,'" she said. "And I just kind of had that attitude going into this season because there were all of these new people and I'm like, 'So I'm supposed to be the bigger person like I always am and go out of my way to make your job easier when mine is s**t?' Why would I do that? No."
Scheana said when she began to notice how much camera time Dayna was getting— with production really focusing on Dayna's life and career— she started to worry that they were grooming Dayna to take her place on the show.
"What I did care about was this new girl coming on the show getting her career filmed and everyone going to her [comedy] show and supporting her. It was me being butt-hurt and feeling like, 'Is my job at risk? All these new people are coming on, you're showing their careers [and] you're not showing mine. You're not showing my life.' I was frustrated about that," Scheana said.
"I thought she was coming on to take over my job. They were so Dayna-heavy focused in the beginning of the season and I'm like, 'What show am I on and why am I still a waitress and everyone else is moving on with their lives and now I'm stuck with these 20-year-olds filming at the restaurant?' I was just so bitter," she recalled.
Scheana— whose new video "One More Time," costarring cast mate Brett Caprioni— debuted earlier this month, shared how jealous she's felt of other cast members who have had their ventures highlighted on the show, like Dayna's comedy shows and Stassi Schroeder's podcast.
"She [Stassi] gets to literally live her real life on our show whereas I'm not really a full-time waitress, like, spoiler alert," Scheana said in the interview.
Even after this difficult season, Scheana has a good sense of what 'Vanderpump Rules' is really all about.
"I think I'm one of the few OGs left on the show who, personal feelings aside, I know that this is a show about Lisa Vanderpump and her restaurant and, yes, our lives outside of it, but at the end of the day the show is called 'Vanderpump Rules.' The show is always going to be based at SUR. Maybe it spins off to other ones one day, but for now, this is the show, this is my job, and I take my job seriously. So, if that means that my job is to bridge the new cast with the old cast and to show up at SUR, you know, several times a week, then that's my job, and as bitter as I was, I was just like, 'Well, this is my job'," she said in the interview.
You can listen to Scheana's full interview below!
RELATED STORY: Jax Taylor Comments on the Confusing Storylines of 'Vanderpump Rules' Season 8: "I Don't Know What Happened This Season!"
(Photos: Bravo; Instagram)