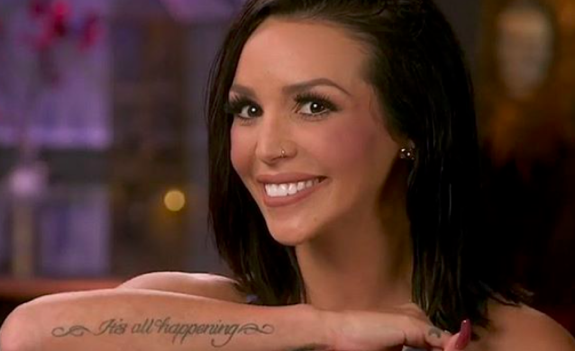 Any longtime fan of Vanderpump Rules will tell you Scheana Shay has had her fair share of embarrassing moments put on full display over the show's eight-season run… and we're not even talking about her aspiring career as a pop star.
If it seems as though these moments happen just a little too often to Scheana, you're not wrong. As it turns out, someone behind the scenes of the show has been working hard to ensure none of Scheana's cringe-worthy moments end up on the cutting-room floor.
Bri Dellinger, an editor for the Bravo show, revealed on a now-deleted episode of the Twisted Plot Podcast with Evelyn Marley this week that she tries to embarrass Scheana on the show, even if it means using creative editing or sound bites to do so. Bri also accused the 'VPR' cast of not going out of their way to be her friend — something she suggested would be in the casts' best interest.
The controversial podcast episode– which was quickly yanked after the press got wind of it— included Bri talking about how she might embarrass Scheana less if Scheana made more of an effort to befriend her.
"If Scheana knew what was good for her, she'd befriend me because my favorite game is finding all of the embarrassing things that Scheana does and putting them all in … [The editors] joke that Scheana's memoir will be [called]Death By a Million Embarrassments."
(Check out that particular clip from the podcast — recorded and reposted by the #PUMPRULES Instagram page — below.)
Bri also stated on the podcast that Scheana's 'VPR' co-stars aren't so friendly toward her either, particularly Stassi Schroeder.
"They don't really think about or talk to us at all," Bri claimed. "I feel like they should totally want to be friends with me. I know everything about them. Oh, wait! Maybe that's why they don't want to be friends with me.
"I was like, 'I am totally going to be friends with Stassi.' No, that didn't happen," she said. "Like, I met her at the premiere parties and she doesn't care about me — nor does anybody."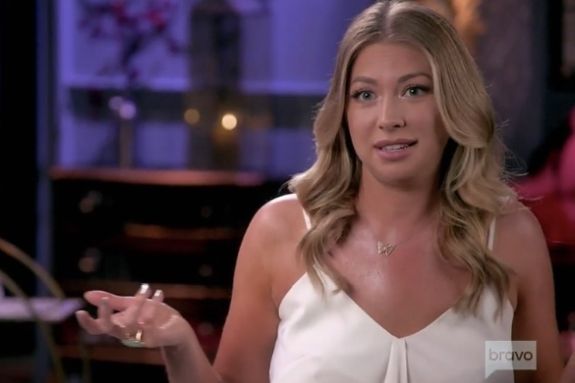 Even though Stassi didn't become BFFs with Bri, she still gets a way better edit than Scheana— something Bri took credit for in the podcast. One recent incident that was brought up on the podcast was a scene from Stassi and Beau Clark's engagement party, in which it was made to look like Scheana was hitting on Stassi's teenage brother Nikolai.
A horrified Scheana later took to Twitter to defend herself and explain that she had a simple conversation with Nikolai during the event, even stating "that kid is like a little bro to me." She added that Nikolai— who is "a kid I watched grow up"— was making innocent conversation with her at the event.
"Should I have ignored him?" Scheana tweeted. (Stassi later tweeted that the interaction between Scheana and Nikolai was "harmless" and that nothing inappropriate occurred, despite how it was shown on 'VPR.'
Thank YOU! I was off twitter for a week and signed on today and got fired up. 💙💙💙 https://t.co/fTJwIKZcNT

— 🏳️‍🌈Scheana (@scheana) May 4, 2020
During the podcast interview, Bri admitted she was behind that humiliating scene, using sound bites and music to imply Scheana was trying to rob the cradle.
"We were watching the scene and were like, 'Okay, this is over the top, I realize that, but how can we resist?' … Yes, I set it to funny music and I added a funny [sound] bite, but she did that," Bri said. "We asked [Scheana] in the interview, 'How young would you go [while dating someone]?' and we didn't tell her it was for the Nikolai scene, of course."
Bri later acknowledged that Scheana has a right to be upset about how she's been portrayed on the show.
"I understand why she's bitter in some ways. You know, we do poke fun at her, but she's just so funny."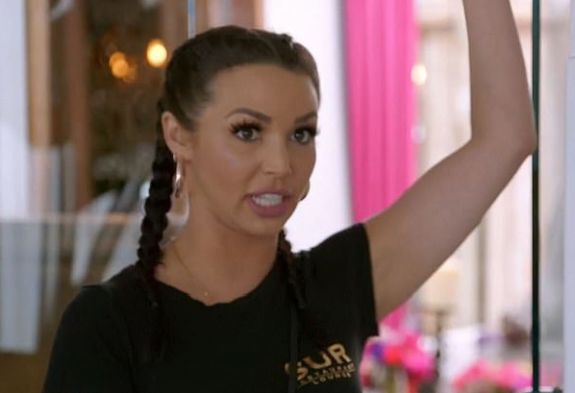 Bri also revealed during the podcast that she didn't want to be the editor assigned to work on the episodes for Jax Taylor and Brittany Cartwritght's wedding. (OK, we might see her point on that one… ) and that Beau and Stassi are considered the "special heroes" of the show, which garners them a more-favorable edit than other cast members.
"Bravo decided Stassi and Beau were special heroes, so we do try to have Stassi and Beau in all the shows," Bri said. "But it's a Bravo call, not a producer call."
Scheana seemed to respond to the comments on Monday, tweeting Bravo executive Andy Cohen to let him know she had "some tea" for him. Scheana's tweet has since been deleted.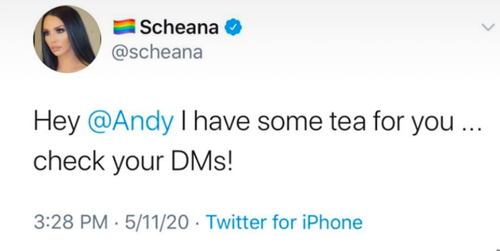 The SURver also alluded to Bri's comments in a post to her Instagram Story in which she declared that it was "emo nite" as she jammed out to Dashboard Confessional's "Vindicated."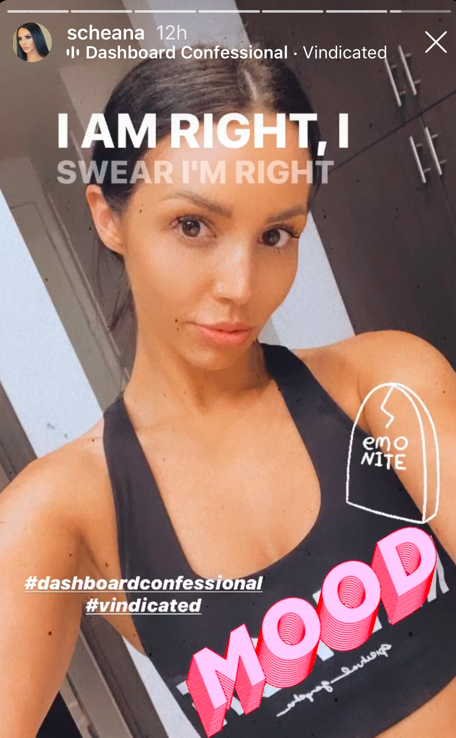 Bravo has yet to respond to Bri's comments, but 'Vanderpump Rules' fans came out swinging on Twitter in defense of Scheana.
"The fact that Bri Dellinger(#PumpRules editor) manipulated a scene to try and make Scheana look like a pedophile is disgusting," one person wrote. "She should be fired for that… or forced to read all the hate tweets about her on camera, at the very least."
"So after just finding out that one of the 'VPR' editor Bri Dellinger edits Scheana's scenes to make her look bad on purpose, I'm on a rampage," another person tweeted. "I would hate to know someone who has the power to make me look good or bad would use me not personally being friends with them against me."
Listen to a short clip of the deleted podcast below!
LMAO imagine editing a show with Jax Taylor, Katie Maloney, Tom Schwartz, Stassi etc. Etc. as the cast and you choose SCHEANA to be the one to embarrass. This S T I N K S. #PumpRules pic.twitter.com/1ccrFx69yz

— Housewives Historian (@cuntneykardash) May 11, 2020
RELATED STORY: 'Vanderpump Rules' Star Kristen Doute Calls Tabloid Sites for Falsely Reporting She May Be Pregnant: "You Are What is Wrong With Women's Body Images"
(Photos: Bravo; Instagram; Twitter)