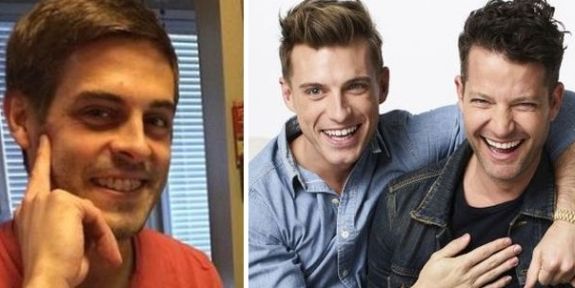 Derick Dillard is once again behind his computer keyboard, taking aim at LGBTQ issues– and TLC reality TV stars!
Unlike last time, when he targeted transgender teen reality star Jazz Jennings, this time Derick came after designer Nate Berkus, calling Nate's new show Nate & Jeremiah By Design (which features his husband, Jeremiah Brent and their daughter Poppy) "a travesty of family."
On Friday, Derick–who is married to Duggar daughter Jill— started in on Nate's show, which he tweeted "both highlights and celebrates a lifestyle so degrading to children on public television as if it should be normal."
After his initial tweet, Derick spent the day (which he made sure to let followers know was his day off from work), defending his opinion that a show about two gay men raising a child should not be on TV.
"[Their lifestyle] affect(s) this poor child, as well as what perversions are celebrated," Derick explained. "If it were adultery, I doubt a network would be so quick to focus on the reality of it as if it were OK."
Derick called on other Christians to boycott what he called "the bad shows" that celebrate sinful lifestyles, like homosexuality.
"I'm just calling Christians not to support its promotion in such a public sphere," Derick told one person on Twitter. "Freedom of speech works both ways."
After Derick's initial tweets, Nate took to Twitter to respond. Although he didn't address Derick directly, it was obvious that the tweet was in regard to what Derick had tweeted.
"My hope with having a show like #NandJByDesign on @TLC, where we go into people's homes and welcome viewers into ours, is that we can start to break down barriers & normalize the way our family looks & the way our family loves," Nate wrote.
Derick's Twitter-bashing of Jazz Jennings (who stars on I Am Jazz), appeared to be one of the reasons that TLC discontinued filming with him (as the network announced his departure from the show immediately after the tweets were posted). However, Derick has always maintained that he and Jill made the decision to remove themselves from 'Counting On.'
"We knew for awhile that there may come a point when we would no longer participate in the show," Derick tweeted. "A number of things about a year ago lead me to believe that it was a good time to split ways with filming and do what was best for our family. We were headed in a different direction….Yeah, and there came a point where it wasn't for us. May 31st to be exact."
(By the way, Derick later insisted that nothing specific happened on that date–which was right around the time Jill's sister Joy-Anna Duggar married Austin Forysth.)
"TLC didn't want us to, because they were opposed to our leaving," he wrote. "For TLC it's a matter of popularity and what makes money. That can be good or bad, but it's true. Just sayin'…
He later added, "[TLC] won't tell you that I was ever fired because I wasn't. We wanted to leave and they didn't want us to. That's the truth."
To read all of the juicy stuff Derick revealed during his previous Twitter rant last month, click here!
(Photos: Instagram, TLC)