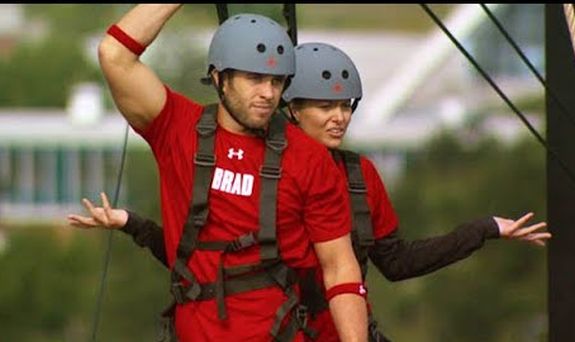 Don't expect to see the Fiorenza kids on the next generation of MTV's The Challenge!
Tori Hall says that her sons will never appear on the MTV reality show, despite the fact that she met her sons' father—her ex-husband Brad Fiorenza— while competing on 'The Challenge.'
In a recent Instagram post, Tori—who shares six-year-old Brady and three-year-old Chase with Brad— mentioned that one of her sons expressed his dream of competing on the show someday, just like his parents did. However, Tori said there's no way will her kids will appear on 'The Challenge' or any other reality show that comes along.
"He was telling his dad today how he wanted to be on #thechallenge when he grows up….not a chance…but I'll let him dream a little longer," Tori captioned a photo of her and her son.
"Not a chance am I letting my baby do a reality show…not happening. Ever," Tori replied to one of her followers.
Tori added that Brad's views on their kids appearing on reality TV are different than her own, and that he was on-board with his kids following in his footsteps.
"Brad was really playing along with this…I said have you lost your ever-lovin mind?!?" she posted, along with some lighthearted emojis.
Katie Cooley, who competed for years on 'The Challenge' and is now a mother herself, also felt that their kids should never appear on the show.
"I agree!" she wrote in the comment section of Tori's post. "Not a chance in hell!"
When asked if her kids actually watched the show, Tori assured her followers her little ones aren't tuning in…which is probably a good thing considering the on-screen hookups recently featured on "Vendettas" starring Brad and his current girlfriend (and recent arrestee) Britni Thornton.
"Oh no, we don't let him watch, he just knows what daddy does for work," Tori wrote of her son.
In a different thread, a follower asked if Brad's "work" still included his teaching job and Tori replied, "Not currently."
Tori and Brad met while competing on "The Gauntlet III" season of 'The Challenge' in 2008 and went on to compete together on "The Duel" and "Cutthroat." They tied the knot in 2010, split in August 2015 and finalized their divorce in December 2016. While Brad recently made his comeback to 'The Challenge' scene, Tori hasn't appeared on the show since 2010, although she has expressed her interest in returning.
Katie assured Tori that, by the time their kids are old enough to appear on 'The Challenge,' it will be off the air…possibly.
"I'm sure it won't be airing by then…lol or Johnny will still be on it," Katie wrote. "By the time our kids are 21, they'll be like 'MTV is not even cool, mom.'"
(Photos: MTV, Instagram)