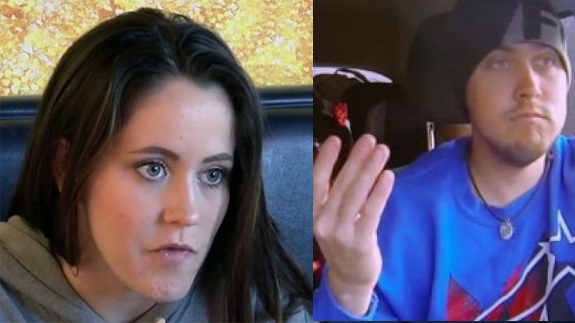 Let's get ready to rumble…again!
Jenelle Evans broke her silence regarding her recent (alleged) gun-pulling road rage incident, making it known on Twitter that she is not happy that some of her Teen Mom 2 co-stars spoke publicly about the incident.
Just days after Jeremy Calvert pleaded via Twitter with 'Teen Mom 2' executive producer Morgan J. Freeman to take action against Jenelle for what she (allegedly) did, Jenelle lashed out on him on Twitter…and Jerm served it right back to her!
Jenelle started things out by tweeting to Jeremy about the background check he refused to undergo. However, Jenelle seemed to be confused, not realizing that Jeremy was refusing to undergo MTV's background check, not the government's. (You can read more about the background check that MTV wanted Jeremy to undergo by clicking here.)
"Hey @jcalvert505 , that's funny you don't want a background check for all your guns but in order for myself to even obtain my gun I had a full background check," Jenelle tweeted. "I'm legally allowed to have mine, but are you?"
Jeremy was happy to clarify things for Jenelle.
"Hahaha you dumb bitch, yes I have a background check done when I purchase guns," he wrote. "MTV wanted me to have one done 'cause I own guns and because of you two dumb f**ks. And guess what, I have zero s**t on my record. Unlike you! Go get a job instead of lying on ur back…."
In.The.Face.
Jeremy continued his brutal Twitter tirade against Jenelle and her husband David Eason, laughing off David's previous comment that the other driver during the road rage incident "tried to kidnap" Jenelle. (You seriously can't make this stuff up, guys.)
As The Ashley previously told you, a full MTV crew was present during the incident, filming it for 'Teen Mom 2.' Jeremy noted that the show's security team would have stepped in had Jenelle been the victim of an attempted kidnapping.
"And second of all f**king 'kidnap' this is funny as f**k MTV filming and no MTV security yea I call bulls**t," Jeremy tweeted to Jenelle, before delivering another brutal barb (pun intended).
"And wtf were you worried about? They would give ur stupid f**king ass back in a heart beat," Jeremy wrote. "Don't f**k with me. Unlike everyone else I'll call you out on ur dumb s**t!"
Jeremy, who has worked as a pipeline engineer for the entire time he's been featured on 'Teen Mom 2,' also called out Jenelle and David for not having jobs outside of MTV.
"And unlike you I do not need MTV money," Jeremy wrote to Jenelle. "I have a job outside of MTV. I can't wait 'til this show ends and then see how life treats you. I don't give a flying f**k about you or ur family. #thanksmtv #whitetrashamerica #endthiss**t"
Anyway, Jenelle also slung insults at Jeremy's new girlfriend Desi Kibler and Chelsea Houska's father Randy Houska (who, to be fair, did make jokes at Jenelle's expense earlier in the week). She also tweeted about The Ashley. ("Oh hi, Juh-nelle….")
"And then we have Chelsea's dad trying to throw his two cents in… as usual," Jenelle wrote. "It's crazy to me an old man that's a dentist gets online to stalk and bully young girls. #Troll"
Morgan J. Freeman and MTV have yet to comment on the road rage incident.
Stay tuned….
(Photos: MTV)