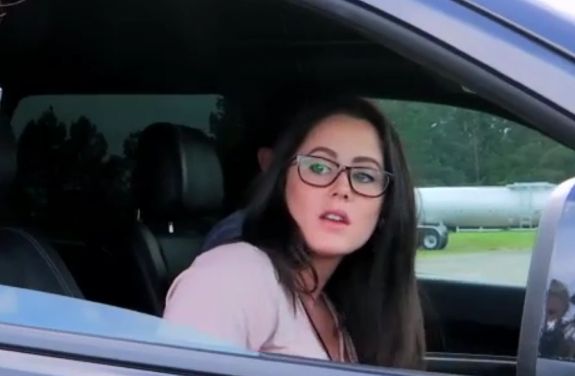 Jenelle Evans' recent road ragin', gun pullin' incident made headlines around the world, and even got some of the Teen Mom 2 men pleading with the show's executive producer, Morgan J. Freeman, to give take action against Jenelle for what she did.
Jeremy Calvert— the ex-husband of Leah Messer— and Randy Houska, father of Chelsea Houska— took to Twitter to express their outrage over the incident, which happened at the end of April.
(As The Ashley previously reported, Jenelle got into an altercation while driving in North Carolina. According to the police report, Jenelle reportedly pulled a gun on another driver, after he cut her off. The other driver stated that Jenelle also followed him onto his property and allegedly did damage to multiple vehicles, all while two of her kids were in the car with her.)
Jeremy called out Morgan J. Freeman for not even releasing a statement regarding what Jenelle did.
"@mjfree bro correct me if I'm wrong, but aren't u against guns and gun violence.. so what's ur next move in regards to the situation at hand with what took place with a cast member and a weapon… just curious!" he wrote, adding, "And you want me to do a background check because I own guns nahh."
(The Ashley can confirm that Jeremy has been asked multiple times by the MTV producers to submit to a background check, due to the fact that he is vocal about owning guns. Back in December, when Jeremy posted photos to social media showing his young daughter, Addie, holding guns, those requests from the network intensified, but Jeremy held firm and refused to submit to their background checks.)
Morgan didn't reply to Jeremy's tweet, but Randy did, using humor to discuss the situation.
"Don't worry, [Jenelle] was being supervised by two young children," he joked, later telling someone who stated that his comment may garner him another cease and desist letter from Jenelle, "I used a couple of big words that would confuse them."
Even Jenelle's own baby daddy, Nathan Griffith, (sort of) commented on the situation. After news broke of Jenelle's road rage incident, he tweeted out a video clip from the show 'Smallville' that showed someone driving erratically and raging against another driver.
"Hmmmm…why does this scene seem so familiar?"
There may be a reason that Morgan hasn't publicly commented on the situation, though. As The Ashley previously told you, the network's executive are furious about the road rage incident. (In the past, it's been Morgan and the other show bigwigs who make decisions. This incident has been taken all the way up to the network's higher-ups.)
Surprisingly, the normally outspoken Jenelle has yet to speak out about the incident. However, her husband David Eason wrote in a Facebook comment that the man Jenelle (allegedly) pulled a gun on "tried to kidnap her." However, Jenelle never mentioned anything about being kidnapped during her call to 911 after the incident occurred.
Anyway, if you'd like to get a sampling of Jenelle's road rage, check out the video below. It was posted to her own YouTube channel in 2012. (It contains some naughty language, though, just FYI.)
Stay tuned– this story is bound to get even more strange….
(Photo: MTV)