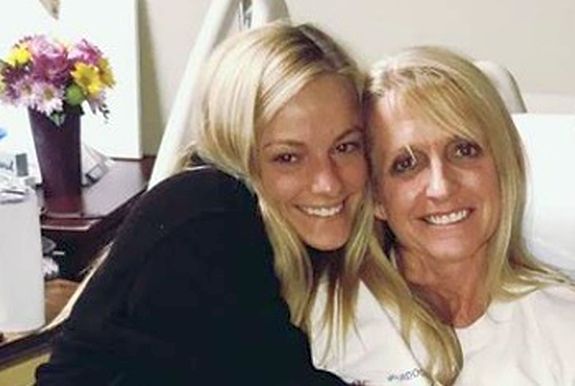 Former Teen Mom 3 star Mackenzie McKee shared some devastating news with her fans over the weekend, revealing that her mother, Angie Douthit, recently found out that her cancer has spread.
Mackenzie took to social media to discuss what doctors told her mom on Friday. (As The Ashley previously reported, Angie has been battling Stage 4 lung and brain cancer since January.) Although Angie has been undergoing radiation therapy and chemotherapy to help shrink the hundreds of small and large tumors in her body, she was informed that the cancer has continued to spread into other parts of her body.
"You don't deserve this, none of it. So happy, so healthy, and so faithful to God," Mackenzie wrote in the caption of an Instagram post about her mom. "Stage four cancer in your lungs, in your brain, and now in your bones."
Angie, who was featured on Mackenzie's 16 and Pregnant episode and on Teen Mom 3, explained her latest results in her own Instagram post.
"The new information from my PET scan was not what we wanted to hear," Angie wrote on Saturday. "The tumor in my lung is bigger. And the cancer is now in my adrenal gland and is in my pelvic bone. I was trying to digest all of this and I asked, 'In the bone? Isn't that bad?' She looked at me and said, 'In the brain is bad! You've been bad since you came to us in January!'"
Angie also informed her followers that she is scheduled to undergo testing this week and get a second opinion on her diagnosis.
Angie and Mackenzie have been updating their followers via social media on Angie's cancer journey since she was initially diagnosed right after New Year's. Several months ago, MTV headed down to Oklahoma to film Mackenzie's family for an upcoming 'Teen Mom' special that will focus on Angie's cancer. (The Ashley has not yet been able to confirm an air date for that special, although it will likely air this month.)
In March, Mackenzie went on Kail Lowry's Coffee Convos podcast to discuss her mom's diagnosis and 'Teen Mom' special.
"My mom got suddenly diagnosed with Stage 4 cancer," Mackenzie said. "She has so many masses in her lungs that they stopped counting at 40. One of them is the size of an orange. Then the cancer went to her brain. It was kind of a shock because she doesn't smoke, she doesn't drink, she's a marathon runner. She ran five miles in the morning, filmed three hours of cardio with me for my business and did a Crossfit workout that night. The next morning we find out she has Stage 4 lung cancer.
"As soon as that hit, she was an inspiration, she started to doing speaking and spoke out to people. So MTV decided to do a special about her story and her battle with cancer," Mackenzie said. "It's just a huge inspirational story. Have your tissues ready for this special."
On Monday, Mackenzie asked her Instagram followers to pray for her family.
"Despite the not-so-good news, we are continuing to pray and know my mom is a fighter," she wrote. "God is in control and our faith is in him. Prayer warriors are appreciated."
Watch Angie deliver an inspiring speech just one day after finding out that her cancer had spread.
(Photos: Instagram)