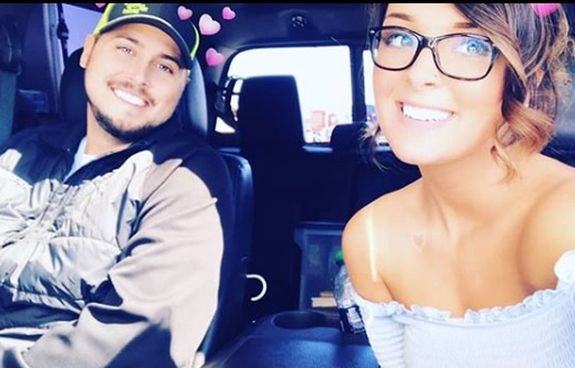 Jeremy Calvert made headlines last week when he went to battle (online) with his Teen Mom 2 co-star, Jenelle Evans. In her response to Jeremy's brutal Twitter jabs, Jenelle called out Jeremy for having a girlfriend, Desi Kibbler, who recently got two DUIs in one night (a feat that even frequent arrestee Jenelle has yet to achieve.) She also advised Jeremy's ex, Leah Messer, to keep their daughter Addie out of Desi's car.
"Bro shouldn't you be worrying about that 22 year old you just bailed out for DUI?!" Jenelle tweeted at Jeremy. "Lmfao Hope Leah doesn't have her kids ride with your new side piece."
@jcalvert505 and to be correct "bro" shouldn't you be worrying about that 22 year old you just bailed out for DUI?! Lmfao Hope Leah doesn't have her kids ride with your new side piece. ? #YIKES

— Jenelle Eason (@PBandJenelley_1) May 4, 2018
In an interview with The Ashley, Jeremy and Desi explained what happened on the night Desi was busted for DUI (twice) on April 12. Jeremy explained that his ex-wife is not concerned about Desi's double run-in with the law.
"Leah has not even said a single word about it," Jeremy told The Ashley. "Desi doesn't use drugs. She drinks, yeah clearly, but who doesn't drink and drive once or twice? Anyone over the age of 21 without an Uber service in their area goes to the bar and drives home."
Desi told The Ashley that she is not the wild child that Jenelle is trying to make her out to be.
"I have never been in trouble before and I'm far from a bad person and a trouble maker," Desi said.
Radar Online broke the news that Desi was driving in her home state of Ohio at 1:28 a.m. on April 12 when she was stopped by a cop and given a breathalyzer test. She registered a .163 BAC and a prescription pill was found in her car that she did not have a prescription for.
Desi was arrested and charged with Operating a Vehicle Under The Influence (which is the Ohio equivalent of DUI). She was also charged with felony drug possession and a misdemeanor for having expired tags.
Radar reports that after Desi was booked and released from the Portage County Jail, she went back to her car and tried to drive herself home…only to be stopped by the same police officer that arrested her before. She was arrested again for OVI, with an added charge of driving on a suspended license (from her first arrest of the night) She was hauled back into jail. This time, she had Jeremy bail her out on a $5,000 bond.
Desi gave a little more detail about what went down that night.
"On April 11 I decided to go have a few drinks with a friend," she said. "We were there for a few hours and I didn't consume more than three drinks in those few hours. We left around 1 a.m. Thursday morning and I got pulled over because I hadn't put my new registration sticker on my car."
The officer asked Desi to step out of the car so she could take a sobriety test, which he said she failed.
"He said I was drunk and had me taken down to the police station where I sat and did paperwork for two hours," she said. "After everything was said and done, he released me and never mentioned I couldn't go back and get my car. I figured I had sobered up enough to go get my car and go home. A friend picked me up to take me back to my car.
"I wasn't aware that I wasn't allowed to drive my car since he let me leave and didn't repo my car," Desi added. "[The same cop] then pulled up behind me when I was out of my car and said I was getting another DUI. Him and another cop went through my car and found an ADHD pill in my car."
According to Jeremy, the pill was a lower-dose Adderall that wasn't Desi's.
"I don't take or do any type of drugs [but I] transport plenty of people to and from work," she said. "I will own up to having a few drinks and driving when I shouldn't have but I will not own up to a pill that wasn't mine."
Starcasm reports that Desi pleaded no contest and was found guilty of one of the OVI charges. (The other one was dropped.) The felony drug possession charge for the pill was changed to a misdemeanor and the expired tags and driving on a suspended licenses charges were dropped.
She had to pay an $850 fine and will have to spend seven days in jail. (She was sentenced to 180 days in jail but 173 of those days were suspended.) She will also be on probation for one year, and be without a driver's license for 18 months.
Despite her run-in(s) with the law, Jeremy says that he's enjoying dating Desi.
obsessed w him, and us. #sorrynotsorry #mine #luckiestgirlintheworld pic.twitter.com/VedDIzZiuQ

— Desi (@dkiibs) April 19, 2018
"It's way different with her than my past relationships," he told The Ashley. "I guess we'll see what the future holds."
'Teen Mom 2' fans may hear about Desi on the new season of the show, but it's unlikely they'll see her on TV.
"I don't want Desi to be brought into the MTV bulls**t," Jeremy said. "I don't want her in that whirlwind of drama."
(Photos: Instagram)