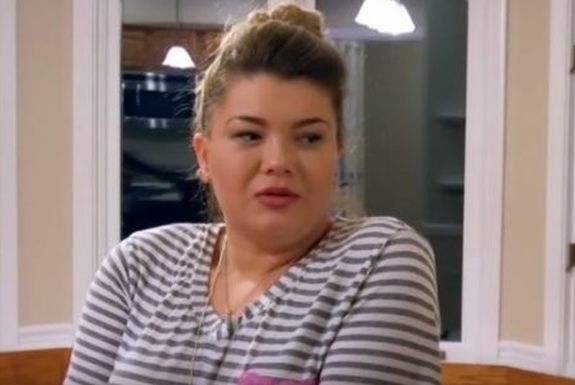 UPDATE! Amber has given birth to a baby boy. Click here for the latest info!
The newest member of the Teen Mom OG cast is officially on his way!
The Ashley can confirm that 'Teen Mom OG' star Amber Portwood is in labor with her second child.
Several members of Amber's family shared on their personal Facebook pages that Amber is in the process of giving birth to her son, James. (The baby's father is Amber's boyfriend Andrew Glennon.)
"It's time!" Amber's cousin Krystal Zion (aka "Cousin Krystal") posted.
"Well it looks like I'm going to be an uncle again sometime tonight or tomorrow morning," Amber's brother Shawn (aka "Bubby") posted on Monday night.
Andrew posted a photo of himself in a boat (for some reason), along with the caption, "Heading to the hospital."
Amber herself wrote on Twitter that she suspected she was in the early stages of labor on Saturday night.
"Another nocturnal night with my uncomfortable preggy belly but it's all worth it!" Amber tweeted. "I'm 3 cm dilated and home waiting for labor! Wonder if I'll make it to my due date? Wish me luck loves!"
Amber will be giving birth before her due date, which was May 13. This will be Andrew's first child and Amber's second, as she shares nine-year-old Leah with her ex, Gary Shirley.
Last month, Amber's family threw her a baby shower to celebrate James' arrival.
Wanna see photos? Of course you do! 
The Ashley will update this story when there's baby news to report!