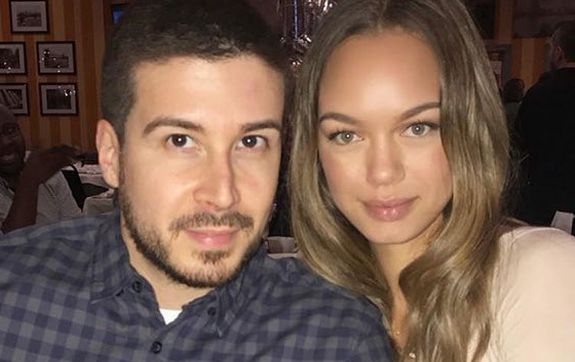 Vinny Guadagnino is firing back at the haters accusing him of being unfaithful to his girlfriend during the currently-airing season of Jersey Shore Family Vacation!
The accusations against the "Keto Guido" sparked from a now-deleted social media post from Vinny's ex, Elicea Shyann, in which Elicea shared that she wasn't exactly fist-pumping with joy about the demise of her relationship playing out in front of millions of viewers. In her post, she called the MTV reality show "trash."
"Here's some free promotion!!!! for the trash everyone loves to watch. I'm a real f**king person who wakes up DAILY to more and more bulls**t and heartache," she posted last weekend on social media. "Enjoy the f**king show that is my f**king life. Ppl wonder how ppl end up in the darkest places. Here's your answer."
In another (also deleted) post, Elicea described the reality show relationship roller coaster ride as one of "humiliation disrespect zero empathy."
"Everyone lives for the drama watching good things go to s**t," she added.
Elicea's post — and recent episodes of the show where Vinny was seen getting some girls' phone numbers and showing off his shiny new muscles by lifting a stripper — had many coming for Vinny on social media, calling him a cheater. Vinny took to Twitter to respond to the claims, calling them "fake news."
"I picked up the stripper. Got the group of bottle girl's numbers in the iTouch in case we wanted to all party again at another club. I'm secure enough to do all that while still not hooking up or f**kin anyone. Maybe some guys can't," he tweeted.
Here's some of the footage from the most-recent episode of 'Jersey Shore Family Vacation' that caused friction between Vinny and his girlfriend.
"My girl and I had a very secure relationship. If she picked up a male stripper and moved him 3 feet I'd actually be impressed. Also knowin the circumstances of her filming show and realizing the editing and environment, some things may make me upset but not where y'all are taking it," he added.
Vinny went on to remind followers that he called Elicea each night during filming to let her in on what went down when the cameras were rolling — for better or worse.
"Umm I called my girl every night to take her through my night. Would every guy do that? don't be so naive to the edited parts and sound bites where you hear 2 seconds of hour long convos and sentences literally being pieced together to make it look a way #tvmagic," he tweeted.
"I went overboard a little bit because I was blacked out and being flirty and overly complementary. But always remained faithful and loyal. We had a very easy relationship where I didn't have to hide who I was. Hence the phone calls," Vinny wrote in another post.
Vinny did, indeed, call his girlfriend after his wild nights out to report what he did (as seen in the footage below). On the phone, though, he was unable to see why Elicea was upset by his actions.
Last month, Vinny told Entertainment Tonight that his relationship with Elicea was troubled when he went into filming 'Jersey Shore Family Vacation' back in January.
"There was problems beforehand… [the show] is the type of thing that could really be the straw that breaks the camel's back," he said. "Not because I'm out there doing anything, [but because] you don't talk to the person for a month because you don't have a cell phone, you don't have a TV… you don't have communication so, you're like calling them every other day… On the duck phone! You can't even hear them," he said.
"Plus, we had a long-distance relationship; she's from California, I'm from New York, which can already be impossible for somebody…so a lot of things just made us feel like listen this can't happen right now, maybe down the line."
Judging from Elicea's recent post, it appears that she won't be reuniting with Vinny "down the line."
During the first season of 'Jersey Shore Family Vacation,' everyone was in a relationship except for Pauly D. For Season 2, it appears that Pauly will have few more cast mates to party at the singles bars with. With Vinny no longer in a relationship, and Ronnie Ortiz-Magro now broken up with his baby mama Jen Harley (whom he was dating during Season 1), the in-house "smush room" may be getting some use next season!
(Photos: Instagram)