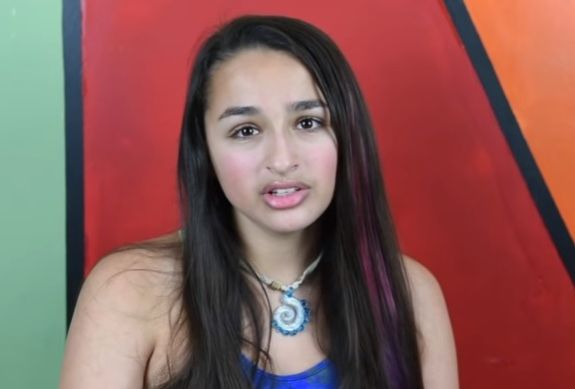 TLC reality star Jazz Jennings can't contain her excitement regarding her upcoming gender confirmation surgery!
The transgender teen took to YouTube earlier this week to discuss the long-awaited surgery. Jazz said her surgery is scheduled for June 26.
"I am so looking forward to it. I have been ready for this my entire life," Jazz said of the surgery, which has been a major topic of discussion on her reality show, I Am Jazz.
In the video, Jazz said some people told her that she shouldn't be sharing all of the personal details of her story; however, she is choosing to be open about it in hopes that it will educate people who are inside and outside the transgender community. She said she hopes seeing her story will help the parents of other transgender kids.
Jazz didn't hold back while discussing how different life will be for her once she gets the surgery.
"I'm gonna have new genitalia," she exclaimed. "Like penis to vagina! That's some serious s**t, y'all! I can't believe I'm gonna have a vagina!"
She said she will miss being able to pee standing up, but she is looking forward to being able to wear leggings and other clothing options that she can't wear comfortably right now.
"I have been looking forward [to the surgery] forever," Jazz told us. "Even at a young age, I knew."
Jazz talked about a therapy session she attended at three years old where her therapist held up a boy doll and a girl doll. Jazz said that she told her therapist she wanted to be the girl doll.
She said she has confidence in her surgeons but she is a little nervous because the surgery she is having is a little different than the standard gender confirmation surgery.
"Because I started the [testosterone] blockers so early that I never went through puberty…basically the blockers block testosterone in my body so I don't develop as a male and get a beard, a mustache, a deep voice. That's why I've been able to be so feminine," she said. "Because of that, it caused me to be so suppressed that I didn't have growth in 'that' region.
"Because there was a lack of tissue [down there] they didn't have enough material to construct the entire vagina, so they're using a special procedure where they extract my peritoneal lining."
(We'll save you the trip to Google; the peritoneal lining is a tissue lining found in the abdominal cavity.)
"It's regenerative, so it will regrow and whatnot," Jazz said. "They take that out laparoscopically through my belly button or whatever. They use that and harvest that and use that to make the vaginal canal. It's better because it looks like real vagina tissue and it feels more like real vagina tissue."
According to Jazz, this type of surgery is still experimental, which makes her a bit worried.
"It's a little concerning because something could go wrong," she admitted.
Jazz said she will be documenting her surgery journey on her YouTube channel and on her TLC show, I Am Jazz.
Watch Jazz talk about her surgery in the video below:
(Photos: YouTube, Instagram)