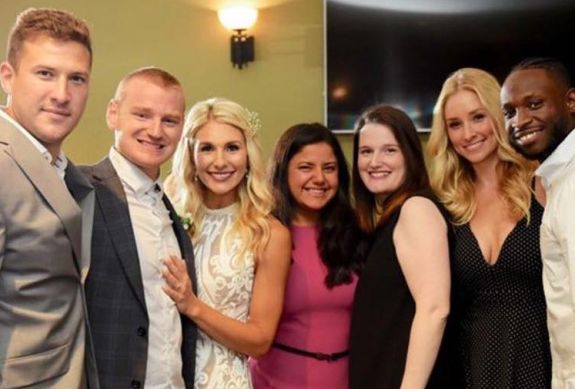 Wes Bermann is officially "married AF," according to a tweet he posted on Saturday.
The Real World and The Challenge star got hitched on Friday to his longtime love Amanda Hornick in Overland Park, Kansas, and his former roommates from 'The Real World: Austin' reunited to help Wes and his bride celebrate the happy occasion.
Lacey Buehler, Melinda Stolp, Rachel Moyal and Nehemiah Clark all attended Wes' nuptials. Two 'Austin' cast members were missing– Danny Jamieson and Johanna Botta. However, there may be a good reason they did not attend, as Danny is Melinda's ex-husband and Johanna is Wes' ex-girlfriend.
Judging by the comments Johanna left on Lacey's Instagram photos from the wedding, though, there seems to be no hard feelings.
"Is this his wedding?" Johanna wrote. "Congrats to Wes!"
Lacey wrote in the comments of one of the photos that Nehemiah even served as the officiant for the ceremony.
"My favorite part of the wedding was the vows," Wes told MTV News. "They were the most beautiful combination of seriousness and hilarity."
Wes proposed to yoga instructor Amanda at a Kansas City Royals game back in 2016. She has never competed on 'The Challenge.'
Wes also invited his pal (and fellow 'Challenge' star) Devin Walker to the wedding.
One 'Challenge' star that did not make the cut, however, was Johnny Bananas.
Johnny, who has long been Wes' rival on 'The Challenge' posted his reaction to Wes' wedding in the comment section of a post on The Challenge's official Instagram page.
"My invite must have gotten lost in the mail," Johnny wrote.
(Photos: Instagram)