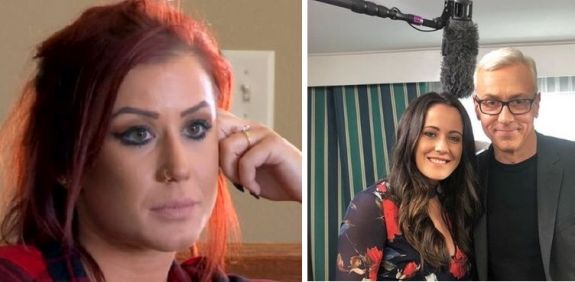 Jenelle Evans proudly posted photos of herself standing with Dr. Drew Pinsky on Sunday. The photos, which were taken after Dr. Drew interviewed Jenelle in North Carolina for her scenes for the Teen Mom 2 Season 8B Reunion, rubbed plenty of the 'Teen Mom 2' cast and crew the wrong way, and The Ashley has all the details of what went down!
"Chelsea was particularly upset," one source tells The Ashley. "They paid to fly an entire crew to Jenelle and essentially built a set there for her to film because she refused to go to the last reunion. But apparently they didn't think Chelsea was important enough to do that for. They simply set up a Skype call between her and Drew– that happened while he was in North Carolina to film with Jenelle!
"It made it so obvious who the show's producers and the network value more!" the source added.
As The Ashley told you, Jenelle refused to attend the 'Teen Mom 2' Reunion taping earlier this month in New York City because MTV did not agree to pay for her banned-from-the-set husband, David Eason, to attend with her. Chelsea, who is currently pregnant, did attend the Reunion taping, but did not film her scenes for the actual Reunion because she felt unsafe returning to the set because of the physical fight between her co-stars that occurred while she was on stage the previous day with the cast.
"Jenelle didn't even put the time and effort into going to the Reunion, and Chelsea did, yet they made a huge production of going to Jenelle and filming, while Chelsea's portions were like a rushed afterthought," another crew source told The Ashley. "Chelsea was pissed that they went to such great lengths to make Jenelle happy, and honestly so was some of the crew who is tired of giving in to Jenelle's demands."
In the caption of one of the photos she posted to Instagram, Jenelle bragged that she fulfilled her duties to the show.
"Did my part!" she wrote. "Had a good conversation yesterday about many different things that will happen later this season. I think this is the most comfortable you will ever see me in an interview."
The post added insult to injury for Chelsea, as well as Kail Lowry and Leah Messer, as they didn't realize that MTV had gone through all the trouble to essentially recreate the same set they had in New York just for Jenelle in North Carolina.
"The other cast members are pissed too because they had to take time out of their lives to go all the way to New York City to film, find childcare, etc. to fulfill their obligations to the show, but Jenelle once again threw a fit and got treated like a VIP!" the first source said.
Adding even more insult to injury for Chelsea, The Ashley hears that producers demanded she do her Skype interview bright and early with Dr. Drew– so that they could get it out of the way and have plenty of time to film Jenelle's portions!
"They didn't want Jenelle to have to start super-early so they made Chelsea go first, even though she is two hours behind Jenelle, time-wise, because she's in South Dakota," the crew source said.
"The other three girls feel like they've been treated like second-class citizens compared to Jenelle for the entire time they've been on the show," the source added. "She's been throwing tantrums and making crazy demands for years, and she almost always gets what she wants, while the other girls follow the rules and have to watch Jenelle get special treatment."
As The Ashley told you previously, after the hair-pullin' catastrophe that was the last 'Teen Mom 2' Reunion taping, MTV is considering new ways to do the show's Reunion specials.
"There is NO WAY they're going to keep doing the reunions this way because it's clearly an unsafe environment to have all of them together," The Ashley's source told her. "Everyone saw her throw the vase, and were not OK with it. Now [the show's producers] have to figure out how they're gonna do the reunions going forward but it's clear that it can't stay the way it is anymore."
UPDATE! On Monday, Chelsea tweeted that she wasn't aware that Jenelle was going to be getting the VIP treatment during her segments.
They just had me webcam in yesterday morning ??‍♀️ I didn't kno they were going all out like that

— Chelsea DeBoer (@ChelseaHouska) June 4, 2018
UPDATE #2! Jenelle offered some comments on Twitter that seemed to be in regard to this story.
"Chelsea, Leah, and Kail should stick to their storylines they maybe they wouldn't get caught up into drama like I'm steering away from," Jenelle wrote. They paid thousands for these girls and then they quit and leave? Do your job ladies. Mind your business."
She claimed that filming her segments in North Carolina was not her idea, but actually the producers. (The Ashley can confirm this is true. The producers came up with this as a way to include Jenelle in the Reunion. Jenelle did not demand they come to her.)
"Everyone is mad but this was NOT my request from the beginning," Jenelle wrote. "Larry asked me if I was willing to film a separate segment like Farrah… so I said sure. They offered to come to me I said sure. I did NOT demand a damn thing and woke up early just like everyone else. Done by 8pm."
When a Twitter user called Jenelle out for frequently 'quitting' the show during Reunions, Jenelle replied, "Never… I've walked off staged then came right back lol never flew home."
(Photos: MTV, Instagram)