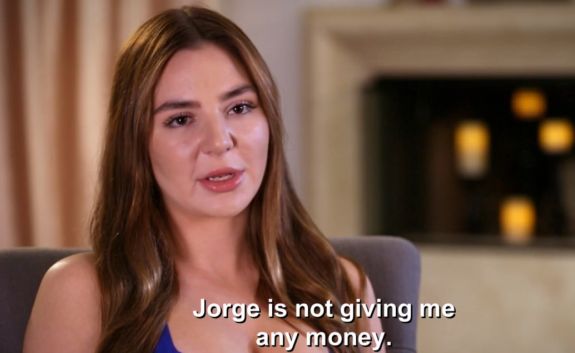 The couples from TLC's 90 Day Fiance: Happily Ever After? seem to be struggling to keep their relationships together, but we know for sure one couple is still going strong.
Over the weekend, Anfisa Nava updated fans on her love life, confirming that she and her sometimes-estranged husband Jorge are still living their "happily ever after."
"Jorge and I are still together," Anfisa wrote as part of a caption of a picture of herself on Instagram.
The photo's full caption provided more info on what's been going on in Anfisa's life lately.
"I've been feeling very sick for the last week but other than that everything is fine," she wrote. "Jorge and I are still together (that answers 99% of questions I'm usually asked) and I slayed my finals after my first semester at college."
Fans immediately started asking Anfisa if she was "feeling very sick" because she was pregnant, but she shut that line of questioning down quickly in the comment section.
"Not anytime soon," she replied.
When a fan asked to see sonogram pictures Anfisa shot back, "You are on a wrong Instagram. I'm not pregnant and not planning to be anytime soon."
Earlier this week, she posted a video clip showing her straight A grades for the semester. She aced Intro to Computer Systems, Principles of Microeconomics, Intro to Statistics, and Beginning Spanish. (Perhaps she's trying to improve her Spanish so she will understand Jorge's sisters if they talk trash about her in Spanish?)
She also showed us that she is enrolled in Biology, Trigonometry, and Principles of Macroeconomics for the summer semester.
Anfisa later commented that "90 Day Fiance" fans always want to criticize her, no matter what she does.
"I just can never get anything right," she wrote. "I'm at school now but they want me pregnant, if I was pregnant they would say I'm dumb and should study instead, if I was divorcing Jorge they would say they knew all along it wasn't real, now when they see us together and doing well they say it's fake and so on…"
Anfisa and Jorge's previous relationship drama is currently playing out on "90 Day Fiance: Happily Ever After?" Season 3. To read our recaps of the season, click here!
(Photos: TLC, Instagram)