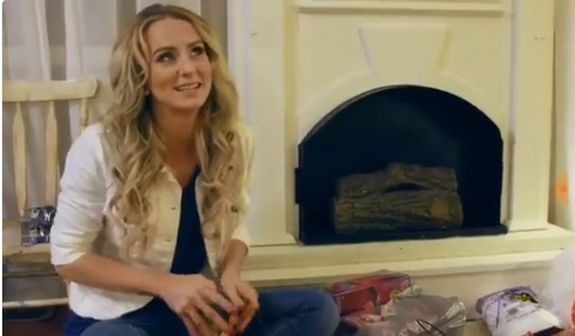 Leah Messer is on the defensive after her parenting came into question during Monday's episode of Teen Mom 2.
Fans criticized Leah in regard to her daughter Aleeah Grace's behavior during the episode, particularly during a scene in which Leah is trying to talk to Aleeah about her upcoming therapy session.
Leah posted about the episode of Instagram, which opened her and her daughter up for plenty of online insults.
"Tonight on 'Teen Mom 2' Gracie and I are taking an important step by going to therapy," Leah wrote in the photo caption.
In the comment section of the post, some fans called Aleeah names, while others criticized Leah for allowing the little girl to be disrespectful, and for discussing Aleeah's therapy on-camera when Aleeah didn't want to.
"I could never put my kids personal life on TV like this," one person wrote. "This will follow her for life. She doesn't ask for this. None of the kids on the show ask for this kind of exposure."
"Please don't film anymore talks with Gracie about her therapy," another fan commented. "You can tell she's uncomfortable, not to mention the kids at school don't need all this information about your girls. Don't let production try and say this is helping other people in the same situation.
Leah jumped to her own and her daughter's defense in several replies to nay-sayers' comments.
"For all of you that have a negative opinion about Aleeahs behavior… This is all I have to say…. YOU DON'T KNOW HER STORY!" Leah wrote. "You don't know that it's a struggle for her to accept that her sister has MD and she just wants her to be able to play with her and chase her back outside!"
(Aleeah's twin sister, Ali, has a rare form of Muscular Dystrophy and Leah has stated that she feels bad that, because of her MD, Ali sometimes requires more of Leah's attention than Aleeah or Leah's youngest daughter Addie does.)
Leah continued to defend Aleeah in her comment.
"You don't know that she wakes up every day feeling like she has to protect her from BULLIES at school! You don't know," Leah wrote. "YOU DON'T KNOW… that she holds so many feelings inside because she wants her best friend to be healthy and everything is okay!
"YOU DON'T KNOW that she has hid so much guilt, pain, and resentment in all this time because she's a CHILD and just didn't understand WHY. THERES SO MUCH MORE but I'm going to leave it here… YOU DON'T KNOW HER STORY, but I know that she's the most incredible, resilient, talented, funny, intelligent, and kind heart little girl I've ever met!" Leah continued.
"She's finally starting to OPEN up about her feelings! I KNOW I made the right decision by therapy & your opinion about my child doesn't mean a damn thing to me!"
Leah's mother Dawn Spears also jumped into the online conversation, reminding the shows's fans that "everyone corrects their child's behavior in different ways."
Dawn also confirmed to one concerned fan that Aleeah's therapy sessions would remain private and would not be filmed for 'Teen Mom 2.'
Corey Simms, who is the father of Aleeah and Ali, did not comment on the episode after it aired on Monday.
(Photos: MTV, Instagram)