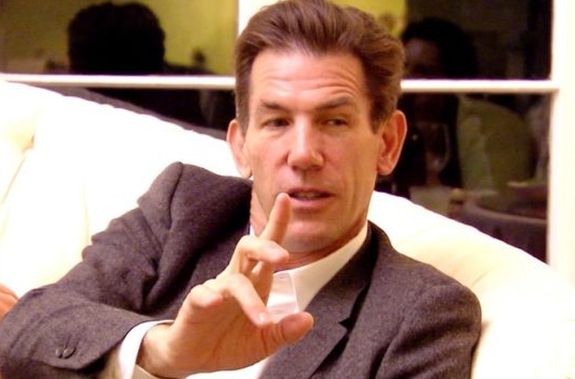 Thomas Ravenel's future on Southern Charm remains uncertain, but Bravo just went ahead and cleared up one rumor that's been circulating about the scandalous reality star. The entire 'Southern Charm' cast is schedule to meet up this weekend to discuss the highs –and the brutal lows— of Season 5, but they will be doing so without Thomas.
Bravo issued a statement on Tuesday night, confirming that Thomas will be absent from the upcoming Season 5 Reunion taping.
"The network confirms that Thomas will not attend the 'Southern Charm' Season 5 reunion," a rep told The Daily Dish.
It is unknown if Thomas' outspoken girlfriend, Ashley Jacobs, will be allowed to participate in the Reunion taping without Thomas.
As The Ashley previously reported, Thomas was recently accused of sexual assault by three different women. Last month, Bravo issued a statement informing fans that the network, as well as the production company behind the show, were looking into the accusations.
"Haymaker, the production company for 'Southern Charm,' and Bravo take allegations like these very seriously," Bravo said in a statement to People magazine in May. "Haymaker is conducting an investigation, and once all the information is gathered and carefully reviewed, appropriate action will be taken."
Thomas, who shares two children with ex Kathryn Dennis, has hired a lawyer and remained relatively quiet regarding the accusations. Numerous 'Southern Charm' cast members reportedly told Fits News last month that Bravo told the cast not to talk about the allegations against Thomas, due to the network's and Charleston police investigations.
Last week, Tamara Tattles reported that Thomas will not be returning for any future seasons of 'Southern Charm.' (Bravo and/or Haymaker Productions have yet to confirm or deny this report, however.)
"He will definitely not be returning next season," Tamara Tattles stated on June 1. "I'm told that the decision was made at the Bravo level."
The site also reported that cast members will finally be allowed to discuss "The Thomas Situation" at the Reunion.
"Bravo is going to make their first public statement [regarding Thomas' future on the show] at the Reunion," the site reported. "At that time, cast mates will have the gag order lifted and be able to say what they want to say about the situation, if they choose to discuss it at all."
The network is reportedly trying to figure out how to handle the very delicate situation.
"There is no precedent for this," Tamara Tattles reported. "No one has ever been fired prior to the reunion before."
(Photos: Bravo, Instagram)