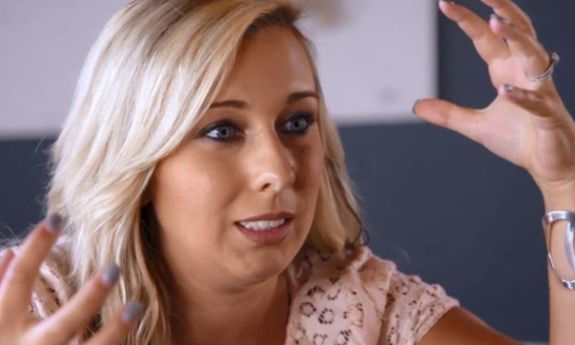 It's that time of the week again — when The Ashley winds up all the latest and greatest in current Teen Mom news! Some exciting topics to look forward to this time around include a baby bump, a birthday and a European getaway. Keep reading to find out what your favorite 'Teen Mom' stars have been up to over the last few days!
Mackenzie Edwards (and Her Baby Bump) Resurfaced on Social Media
Mrs. Ryan Edwards made a rare appearance on social media recently, after the photographer she "gifted" her Instagram account to posted a photo of Mackenzie cradling her ever-growing baby bump. (As The Ashley previously reported, Mackenzie is expecting "The Spawn of Ryan" this fall.)
In the caption of the photo, the photographer talked about why Mackenzie has chosen to stay off social media.
"When Mack told me about how much her quality of life improved since letting go of social media a couple of months back I didn't totally understand," the photographer wrote. "I see social media as a marketing tool and an additional stream of revenue for influencers. However, what price was she paying? Since I took over Mackenzie's account- I expected people to unfollow (because after all they didn't follow me- they followed her).
"What I didn't expect was the trail of bullying to continue…these are examples of the messages I've received: 'You're fu**kng ugly just like Mackenzie, your pictures suck and so do you, you're trash, why did your ugly face show up on my timeline today.' It's unfortunate that these types of cyber attacks actually exist."
Farrah Abraham Celebrated Her 27th Birthday in a Very "Farrah" Way
In true Farrah fashion, the adult entertainer rang in her 27th birthday in Napa with a Fendi cake — which also completely matched her black-and-white Fendi dress. Awkward.
Anyway, the "Backdoor Teen Mom" spent the day surrounded by whatever family still talks to her. And, naturally, because it's Farrah, a private jet was ordered to haul the crew around.
Kail Lowry Is Traipsing Around Europe At The Moment
Kail arrived in Spain on Monday — and it certainly seems like she's living her best life! Over the last few days, the 'Teen Mom 2' star has made her way to France and Italy, obviously putting that MTV money to good use!
"Got to visit the Coliseo Balear which was so cool," she shared on Instagram. "While its history of bullfighting was interesting, I'm so glad they stopped the spearing of bulls." Hopefully, that's the first of many updates.
Chelsea Houska Shared a Pregnancy Update
Back in March, fans were over the moon when Chelsea and Cole DeBoer announced they are expecting their second child together, a baby girl, in "a few short months." While she makes pregnancy look like a breeze on her Twitter and Instagram accounts, the mother-of-two got candid on Twitter recently about the struggles.
Whyyy has my nausea been back the last few days ?

— Chelsea DeBoer (@ChelseaHouska) June 4, 2018
"Why has my nausea been back the last few days?" she tweeted.
To catch up on more recent 'Teen Mom' stories, click here!
(Photos: MTV, Instagram)