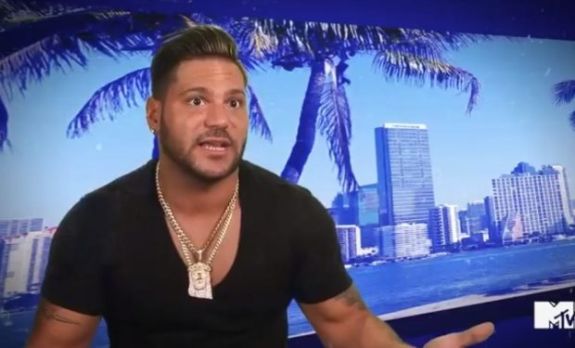 The cast of Jersey Shore Family Vacation has only been filming in Las Vegas for a few days, and they're already causing trouble in Sin City!
Ronnie Ortiz-Magro, who is with the rest of the 'Shore' crew in Vegas filming Season 2 of the MTV spin-off hit, nearly got into a fist fight with a fellow pool-partier on Wednesday (which was only the cast's second day of filming). Video obtained by TMZ shows Ron exchanging verbal insults with some rando, before things quickly escalate.
In the video, Ronnie attempts to charge at the guy, but is held back by a huge team of security. (It is not known if they were security from the hotel or the film crew, or both.)
The altercation was captured on camera by a person hiding in the bathroom. (Kudos to the bathroom-dweller for having the smarts to film the ridiculous incident!) It was also filmed by the MTV crew, so the footage is almost sure to end up on 'Family Vacation' at some point.
No one ends up getting punched, but the random dude apparently really, really wanted Ronnie to know that he owns a Gucci bag…or something.
This is just the latest fight that Ronnie–who actually lives in Vegas– has gotten himself into in recent months. In April, Ron got into a physical fight with his on-and-off-again girlfriend/baby mama Jen Harley, while Jen was broadcasting on Instagram Live (as you do).
'Jersey Shore Family Vacation' Season 2 will be filming in Vegas for awhile. According to Radar Online, the cast will be living in a rented private house instead of a hotel.
On Wednesday, though, the cast was out-and-about, filming at the Go Pool Party in Las Vegas. A person who was at the same pool party posted photos on Instagram of the cast filming.
Radar reports that, while the season will mostly take place in Las Vegas, it will end in New Jersey!
"The cast will wrap up filming where it all began," Radar reported.
It's no surprise that the cast will be filming at least part of the season in New Jersey. During an interview at the Season 1 New York City premiere party, Nicole "Snooki" Polizzi said that she likely wouldn't return for Season 2 unless it was filmed near her New Jersey home.
"Season 2, I would like to be home with my children," Nicole told a reporter for E! News. "I don't want to be away from them again. That was like the worst mom guilt I've had in my entire life [while filming Season 1]….If it's like that again I'm pulling out of Season 2. But yeah, being a mother comes first. So, hopefully they will work with me on that."
Anyway, Ronnie has yet to mention his pool party altercation on social media.
Watch Ronnie and Random Pool Guy try to beat each other up by clicking here.
(Photos: MTV, Instagram)