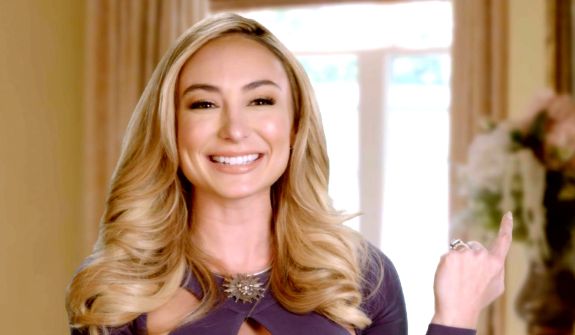 Southern Charm: New Orleans fans learned last week that Reagan Charleston split from her husband, Jeff Charleston, after six years of marriage — and the Reagan Charleston Jewelry owner exclusively told The Ashley how she's holding up.
"It's rare if we go even several hours without talking to one another. We ground each other," she said of her current relationship with the retired NFL star. "We have found balance that was impossible to find before because we were so overwhelmed with each other. Jeff is my best friend. He is family. I was with [with him the other day], actually."
Reagan — who graduated from Loyola University New Orleans College of Law back in May — married Jeff in 2012. The couple has no children together.
"Jeff and I have decided to separate and are devoting time to re-establishing a great friendship while focusing on personal growth apart," she told People at the time. "We are looking forward to seeing what the future has in store for us."
Fans who followed Season 1 of the Bravo reality series will recall watching the estranged couple face some tough times in their marriage. For one, Reagan spent time during the week at an apartment in the French Quarter — which allowed her to both focus on her studies and be closer to Loyola. They also dealt with some intense drama with Jeff's family, which the blonde beauty previously admitted took a toll on their marriage.
"Reality TV gives you the opportunity to really, really look at your life. It is easy to get caught up when you are busy with work and life," she explained. "Watching yourself on television gives you a unique opportunity to reflect on what's truly going on in your heart, and also allows you to see what you need to work on as a person."
"With that being said, it can be really hard when thousands of people notice the things you need to work on and don't hesitate in telling you," Reagan continued. "I didn't know how to process all of that at first, but it's a tough love kind of thing."
The first season of the 'Southern Charm' spin-off wrapped on June 3.
Today, the Bravolebrity stays busy today by focusing on her jewelry line, working in the studio and traveling. She says appearing on 'Southern Charm New Orleans' has helped boost her business.
"Southern Charm has given me the opportunity to share my passion with Bravo viewers and I couldn't be more thrilled," Reagan said. "The response has been enormous, and it is so extraordinarily exciting to see how many people love my work…People recognize the jewelry before they recognize me, and that couldn't be more flattering and thrilling."
She added that she wouldn't mind doing her own spin-off, should the opportunity present itself.
"I would love to show the world what goes into creating a jewelry collection… starting with the travel that takes place during a design expedition, the sketching, the wax carving, the styling… it is so fascinating! So many fans are telling me I need a cooking show, too!"
Check out Reagan's line of jewelry here!
(Photos: Bravo, Instagram)