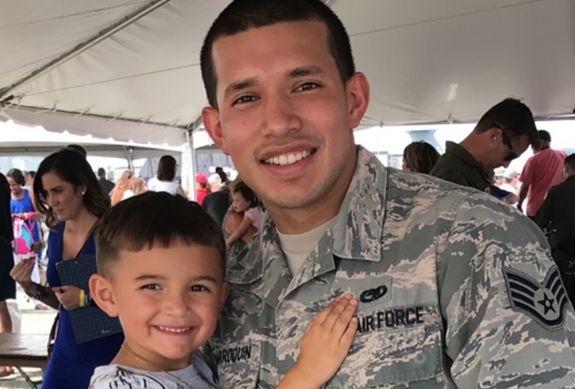 Javi Marroquin is Teen Mom 2's resident military man, but on Monday he revealed that his days in the U.S. Air Force may be numbered.
In a series of tweets, Javi told fans that he does not plan to reenlist.
"I am (still in the military) but unfortunately my time is soon coming to an end so I will be transitioning out and look forward to a new career," he wrote.
Javi added that it was his choice not to reenlist.
"I could re-enlist right now if I wanted to, but my family is more important," he wrote.
Javi's family is about to expand, which may have contributed to his decision to leave the military. Last month, Javi and his girlfriend Lauren Comeau announced they are expecting a baby together. Javi is also the father of Lincoln, the son he shares with his ex-wife Kail Lowry.
Javi graduated from Air Force tech training in 2013 and left for a deployment in Qatar in December 2015. He returned home to Delaware in August 2016.
Javi did not say exactly when his military service ends, but he did tweet about his future career plans.
"I would like to continue my analyst position to a good company, but I am open to others," he wrote.
Javi is currently the only active duty military member in the 'Teen Mom' franchise.
(Photo: Instagram)