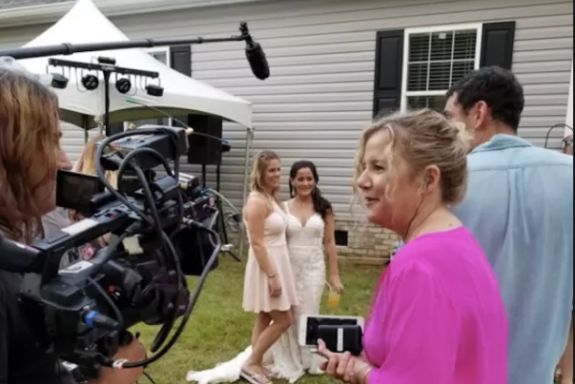 This week's episode of Teen Mom 2 certainly struck a nerve with the show's viewers, many of whom took to Twitter after the episode aired to express their disgust—and worry—over several scenes showing Jenelle Evans and her husband David Eason on vacation with their assorted children.
The scenes, which show David getting angry and yelling at the kids (after trying to turn the car cameras off), as well as refusing to allow Jenelle's young son Kaiser to use the bathroom. Some fans even wrote that they suspected David got physical with Kaiser off-camera during the episode. (In one scene, David is shown yanking the boy's arm and pulling him into another room. Kaiser can be heard yelling, "No David No!" off-camera, which concerned some fans, although there was no abuse shown on-camera.)
After the episode aired, many fans tweeted their outrage that the 'Teen Mom 2' producers and film crew did not do anything to stop Jenelle and David.
"I don't understand how @MTV producers watch the abuse and do NOTHING to help the kid when David does this crap!" one person tweeted.
"#TeenMom2 why aren't your producers doing anything to stop the verbal/mental abuse and look further into physical. THIS IS SICKENING!" another person wrote.
The Ashley reached out to several crew sources to get more insight on the role the MTV crew can take in situations where abuse is seen or suspected, and what they are and are not allowed to do.
"It's not illegal to yell or scream at your kids, so, even if we don't agree with how [a cast member] is parenting, we can not call the cops for something like that," one crew source tells The Ashley. "We can't step in if that's how someone parents.
"I think fans sometimes have unrealistic expectations for [the film crew and producers]," the source added. "Just because we are present for whatever is happening, we have no legal authority to do anything in terms of taking the kids away or having the parent arrested. We have no more authority to do anything legally than someone passing by the scene on the street and witnessing it."
That being said, a second crew source told The Ashley that the 'Teen Mom' franchise producers and crew do have procedures in place to follow if something happens in front of them that is illegal, dangerous or abusive.
"There's nothing that the crew themselves can do. There is an assigned security guard on-set at all times while filming," the source said. "Producers and crew can't step in, because it is a liability and it could jeopardize the crew members' safety. If we tried to jump into something, we could get hurt, punched or even killed, depending on the situation. The security team is trained to handle this."
The crew is not helpless, though, the first source tells The Ashley.
"We are required to report anything we see to the higher-ups [producers] who will tells us what to do and handle it from there," the source said. "This would include anything we see that is illegal happening—drug use, for instance, or assault, child abuse, etc."
The second source confirmed to The Ashley that there have been times where the producers have been forced to take action against the cast members, even though the cast member(s) may not be aware that it was the producers who reported them.
"We've called the police on cast members over the years, and let the cops handle the situation," the source said. "We have also called CPS on cast members plenty of times when we see things in regard to the children that don't seem right. Viewers don't see everything. They would probably never know that's happening behind the scenes. The cast member may not even know it was us, to be honest."
"Once CPS is involved, though, it's out of our hands," the source added. "We've done our job to report it, and they have to take it from there to investigate."
"We are a docu-reality series," the first source said. "We document things as they happen no matter how bad. Even still, most of the producers would probably have security step in if a parent began physically abusing a child in front of them. The producer wouldn't physically do it, but they would have the trained security team take action."
If whatever is occurring is life-threatening (i.e. someone is in need of medical attention or doing something that could cause harm to themselves or someone else), the producers will take action.
"We, of course, aren't just going to let someone die," the source said.
The Teen Mom OG crew and producers got a lot of flak last year when a scene showing Ryan Edwards driving while high aired. The first source explained that, "if his producers saw that he was high before he got into the car, 100 percent they wouldn't have let him drive, no matter what."
This confirms what a behind-the-scenes source told The Ashley last year in regard to why Ryan was allowed to drive in that condition.
"The reason the producers didn't stop Ryan from driving after he was seen nodding off is because the producers would not have been able to see him nodding off," the crew member said. "That footage (and almost all car footage) is captured on Go-Pro cameras installed on the dashboard. We do not have a live feed to watch the cast in their car, despite what some viewers think. We do not have live eyes on them the whole time we're filming them."
Watch some of the 'Teen Mom' franchise producers talk about their experiences working with the show's cast.
(Photos: MTV, Instagram)