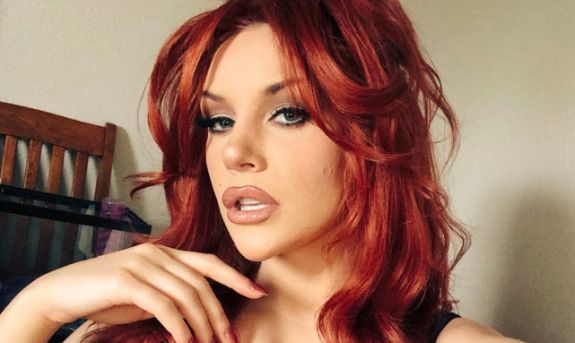 Ember has released a new music video and it's…um…interesting.
Ember (or the artist/ reality TV trainwreck formerly known as Courtney Stodden) recently released her new song "For You" and now we are being treated to the song's music video.
In the video, Courtney (who has dyed her hair and taken on the alter ego, Ember) starts off the song speaking in a breathy, British accent…which is weird because she's from the United States.
The single will be a part of Ember's debut album, "Off The Record."
So why has 23-year-old blonde bombshell Courtney turned herself into the sometimes-British, redheaded vixen Ember? She may be trying to bury her strange (and somewhat sad) past. As fans know, we first met Courtney when she was a 16-year-old child bride marrying then-51-year-old actor, Doug Hutchison. The marriage lasted through six years, several reality TV shows and multiple breakups before it finally fell apart in 2017.
She has also battled with her estranged mother Krista Keller, made a soft-core solo p0rno, shaved her head and begged Doug to come back to her in shameless social media posts…all in the last few years.
While this is Courtney's first musical offering as "Ember," she has ventured into the music business before. Over the past few years, she has released songs such as "Reality, "Orange Juice and Pink Pills" and "Asphalt.
And, who could forget the musical stylings of her holiday song, "Mistletoe Bikini," which included a sort-of-NSFW music video showing Santa whipping Courtney with a candy cane…naturally. (You can check out that lil' slice 'o' heaven by clicking here!) 
In April, Courtney tried to explain why she has become reborn as Ember.
"I've been in the media now for seven years and there are a lot of misconceptions out there about who I am, justifiably so because I've put on an image and you know, kind of hid behind this, like, persona," she wrote in a now-deleted Instagram post. "I am very insecure, I'm a very insecure person I deal with depression and anxiety, severe anxiety. I've had losses and a lot of love for people and vice versa."
Last month, Courtney posted several "Missing" posters to her Instagram that featured her face, along with the caption, "Have you seen Courtney Stodden?" She followed that up with a post introducing herself as Ember, and announced that she had "killed" Courtney and become her new alter ego.
As you do…
Earlier this month, Courtney posted a photo of herself sitting in a coffin (again, as you do), to further promote the "Courtney is dead" idea.
Ember/Courtney's debut album "drops" (as the kids say) on July 8. Watch her latest music video below:
(Photos: Instagram)