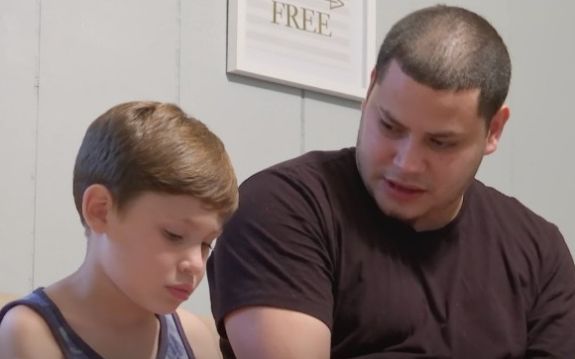 The cast of Teen Mom 2 is getting smaller (despite the fact that the show's stars keep reproducing!)
A new report by The Hollywood Gossip stated that Kail Lowry and her ex, Jo Rivera, have decided to remove their son, Isaac, from the show.
"They came to this decision after the direction of the show and the situations that have gone down in the last two reunions," the site states.
The Ashley can confirm that this is, indeed, true– and her sources tell her that Isaac won't be the only regular cast member missing if (and when) the show returns for its ninth season. 
"Jo is leaving the show as well," a source said. "He doesn't like how far the show has strayed from its original purpose, and thinks that it is just trashy at this point. The kids are an afterthought and he doesn't want himself or his kids associated with that anymore."
As The Ashley told you, Jo fled the set during last month's 'Teen Mom 2' Season 8B Reunion taping after just one day, due to the physical fight that broke out on stage and the backstage drama. He refused to return for the second day of filming and went home instead.
"He is getting married soon, and he and [his fiance] Vee [Torres] have no interest in being a part of what the show has become," the source added.
(Vee even confirmed that Season 8B would be her last in a tweet-and-delete spree last month!)
Kail's youngest son, Lux (whom she shares with Chris Lopez) will likely no longer appear on 'Teen Mom 2' either. Chris has been outspoken about not wanting to be part of the show, and has never appeared on-camera (without his faced blurred).
The Ashley's sources tell her that no appearance contract has been signed for Lux, due to Chris not wanting his son on-camera anymore. (These days, both parents do not have to sign for their children to appear on the show, although the producers and network prefer to have both parents' permission.)
As The Ashley previously told you, Season 9 contracts have not been signed yet. While they were supposed to be taken care of during last month's Reunion taping, all of the shenanigans of that weekend prevented the contracts from being signed.
(The Ashley has more details on the Season 9 contracts–including what the cast is demanding– and will post it soon!)
Should Season 9 happen, Kail's kids aren't the only ones who will be absent from filming. Shortly after her husband David Eason was fired from 'Teen Mom 2', Jenelle Evans tweeted that most of her kids–daughter Ensley, son Kaiser and stepdaughter Maryssa–would not be appearing on 'Teen Mom 2' after Season 8. It remains to be seen if she will keep her word on that.
Season 8B, which features all of the kids and Jo, is currently airing on MTV.
(Photos: MTV, Instagram)