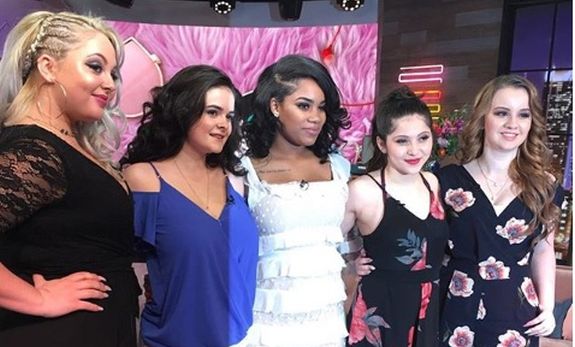 The Teen Mom monster can not be stopped!
Last week, The Ashley broke the news that both Teen Mom OG and Teen Mom 2 have been renewed for new seasons, and now she can exclusively reveal that the franchise's "little sister," Teen Mom: Young & Pregnant, has been picked up for Season 2 as well!
The Ashley's sources tell her that film crews are already in the field, filming footage for 'Young & Pregnant' Season 2. (As you may have noticed, The Ashley refused to write about the show for its first season, due to the fact that she heard it was going to be cancelled due to low ratings. However, ratings improved and, now that the show is getting a second season, The Ashley has to write about it.)
Anyway, The Ashley's sources tell her that all five of the girls are on-board for Season 2, even Ashley Jones. Last week, Ashley went on a social media rampage, bashing MTV, as well as the editors, social media managers and producers of 'Young & Pregnant' for portraying her as "a monster" on the show. She also called signing up for the show "by the worst decision of my life."
Yet…she signed up to do Season 2…as you do….
"A crew is up there with Ashley and will be filming throughout this week," a source tells The Ashley. "All the girls will be either starting to film or continuing to film over the next few weeks."
Another behind-the-scenes source tells The Ashley that the 'Young & Pregnant' girls got raises to do Season 2. (The Ashley is not sure exactly how much more they are getting this season, however.)
"Generally, for the other 'Teen Mom' shows, the pay jump from Season 1 to Season 2 has been the most significant jump," that source told The Ashley.
MTV has yet to confirm or deny The Ashley's report that 'Teen Mom OG' and 'Teen Mom 2' are getting another season, and they have yet to respond to a comment request regarding 'Young & Pregnant' Season 2.
Stay tuned– The Ashley will have more info on this soon!
RELATED STORY: 'Teen Mom 2' Officially Renewed For Season 9: Get All The Behind-the-Scenes Details & Find Out the Girls' Demands!
(Photos: MTV)