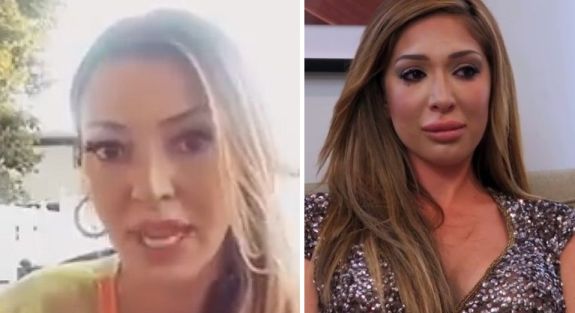 After jointly hosting an event with Farrah Abraham Thursday night, Mob Wives star Drita D'Avanzo says she wants to "slap the s**t" out of the former Teen Mom OG star.
Hey Drita, take a number!
The reality star rift started last night when Farrah and Drita were in Atlantic City for the grand opening of a new Scores strip club.
According to Page Six, Farrah was reportedly speaking poorly about Drita during the event and even criticized her appearance etiquette in a video she posted from Scores that night. After Drita found out that Farrah was reportedly being nice to her face but saying mean things about her behind her back, Drita decided to throw some insults back at Farrah, along with the threat of an ass-whoopin'.
"I'm going to slap the s**t out of that Mr. Ed-looking f**ker," she told Page Six of Farrah. ""What she needs a good old-fashioned smacking."
@MTV Star and Social Media Phenom @F1abraham on show today to talk about appearing at @ScoresAC opening Thursday at @HardRockHCAC Check it out on @1400WOND , 92.5-FM, https://t.co/kU0VJJPaAG and the Tune In app. pic.twitter.com/t6c8PqTJqb

— scott cronick (@ACPressCronick) June 26, 2018
On Friday, Drita elaborated on the situation with Farrah a little more in a video posted to her social media accounts.
"Look, there's a lot of drama going on today with Farrah. If you don't know who Farrah is, Farrah was on 'Teen Mom' and then she became a hooker or some s**t…" Drita told her followers. "Listen, I don't care. It's irrelevant. I don't care that she's a dick-less unemployed blow job, as long as you're not my kid, it doesn't bother me."
(Rumors of Farrah's alleged career as an escort have been swirling around for some time now, which may have contributed to Drita's "hookuh" accusation. Farrah has never addressed the rumors publicly, however.)
Drita continued to discuss how badly she wants to beat Farrah up.
"However, what does bother me is when I'm hanging out with you and you're nice and you're cool and I wake up in the morning and hear that you're ripping me to shreds on your IG," Drita said in the video. "I don't know who you dealt with in the past, but you got the wrong mother f**ker. I no longer assault anybody, OK? Because the last time someone tried to test me, they ended up putting me in jail."
(In case you're not up on your 'Mob Wives' fight history, Drita was arrested and charged with misdemeanor assault in 2016 after getting into a physical fight with her neighbor. She was later cleared of the charges.)
Drita said that, while she has generally put her beatdown days behind her, she may come out of retirement to beat the BeJesus out of Farrah.
"You're not worth it, however, I might have to make an exception," Drita said to Farrah in the video. "But I will tell you one thing, I'm not gonna close-fist punch your face in, I'm gonna open-hand slap the f**k out of you, straight up on sight, just so you know."
After getting wind of Drita's fighting words, Farrah naturally took to social media to issue a response, which she accompanied with a photo from the event featuring a clown-emoji covering Drita's face.
(Farrah's response was, of course, in full-on "Farrah Speak.")
Dinner & Atlantic City was fabulous I hope the clown fixes her drug problem & her abusive relationship Girl I'm rootin for ya but have self control & don't threaten my safety such a bad look on top of not working no wonder you don't get paid @PageSix pic.twitter.com/yrbgZuZu7u

— Farrah Abraham (@F1abraham) June 30, 2018
"Dinner & Atlantic City was fabulous I hope the clown fixes her drug problem & her abusive relationship Girl I'm rootin for ya but have self control & don't threaten my safety such a bad look on top of not working no wonder you don't get paid," she tweeted.
And it wouldn't be a true Farrah fiasco without at least one "I'm calling my lawyer" threat, so naturally, Farrah's rant continued.
"F**king low class trash dusted up nobody show up and work you have no work ethic and act like a criminal say what you want about me so you feel better about how pathetic you are! Use me for press haha your a loser go get a real job my lawyer will be contacting you psycho," she wrote.
Don't you hate it when your appearance at a strip club opening turns sour?!
Farrah's father, Michael Abraham, quickly jumped into the conversation on social media.
"Someone saying she is going to assault my daughter is wrong here!" Michael tweeted. "Assaulting anyone is a crime…"
He also told one Twitter follower that Drita is the problem, not his daughter.
"Yes hundreds of millions of people get along with Farrah and that woman threaten to assault Farrah … get your facts correct," Michael tweeted, later adding, "Hopefully that woman will climb back under her rock…don't play games with me…words are one thing but [threatening] assault towards my daughter is a whole different thing… assaulting anyone is wrong."
Annnnd scene!
Since calling it quits with MTV, Farrah has managed to stay in the press pretty regularly… whether she's getting arrested at a hotel, pushing controversial weight loss lollipops on social media or flashing her front door on the red carpet in Cannes.
Never change, Farrah!
Watch Drita's full video below. (Just be forewarned, the video does contain a lot of naughty words!)
(Photos: Facebook, MTV, Instagram, Twitter)