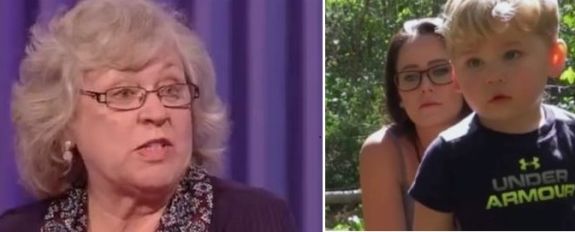 All is not well on The Land!
Teen Mom 2 star Jenelle Evans is "infuriated," according to The Ashley's sources, after her son Kaiser's grandmother, Doris Davidson, refused to return the boy to Jenelle and her husband David Eason at the custody drop this weekend. Doris, who is the mother of Jenelle's baby daddy Nathan Griffith, became alarmed when she allegedly found bruising on Kaiser.
The Ashley has seen a lot of false information floating around The Interwebs regarding this incident, so she went straight to her source who told her how things really went down.
"Kaiser was with Doris, and during his visit, Doris discovered bruising on Kaiser," the source said.
The Ashley's source confirmed that Kaiser was not "beat up" or "covered in bruises" as some media outlets are claiming.
"It was medium-sized bruising," the source said. "There was no finger mark bruising or anything like that."
Still, Doris and Nathan were alarmed.
"Nathan texted David on Friday and told him that there's going to be a warrant out for his arrest for abusing Kaiser," the source said. "That same night, Doris told Jenelle that she and Nathan aren't giving Kaiser back to them because of the bruise discovery. Doris called the police on Friday night to make a report."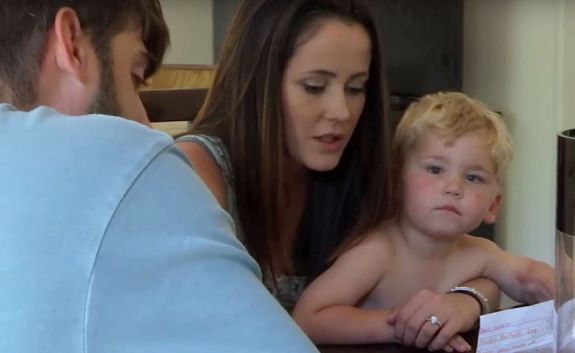 On Sunday–the day Doris was due to return Kaiser to Jenelle and David–she was still refusing to give the boy back. That's when Jenelle called the police and told them that Doris was refusing to bring Kaiser to their designated meet-up spot.
Radar Online confirmed that Jenelle called 911 from The Land around 1:30 p.m. While all this was going on, Nathan Griffith's friend Josh Friedman declared on Twitter that "Operation Save Baby Kaiser is in full effect!"
Jenelle and David brought the police with them to Doris' house in South Carolina. The police officer on the scene was the one who contacted the Department of Social Services (DSS) [aka CPS], and an agent came to Doris' house to investigate.
"The [DSS agent] basically said that there wasn't enough proof of abuse to keep Kaiser away from David," the source said. "She said that amount of bruising could have happened while Kaiser was playing." (The Ashley's source says that Jenelle told the cops that Kaiser got the bruise while playing on David's boat.)
"[The DSS agent] said she didn't have enough evidence to step in," the source said.
The police officer on the scene allegedly disagreed, however.
"He said he wasn't going to force Kaiser to go with Jenelle and David because there was a bruise on the child," the source said. "The cop had the power to enforce one way or another and he chose to allow Kaiser to stay with Doris/Nathan."
Once Jenelle found out that she wasn't getting Kaiser back from Nathan & Co., the source said she immediately contacted her lawyer to try to set up an emergency hearing to try to get Kaiser back.
No hearing has been held yet, though, according to The Ashley's source. (Some media outlets are reporting that the hearing took place this morning but The Ashley can confirm this is not true.)
The Ashley has been unable to locate an arrest warrant for David in either Horry County, South Carolina (which is where Doris lives), or Columbus County, North Carolina (which is where David lives). However, it may not have been made public yet, if it exists.
Late Sunday night, an Instagram account that has been proven to have behind-the-scenes ties to Jenelle posted a video (that was soon removed) showing Kaiser. Nathan's voice can be heard asking, "Who put the marks on your butt?" Kaiser can be heard saying "David" and Nathan asks him to repeat what he said. Kaiser again says "David."
The video was removed early Monday morning. Nathan was very unhappy that the video was made public. (The Ashley has a copy of the video, but is choosing not to post it.)
"I don't know how the hell you got this video but it's sick posting this and subjecting this little boy to your all charades, just for your entertainment and their humiliation," Nathan wrote to a person who had posted the video to Twitter.
The Ashley's source said that the video may not help Nathan's case in court, though.
"Jenelle has a video of her asking Kaiser the same thing, and Kaiser says it was Nathan," the source said. "She has tried to use it against Nathan in the past from what I have heard."
Jenelle attempted to do some damage control on Monday, posting a photo of something Kaiser made for David, along with a caption that discusses how much Kaiser loves David.
"My kid is one of a kind that's for sure!" Jenelle wrote. "When asked to make a #FathersDay gift the first person he thought of was David. He refused to make another gift for his biological dad. The impact my husband has had on my son has been truly remarkable. When others didn't step up, David did. Sometimes all you do as a parent goes unnoticed until your child comes home with a sweet gift like this one from school. The bond between them will forever inseparable no matter what tries to come in-between them. (Kaisers teacher wrote his answers for him)."
This is not the first time Nathan's mother has tried to secure custody of Kaiser. Back in September 2017, Doris filed for emergency custody of the boy, stating among other things, that Jenelle had neglected to follow the orders of Kaiser's doctors in relation to a health issue he was having; that Jenelle locked Kaiser and her older son Jace outside in the yard on a hot day; that Jace once got lost in the woods on "The Land" for two hours; and that Kaiser has repeatedly come to her with" bruising and markings… that are unusual and more than normal."
In January, Doris dropped her bid for custody. At the time, Doris' husband was having major health issues, which made it hard for her to battle Jenelle in court.
"Jenelle's lawyer was able to show proof of some texts that had gone between Doris and Jenelle, and basically made the case that Doris only filed for emergency custody out of spite," The Ashley's source told her in January. "Doris backed off when she realized she wasn't going to get emergency custody after Jenelle's lawyer showed some stuff."
As of press time, Doris still had Kaiser and he had not been returned to The Land.
UPDATE! On Monday, Jenelle posted a message to her personal Facebook page that seemed to be aimed at Nathan.
"Drop your kid off, then go drink. That's what you do best," she wrote.
Jenelle also discussed the bruise in a conversation on her personal Facebook page on Monday. (She did not make any mention of the fact that Doris still has Kaiser, though.)
"There is not an emergency hearing. There's an investigation based off a bruise from a water slide on water day confirmed by his daycare. Don't want to hear it," Jenelle wrote, later adding, "Yeah it's all bulls**t. Even my mom told Nathan she saw nothing wrong with the bruise. Now I could show everyone some s**t that Nathan has done that's way worse and has been reported and he's been watched. But that's no ones business. When kaiser is at home he's go-karting, dirt biking, 4 wheeling, zip lining, jumping off our waterfall spa into the pool. He's fearless and gets bruised from time to time. He has 9 acres of land to play on."
Stay tuned– The Ashley will update this story when more information becomes available.
(Photos: MTV, Instagram)