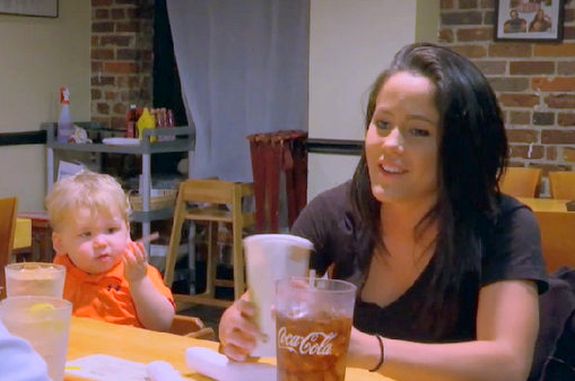 The custody showdown between Jenelle Evans and Nathan Griffith's mother, Doris Davidson is over–at least for now!
Days after Doris refused to give Jenelle's son Kaiser back after allegedly finding worrisome bruising on the boy, The Ashley can exclusively report that the Teen Mom 2 star was allowed to take Kaiser home with her on Tuesday evening.
Jenelle–along with a police escort– headed to Doris' South Carolina home to fetch Kaiser. The Ashley can reveal that she was allowed to take Kaiser back to The Land after a complete investigation was conducted on both Jenelle and David.
"The [DSS worker] had to talk to a variety of people before Kaiser was allowed back in Jenelle's care," The Ashley's source tells her. "[The worker] talked to teachers at Kaiser's daycare, [Jenelle's mother] Barbara [Evans], and the police, as well as agents from Columbus County [where The Land sits] CPS. They determined that no abuse had occured."
The Ashley can also reveal that that Jenelle and David submitted to a full drug screening, which they passed.
"There is no emergency hearing happening," The Ashley's source said. "Kaiser is going home with Jenelle, end of story. Doris is very upset. She didn't know Jenelle was coming."
According to Radar Online, who obtained a transcript of the 911 call that Nathan made on Friday, Nathan told the emergency services operator that he found marks on Kaiser when he was helping the boy wipe his butt.
"That's when we saw the marks," Nathan said. "We asked him about it and he said David hit him with a stick."
Over the last few days, Jenelle and her husband David Eason have been posting on social media about how much they love Kaiser, and how his clumsiness often causes him to have bruises.
"Kaiser is so funny, he keeps us smiling and laughing all the time!" David wrote in the caption of a photo of Kaiser posted to his Instagram account. "You couldn't ask for a better kid. Kaiser is more active than the rest and tends to be a little clumsy but he is a bruiser and nothing stops him when he is having a good time!"
"I love you allllll to the moon to back Bubba! I felt bad Kaiser Griffith put my name on the fathers day gift but they said he wouldn't budge about it all week and wouldn't have it any other way. Nobody will come between the bond we have and cant wait to get you back today or tomorrow!" David wrote on Facebook on Monday.
"I'm so glad Kaiser had a great birthday party with us because there was a lot of fighting and drinking at his dad's bday party!" David wrote in another Facebook post.
And, as The Ashley told you earlier today, MTV is "freaking out" because Jenelle is not allowing them to film any of the Kaiser custody situation.
"She said they are not allowed to film Kaiser at all, even when he's with Nathan," The Ashley's source tells her. "Normally, MTV only requires one parent's permission to film the children; however, because Nathan only has supervised visitation of Kaiser, they would need Jenelle's permission to film Kaiser."
As The Ashley previously told you, Jenelle has refused to sign her Season 9 contract, due to the fact that MTV won't allow her husband, David Eason, to participate in filming. The other 'Teen Mom 2' girls have all begun (or are about to begin) filming for Season 9.
The Ashley's source tells her that, for the time being, no one associated with Jenelle has been filming.
"Barbara and Nathan have not shot any scenes for Season 9," the source said.
It's unknown if MTV will continue filming them even if Jenelle does not sign on.
(Photos: MTV, Facebook, Instagram)