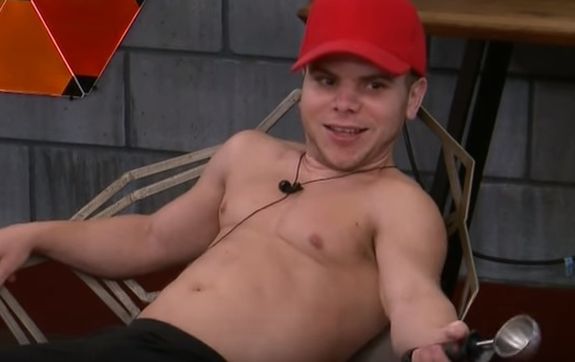 CBS is cracking down on its current crop of Big Brother houseguests!
The network issued a statement on Tuesday stating that the show's contestants will face "future consequences" should they continue to exhibit what CBS calls "inappropriate behavior." The statement comes just days after two houseguests were heard on the live feed making racist comments, and another was seen doing sexually inappropriate things to other people in the house.
"'Big Brother' is a reality show about watching a group of people who have no privacy 24/7 — and capturing every unfiltered moment and conversation in their lives," the network's statement reads. "At times, the houseguests reveal prejudices and exhibit behavior that we do not condone. The producers have addressed two such incidents that were seen recently on the 24/7 online feed.
"In both cases, those involved have been warned about their inappropriate behavior and offensive comments, as well as future consequences. These events will not be part of any future Big Brother broadcast on CBS."
The racist comments the network is referring to were heard on the live feed on Monday. Us Weekly is reporting that houseguests Rachel Swindler and Angela Rummans made racially insensitive remarks while discussing their skin tones.
"My stomach is as dark as Bay," Rachel said (referring to African-American contestant Bayleigh Dayton. "I can't be in the sun for two days straight… I will change ethnicities. I already have."
"I'm looking ghetto here with the skin coloration," Angela replied.
The second incident CBS is referring to in its statement involves houseguest JC Mounduix. Live feed viewers watched as JC basically chased his roommates around with an ice cream scooper, telling contestant Kaycee Clark to "open your vagina…it feels good" even though Kaycee told him "no." He also tried to put the scooper on the nether regions of Kaitlyn Herman and Tyler Crispen.
Fans watching the live feed took to Twitter to express their disgust over both incidents.
"Using 'ghetto' as she did to mean 'low class' has obvious racist origins," one person wrote in response to the conversation between Rachel and Angela. "You don't have to get it but it's so obvious."
"With video evidence of his inappropriate touching of females, how have producers not removed JC from the house/game?" another fan wrote in regard to the incident involving JC.
Watch the scene involving JC below:
(Photos: CBS, Instagram)